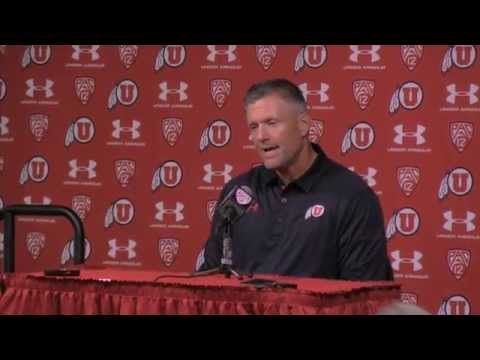 View 4 Items


Really what we're concerned with this first game is us, and making sure that we operate the way that we need to operate. Clean, efficient, good tackling on defense, minimal penalties, taking care of the football — all those things that we've been preaching throughout fall camp need to show up on Thursday night.

—Kyle Whittingham
SALT LAKE CITY — No more waiting. For the Utah Utes, the football season has arrived. They take on Idaho State Thursday (5:30 p.m. MDT, Pac-12 Networks) at Rice-Eccles Stadium.
"I'm so excited I can't see straight," Utah coach Kyle Whittingham said. "It's time. It's been awhile."
Since Nov. 30, 2013 to be exact. That's the day the Utes capped a second-consecutive 5-7 season with a 24-17 win at home over Colorado.
It's a chapter of history that the team, for obvious reasons, hopes to keep in the rear-view mirror. The Utes are determined to turn things around, and there are plenty of storylines to accompany the optimism.
The return of starting quarterback Travis Wilson may top the list. The junior's future was in doubt last November with the discovery of an intracranial artery injury. After months of uncertainty, Wilson received medical clearance to resume his career over the summer. He edged out Oklahoma transfer Kendal Thompson for the starting job in preseason camp.
"We're elated that he's back," Whittingham said. "There was a long period of time where his career was thought to be over with. It was tough on him. It was tough on his family. He kept persevering through that and kept his head up."
Whittingham added that Wilson learned a lot about himself throughout the situation and how much he loves the game
"When you have something taken away from you for a period of time it opens your eyes a little bit and he came back with more of a purpose than he had prior to," Whittingham said.
Wilson, who had played in 21 straight games and made 16 consecutive starts before missing the final three outings of 2013, acknowledged he's eager to get back on the field.
"It's super exciting," Wilson said. "I'm just really blessed I get to play again and I'm just really excited the season is finally here."
Another individual comeback to watch on offense is junior wide receiver Kenneth Scott. He suffered a season-ending injury in last year's opener against Utah State. After nearly a year on the sidelines, Scott said he can't wait to just go back to doing what he was doing.
Scott's return is expected to ease the load on senior all-conference candidate Dres Anderson. It also gives Utah an additional weapon to utilize in its more up-tempo scheme under new offensive coordinator Dave Christensen. Offensive line coach Jim Harding and wide receivers coach Taylor Stubblefield are also new to the staff.
"Tempo would be one of the operative words," Whittingham said of the faster-paced offense. "We're going to be snapping the ball more quickly than we have in years past."
An energized offense features a trio of running backs with contrasting styles in Bubba Poole, Devontae Booker and Troy McCormick, as well as additional receiving threats like Delshawn McClellan, Tim Patrick and Dominique Hatfield, who is also expected to see action at cornerback.
The defense also has a notable comeback storyline. Senior captain Brian Blechen is back after missing all of last season with an injury. The starting strong safety, who has 203 tackles and eight interceptions in his career, said he's "itchy to play" again.
Seniors Nate Orchard and Eric Rowe provide experience and leadership on the defensive line and at cornerback, respectively. Junior linebackers Jason Whittingham and Jared Norris are among the top returning tacklers from last season.
On the special teams front, Utah has All-America candidates in punter Tom Hackett and kicker Andy Phillips.
All things considered, Whittingham noted that the season opener is primarily about what the Utes do — although he expressed respect for Idaho State and all of Utah's opponents.
"Really what we're concerned with this first game is us, and making sure that we operate the way that we need to operate," Whittingham said. "Clean, efficient, good tackling on defense, minimal penalties, taking care of the football — all those things that we've been preaching throughout fall camp need to show up on Thursday night."
The Utes won't have to wait long with the early kickoff for television.
"It's weird already having a Thursday game — not only that but it's at 5:30," said senior offensive lineman Junior Salt, who is a captain and an all-conference candidate. "But hey, it is what it is. We're ready to play."
Email: [email protected]
Twitter: @DirkFacer