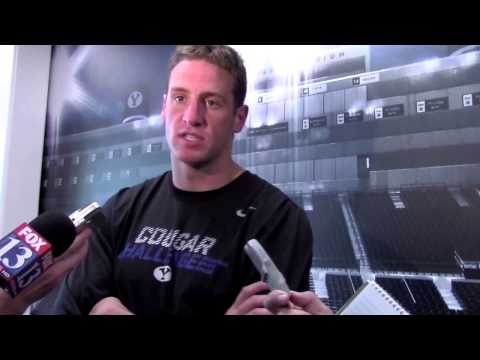 View 4 Items

From an offensive standpoint, we know how it's going to go, we know exactly what we need to do, and we know what's going to work. ... It's the knowledge that we already know what we're going to do. … Before, when we played Virginia, it was, 'Is this offense really going to work? Is this really going to wear teams down?' We weren't sure. Now, we're sure.

—BYU wide receiver Mitch Mathews
PROVO — In the debut of offensive coordinator Robert Anae's go-fast, go-hard offense last August at Virginia, BYU ran 93 plays, punted 11 times, completed just 13 of 40 passes, and scored a meager 16 points in a season-opening loss to the Cavaliers on a rain-drenched day in Charlottesville.
At Virginia, BYU was breaking in a new offense as well as a new offensive staff, and there was plenty of uncertainty. A two-hour weather delay at the end of the first quarter didn't help, either.
Suffice it to say that in year two of Anae's offense, as the Cougars prepare to visit Connecticut Friday (5 p.m. MDT, ESPN) in the 2014 season opener, they are feeling much more confident and comfortable.
"Definitely more confident," quarterback Taysom Hill said. "It's hard to even think back and look at where we were last year with a new offensive staff and a new system, all that stuff. We're ready and very excited."
After a year of experience running the new offense, BYU is looking for a much better offensive performance this time around. "We want to come out fast and hard (at UConn)," said running back Adam Hine.
Wide receiver Mitch Mathews said the offense's level of readiness is far greater than it was for last year's opener.
"From an offensive standpoint, we know how it's going to go, we know exactly what we need to do, and we know what's going to work. ... It's the knowledge that we already know what we're going to do. … Before, when we played Virginia, it was, 'Is this offense really going to work? Is this really going to wear teams down?' We weren't sure. Now, we're sure."
Still, BYU will be without a few offensive weapons against UConn. Running back Jamaal Williams and wide receiver Devon Blackmon are expected to miss the game due to suspension, while wide receiver Nick Kurtz will be sidelined with a stress fracture in his foot.
However, the Cougars are hoping to compensate for those absences thanks to the depth they enjoy at running back and receiver.
One of the problems the Cougars encountered in last year's opener was a lack of execution, which failed to match their fast-paced tempo. BYU was whistled for seven penalties, and, late in the contest, it had a costly turnover that led to Virginia's game-winning touchdown.
"Much better than we were a year ago," Anae said. "Wow. We are severely advanced from where we were a year ago in that regard."
BYU is facing an opponent Friday with a first-year head coach, Bob Diaco, although the Cougars faced Diaco the past two seasons when he was the defensive coordinator at Notre Dame.
What will be Anae's approach in the opener?
"The first quarter will be an exploratory deal. But the emphasis will be on what we do well as we go into the game," said Anae, who added that the plays are "all scripted. We practice game situations. … Nothing is freelance."
The Cougars struggled mightily in the red zone a year ago — they were one of the worst teams in the country in red zone touchdown percentage — and that's been something coaches have addressed during the offseason.
"We're not going to find out if we solved the problem until we get a good grip on the season," Anae said. "Going into the first game, we're going to focus on completions, getting first downs, and when we get down there in the blue zone, we're going to focus on scoring touchdowns the best we can. If that doesn't happen just perfect, we're not going to think the effort is a failure. We're going to prepare ourselves to do our best in those areas."
Another point of emphasis has been improving the offensive line play.
"The guys are really fit and it shows. The pace has been able to move forward, not just with going fast, but with executing their assignment and their technique at a high level," Anae said of the O-line. "That takes a lot of offseason commitment. We weren't perfect in that regard, but the majority of the group did a really good job with conditioning. We were able to advance a lot of the scheme stuff because the guys were a lot sharper."
Hill liked what he saw from the offensive line the past month.
"I thought probably collectively, that was the biggest improvement through camp," he said.
The Cougars could see a pair of true freshmen — left tackle Ului Lapuaho and center Tejan Koroma — start on the offensive line Friday. But Hill said he isn't bothered by the lack of experience at such crucial positions.
"I trust our coaches, I trust those guys," Hill said. "They've had enough reps. That first snap will have some jitters, but after that I expect those guys to play well like they have all camp."
Mathews is eager to show how much the BYU offense has improved from a year ago.
"We know what's expected, we know what's coming," he said. "There's no real excuse."