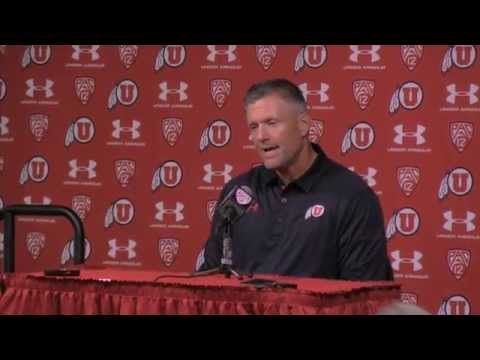 View 4 Items



SALT LAKE CITY — Next.
Given Utah's success against Big Sky Conference opponents, Thursday's season opener with Idaho State has the potential to be very lopsided. The Utes are 36-0 against teams currently in the FCS league and have dominated meetings the past three seasons — defeating Montana State, Northern Colorado and Weber State by a combined score of 137-17.
Add in the variable that the Bengals haven't won a road game since 2006, losing 44 straight away from Pocatello, and it could be an extremely one-sided contest at Rice-Eccles Stadium.
Question is, would such an outing — if it were to develop — be beneficial to the Utes?
Utah coach Kyle Whittingham and the players at Monday's press conference responded that any type of game is good at this point.
Senior offensive lineman Junior Salt said they're tired of facing each other in practice.
"We want to be able to play against another team to see where we stand and what we really have and what really works and what doesn't work," he said. "It doesn't matter, if it's Big Sky or Pac-12 — any team. They're going to come out just as ready as we are. They're going to put out their best 11 guys."
Salt added that it's the Utes' job not to "overlook anyone."
As such, there are no plans to come out and take the Bengals lightly.
"We have respect for Idaho State and so even though the last few games against the Big Sky has been a little bit lopsided, you got to go in with the mentality that you got to do what you do well," said Utah coach Kyle Whittingham, who noted that it's the first chance to get a look at the 2014 team in action.
Whittingham is hopeful the Utes do things in clean fashion from the standpoint of tackling, ball security and penalties — across the board. He's concerned about the way they operate and do things, particularly when it comes to efficiency on offense. Whittingham mentioned getting on the line of scrimmage, getting the ball snapped, throwing and catching, not dropping the football or putting it on the ground, and tackling on defense.
"So there's a lot of things that you learn about your team regardless of who the opponent is," Whittingham said. "But like I've said, anybody that lines up against you, you have respect for them."
Whittingham is eager to see how Utah's up-tempo offense runs under new offensive coordinator Dave Christensen. Among other things, he wants to watch defensive end Nate Orchard, linebackers Jason Whittingham and Jared Norris, safety Tevin Carter, the offensive line and running backs like Devontae Booker play.
As for the season, Whittingham admits to being so excited for the opener that he can't see straight.
Quarterback Travis Wilson said it's all about coming out fast and executing. Everything else, he continued, will fall into place.
"I think it's just how well we execute on offense and it's something that we've got to make sure we do every week — even if it is Idaho State or it's Stanford," he said. "So these type of games we've just got to start fast and keep on pushing."
Even more so, Wilson acknowledged, because of Utah's quicker pace.
"For this offense to work we've got to gain yards on every play and can't have any setbacks," he said. "I think this whole fall camp our offense has been doing a great job, especially going against our defense because our defense is tough. I think they've done a really good job of just getting positive yards and not taking any losses."
Over the past two seasons, Utah has outscored Big Sky opponents Northern Colorado and Weber State by a whopping margin of 111-7.
Wilson believes that it shows what the Utes are capable of doing on offense.
"I think it's good for the offense because we'd love to score that many points every week," Wilson said. "That's something that we need to make sure we keep on doing and we need those type of games to carry over on to our tougher opponents as well."
Senior safety Brian Blechen also addressed the topic of lopsided games. He said there are still plays that don't get made and things on offense and defense that aren't clicking or may not be as relentless as wanted — even if the opposition isn't at the same level.
"You want to evaluate how your team is operating and make sure everything is on point to where you want it to be going into the next game," said Blechen, who added that win or lose you always go back and watch the film.
Email: dirk@desnews.com
Twitter: @DirkFacer