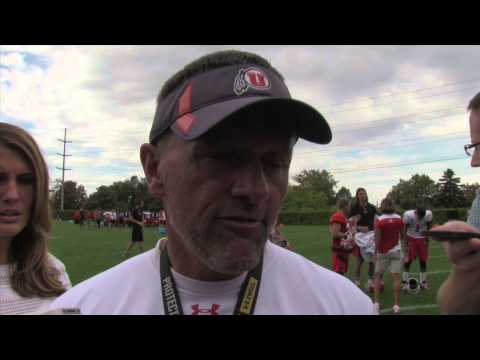 View 3 Items

They're both key players for us — Brian in the secondary and Scotty at that receiver position — and we missed them both last year, tremendously, and we're glad they're back.

—Kyle Whittingham
SALT LAKE CITY — When the Utah Utes open the season against Idaho State Thursday night, they'll do so with a couple of key contributors back on the field — safety Brian Blechen and wide receiver Kenneth Scott.
The starters saw extremely little or no action in 2013 because of injury. Blechen missed the entire campaign while Scott was sidelined for the year after getting hurt in the first quarter of the opener.
To use that ever-so-popular saying, these guys are champing at the bit to get back out there.
"They are without a doubt. Both of them missed last season," said Utah coach Kyle Whittingham. "They're both key players for us — Brian in the secondary and Scotty at that receiver position — and we missed them both last year, tremendously, and we're glad they're back."
Same goes for starting tight end Westlee Tonga, Whittingham added. The senior only played in the first four games last season because of injury and was granted another year of eligibility by the NCAA.
"It's always good to have those guys — those good players — back in the fold," Whittingham said.
Tonga is expected to offset Jake Murphy's early departure for the NFL.
The return of Blechen and Scott puts two regular starters from 2012 back on the field — providing much-needed experience for the Utes in the secondary and at receiver.
Blechen has 203 tackles, 12 pass breakups and eight interceptions in his career at Utah. The senior, who has played and started in 35 games for the Utes, was a freshman All-American in 2010 and a Pac-12 honorable mention all-conference selection in 2011 and 2012. He didn't play last year because of a knee injury.
"I'm getting real itchy to play," said Blechen, who added that the team is also ready to get the season going. "For me, I'm tired of practicing day in and day out. I want to play a game. I miss that adrenalin rush. So I can't wait for an actual game situation, to have the stadium filled and all that."
Sitting out last season, Blechen acknowledged, wasn't easy.
"It was super tough just being on the sideline, not being able to play. But it's made me that much more hungry to get out there this year and actually be on the field," Blechen said. "I think this is the year we're going to be able to turn it around because there were some close losses we learned from last year, and although I wasn't playing, I was right on the sideline watching it all happen.
"This year I think we're going to be able to do things different," he added.
Scott is also optimistic about the season ahead. The junior, who has missed two seasons with injuries at Utah, has played in 23 games (starting 13) for the Utes with 40 catches for 501 yards and three touchdowns. He suffered a season-ending ankle injury in the first quarter of the 2013 opener against Utah State.
"Man, I'm excited. It's been like 11½ months, you know, and it's been a long process to be honest with you," Scott said. " But I'm excited. I can't wait to go out there and make plays — just go back to doing what I was doing."
Watching the Utes endure a second consecutive 5-7 season, Scott admits, was very hard because he felt he could have helped with the offense's biggest shortcoming.
"I could have contributed because we had problems moving the chains and stuff like that. We had a lot of three-and-outs and were depending on the big play too much," Scott said. "I believe if we had a receiver that can move the chains then our offense would have been working a lot better. So I believe that's what I can do — move the chains. I can go deep, too, but I like the intermediate game."
8
comments on this story
Scott noted that he gained valuable experience while on the mend, sitting by the side of veteran coach Dennis Erickson during games.
"I was up there getting knowledge from Erickson. I was in the booth," Scott said. "So my mental game was crazy — like I was learning everything from the defenses and the techniques and what do they see. It just made my whole game better from a mental aspect and it helped me a lot."
* * * * *
Season opener
Idaho State at Utah
Rice-Eccles Stadium
Thursday, 5:30 p.m.
TV: Pac-12 Networks
Radio: ESPN 700AM
Email: dirk@desnews.com
Twitter: @DirkFacer