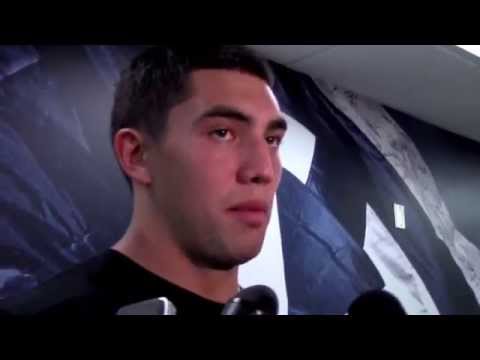 View 5 Items

It's really what the BYU football program teaches — when an opportunity is there, you have to take it. Bronco does a great job of helping us get ready for that opportunity. I knew I had to be ready to go when I came back and be caught up with everyone. That's just what it is.

—BYU linebacker Bronson Kaufusi
PROVO — When asked about starter Bronson Kaufusi, BYU outside linebackers coach Kelly Poppinga provided an adamant answer.
Kaufusi, who switched from defensive line to outside linebacker during the offseason, missed weeks of reps during fall camp due to a hamstring injury before he returned to practice Monday.
How worried is Poppinga about Kaufusi being ready for the season opener at Connecticut on Aug. 29?
Poppinga didn't pause.
"Zero worry," Poppinga said. "That's all I'm going to say. Zero."
Kaufusi hadn't gone full speed in any contact drills until Monday, and he was back at his outside linebacker spot during Tuesday's practice.
"It was good to finally get Bronson out there. He's been looking really good," Poppinga said. "I'm excited to have him out there. It makes everything completely different when he's out there. The offense really has to pay a lot of attention to him."
Coach Bronco Mendenhall said Kaufusi has some work to do leading up to the season opener.
"I would have preferred him to have much more (in practice)," Mendenhall said. "His experience last year will help him, but he'll need the rest of the time to get ready for the opener."
Kaufusi injured his hamstring just prior to fall camp.
"At first, I thought, 'This might last for a week.' Then it went on two weeks," Kaufusi said. "During the third week, I thought, 'This needs to get kicked soon or I'll be in trouble.' At that third-week mark, it went away."
Returning from a long layoff is nothing new for Kaufusi, of course. A couple of years ago, he joined the team about a week after coming home from his mission for The Church of Jesus Christ of Latter-day Saints and he was a significant contributor on the Cougar defense. Then, days after football season ended, he became a member of Dave Rose's basketball team.
How is Kaufusi able to do it?
"I'd say part of it is genetics, I think. You have to have a body that can keep up with you," Kaufusi said. "It's really what the BYU football program teaches — when an opportunity is there, you have to take it. Bronco does a great job of helping us get ready for that opportunity. I knew I had to be ready to go when I came back and be caught up with everyone. That's just what it is."
Transitioning from defensive lineman to linebacker has been an adjustment, but Kaufusi is leaner, having dropped down to 265 pounds, and he said he thinks like a linebacker now.
Kaufusi said his first priority is "to get into the backfield" to wreak havoc on opposing quarterbacks, but he's also looking forward to dropping into coverage, too.
"I love the challenge (of being in coverage)," Kaufusi explained. "I also love it because not too many people expect a 6-foot-8 guy to go into coverage, covering a slot receiver or a running back. Being in coverage, for me, I feel pretty comfortable now."
Kaufusi credits Poppinga for helping him adopt a linebacker mentality.
"I knew the fronts, but I never had to know the coverages and what all the safeties were doing," he said. "I never had to know that playing on the D-line. I was worried about the front seven, not the back end. Now, being able to understand that with the help of the coaches, it's come a long ways and I'm ready for the upcoming season."
While being out with the hamstring injury, Kaufusi watched plenty of film and did a lot of "mental reps" while watching practice.
Kaufusi is relying heavily on his experience, athleticism and football instincts.
"I'm just a stand-up defensive end," he explained. "It's things I've been doing since high school, lots of years. … I'm just going to go out there and do my job."
Poppinga is simply relieved that Kaufusi is back on the field, and he is supremely confident in what Kaufusi can do in the spot that was once manned by former Cougar star Kyle Van Noy — who is a rookie in the National Football League.
"He kept himself in really good condition from the time he got injured until now. But that's just the type of guy he is. He works out like four times a day," Poppinga said of Kaufusi. "We have to tell him not to work out. He's one of those guys. He's just a super hard worker and he's really mastered some different techniques and crafts to be a great outside linebacker. I'm anxious to see how that's all going to come together in a game."