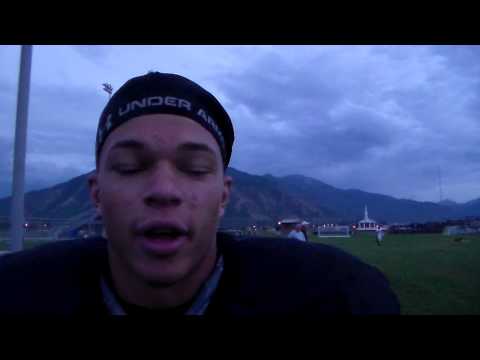 View 3 Items

Note: Maple Mountain finished with a 3-7 overall record in 2013 and tied for fifth in Region 8 with a 2-4 record. It did not qualify for the 4A playoffs.
SPANISH FORK — Last year was a bit of a downer for a still relatively new Maple Mountain program, but things are definitely looking up heading into 2014.
Ten returning starters on offense and seven on defense have both coaches and players optimistic about the team's potential in an improving Region 8.
"We're excited," said Maple Mountain coach Brad Burtenshaw. "The team had a great offseason. We have a lot of guys back, and we all feel we can win some games this year."
Winning is something Maple Mountain had grown accustomed to until last season. Since the school's founding in 2009, the Golden Eagles improved every year — until 2013. Maple Mountain qualified for the 4A playoffs from 2010-12 before last year's 3-7 campaign ended in the regular season.
"We need to get back there," Burtenshaw said of reaching the postseason again. "I think we'd grown used to getting there before last season. We need to get back and then win some games when we get in."
As mentioned, there's good reason to believe Maple Mountain will get back there considering the amount of returning experience set to take the field.
Front and center among the returning starters is quarterback Jaren Hall.
"Jaren is a three-sport athlete and we'll rely on him a lot this year to make plays and to lead," Burtenshaw said. "He's grown. He's stronger, faster and it's real fun seeing how he's improved in the pocket, and he's really good when things break down."
Hall will be looking for receivers such as Jake Dixon, Cole Casper, Jake Mafi and Jared Flake.
"All of our skill guys are back from last year, which is obviously huge," Burtenshaw said. "I feel we have a lot of guys we can get the ball out to and they'll make good plays — make good things happen."
All the players mentioned at receiver will contribute on defense as well — forming what looks to be a promising defensive backfield.
"We don't have a lot of numbers here, so guys have to play both ways a lot," Burtenshaw said. "Fortunately they're all in good shape and can do it well."
Overall, Burtenshaw and his players feel things are lining up nicely this year for a lot of improvement and a run for the top of Region 8.
"Obviously you have to beat Timpview, but there's a lot of other good teams," Burtenshaw said. "But we like what we have coming back, like I said. I don't think many people realized just how young we were last year, but this year I think we'll benefit from that tough season we had."
Maple Mountain Golden Eagles at a glance
Coach: Brad Burtenshaw enters his sixth season as head coach. He's compiled a 22-31 overall record. He's a graduate of San Juan High.
Offense
(10 returning starters; Spread offense)
Maple Mountain's players are not big by any means, but they max out what size and skill they possess. The Golden Eagles return four starters along the offensive line that will help provide ample running lanes and protection for Hall, among others.
"I think we average just 220 along our line, but you know what? Despite their weight they give everything they have," Burtenshaw said. "They're all great in the weight room and play much bigger than their actual size. You couldn't ask for a better bunch of kids."
Defense
(7 returning starters; 4-3 defense)
Burtenshaw believes his defensive backfield will be a strength, but also likes what looks to be some promising linebackers.
"Jordan Larson is back at middle linebacker and he'll be a leader there," Burtenshaw said. "We also have Zack Jeffers on the outside and then we have Mitch Holmes on the line for us. So I think we'll be potentially very good on defense."
Coaches preseason Region 8 straw poll: Fourth
Deseret News preseason Region 8 prediction: Fifth
Bottom line: Maple Mountain should make many strides relative to last season and should be right there at the end. Jaren Hall is one of the most exciting players in the state and is a great leader to have.
….
Maple Mountain coaching history
2009-current — Brad Burtenshaw (22-31)
.....
Deseret News First Team all-staters the past 10 years
(None)
To view second team and honorable mention all-staters through the years, check out the Deseret News All-State Archives.
Email: bgurney@desnews.com
Twitter: @BrandonCGurney