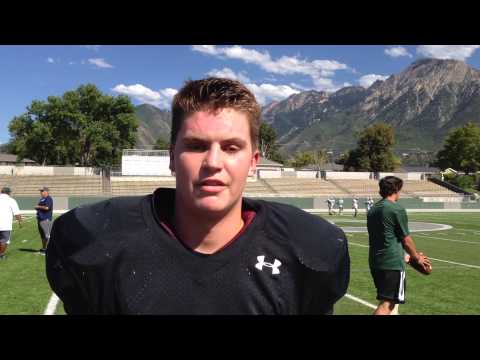 View 10 Items

Note: Olympus finished with a 10-2 overall record in 2013 and tied for first in Region 7 with a 5-1 record. It lost to East 47-21 in the 4A semifinals.
HOLLADAY — Olympus, Orem and Corner Canyon all earned a share of the Region 7 championship last season. A year later, Olympus undoubtedly has the toughest path to repeat as region champions.
While Corner Canyon returns virtually every starter, and Orem returns roughly half, the Titans begin the 2014 season with a slew of unproven players all over the field.
It's a reality Olympus coach Aaron Whitehead isn't trying to hide from either.
"There's no question about it, and we don't mind being under the radar. We'd like all the attention to go to Corner Canyon and Orem," said Whitehead. "We have a challenge in front of us, there's no doubt about it."
It's one everyone is excited about embracing.
When Whitehead was named head coach prior to the 2011 season, he laid down a pretty clear mission statement for the program: Region championships would become the norm, as would playing up at Rice-Eccles Stadium.
Last season Olympus met those expectations, earning a share of the league title and then advancing to the 4A semifinals with a pair of playoff road victories.
Regardless of player turnover, the goal this year is to do it again.
"There's absolute excitement. This is a group that's eager to leave their own legacy. We have a long ways to go," said Whitehead.
From position to position Whitehead said this year's team is solid, but there's not necessarily someone that jumps out like crazy.
Defensively, this year's group has a lot to live up to.
Olympus was one of the best teams in 4A last season, with few teams moving the ball effectively against its first-team defense. In the semis, East of course moved the ball with relative ease, but heading into that game the Titans had only allowed 16.9 ppg.
Whitehead believes that a "nasty" D-line this season has Olympus positioned for another excellent defensive season.
Between Jeff Day, Tyler Ringwood and Mason Draper, Whitehead said this year's defensive line is "as good as what I've had since I've been at Olympus."
Draper is the heart of that defensive line. In fact, Whitehead said part of that stems from last year's quarterfinal playoff win over Logan.
With Olympus leading 23-21 and roughly 10 seconds remaining, Olympus all-state defensive lineman Jeff Faletoi was forced to sit out a play because his helmet fell off the previous play. With Logan one completion away from getting into field-goal range, Draper came in for Faletoi and recorded the game-clinching sack.
Those are the types of plays Whitehead expects to be the norm this season.
On the offensive side of the ball, big things are expected from new quarterback Zack Hodgson and running backs JoJo Henderson and Elias Falk.
Whitehead dubbed Falk a throw-back player to an era gone by, a three-sport athlete who excels in football, basketball and baseball. It's still the norm in rural 3A and 2A schools, but it's certainly uncommon in 4A programs.
He'll be a two-way starter for the Titans at running back and safety, and is a hard runner who could have a big season.
With only two returning starters on the offensive line, there are definitely question marks heading into the season — and particularly a Week 1 test against Cottonwood's superb defensive line certainly won't be easy.
"The most important thing we've got to get is pad level, to make sure we're lower than the defensive front. The wing-T blocking scheme that we use, we want to make sure our angles are down and our shoulders are hitting the hips," said Whitehead.
Olympus Titans at a glance
Coach: Aaron Whitehead is entering his fourth season as Olympus head coach, having tallied a 23-12 record in the previous three years. Earlier in his career he spent five years at East, and his all-time head coaching record is 63-33. He's a graduate of Skyline High.
Offense
(2 returning starters; Wing-T offense)
The cupboard isn't bare for the Titans, it's just unproven. That doesn't change the expectations though. Offensive linemen Jeff Day and Tyler Ringwood are the only true returning starters for Olympus, which surprised many by advancing to the semis last year. There's plenty of talent at the skill positions to keep on rolling along in 2014. At 6 foot 3, 200 pounds, Zack Hodgson is an athletic presence at quarterback who can run and pass. He'll likely run a lot in the wing-T, and when he does throw Mason Draper is a talented tight end who catches everything and Ryan Anderson is a quality receiver. JoJo Henderson and Elias Falk will receive the bulk of the carries at running back.
Defense
(3 returning starters)
Before running into the East bulldozer in the semifinals, the Titans were a superb defensive bunch. That will again be the strength this season. Jeff Day, Draper and Ringwood anchor that group. Day had 40 tackles and eight sacks a year ago. There are no superstars in the linebacking corps, but the coaching staff really likes what they've seen this summer out of Austin Droubay, Hoggan Blackham and Zach Thomas. Junior Dallin Bettilyon is another linebacker to keep an eye on as the season unfolds. The secondary should be strong as well with Falk and Henderson.
Coaches preseason Region 7 straw poll: Second
Deseret News Region 7 prediction: Third
Bottom line: A year after making its first semifinal appearance since 1998, the Titans face a difficult task of duplicating that achievement. Not only did the program graduate the bulk of last year's starters, but most teams in the region figure to be better this year thanks to coaching changes and a bunch of returning starters. With all of that said, Whitehead has traditionally found a way to get the most out of his players in coaching stops at East and Olympus. Even though it seems daunting, don't be surprised if Whitehead works his magic again this season.
….
Olympus coaching history
2011-current — Aaron Whitehead (25-9)
2009-2010 — Mike Smith (14-7)
2004-2008 — Mark Smith (17-34)
1998-2003 — Mike Miller (48-20)
1991-1997 — Tom Larson (42-20)
1985-1990 — Marc Lyons (33-29)
1974-1984 — Louie Long (76-37)
1971-1973 — Wayne Startin (16-11-1)
1967-1970 — John Christopulos (12-25-1)
1964-1966 — Ron Startin (16-9-2)
1956-1963 — Gil Meier (34-28-5)
1954-1955 — Bill Green (7-10)
1953 — Don Dixon (5-3)
.....
Deseret News First Team all-staters the past 10 years
2013 — Coleman Meier, RB
2013 — Connor Haller, DB
2011 — Scott Porter, QB
2011 — Nate Watchman, OL
2010 — Sam Williams, DB
2009 — Ryan Reynolds, OL
2005 — Ryan Roundy, LB
To view second team and honorable mention all-staters through the years, check out the Deseret News All-State Archives.
Deseret News prep editor and Real Salt Lake beat writer.