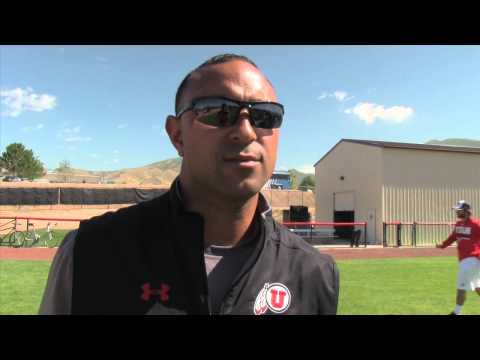 View 2 Items

Tim Patrick has earned a job. He's had an exceptional fall camp.

—Utah head coach Kyle Whittingham
SALT LAKE CITY — Utah's morning practice began with a bang, with the updated depth chart released just 10 days before the Utes will take the field for the first time this season.
While most of the focus has been on the quarterback competition, wide receiver Tim Patrick rose from a man clouded with mystery at the start of camp two weeks ago to a starter on the updated depth chart.
Patrick, a transfer from Grossmont College just outside of San Diego, was a late roster addition as a walk-on before before fall camp began Aug. 4. Since then, the tall and lanky receiver has been one of the top pass catchers talked about by the coaches.
"Tim Patrick has earned a job. He's had an exceptional fall camp," head coach Kyle Whittingham said on Monday. "Patrick, Kenneth Scott and Dres Anderson) are our top receivers right now. There's a group right behind them. We've got a good group of receivers. Like I said earlier in camp, it's a whole different look than what we had in spring."
Wide receiver coach Taylor Stubblefield added it is Patrick's hands and 6-foot-5 frame that make him a potential breakout receiver.
"He brings a big body — a big target," Stubblefield said. "He has really, really, really good hands, so he's catching the ball consistently. He brings an opportunity to go deep and also an opportunity to be able to post up on some short balls."
However, Stubblefield also said Patrick's starting job isn't secure just yet. Utah's season opener is 10 days away, and Dominique Hatfield, who has been all over the field for the Utes throughout camp, is also vying for one of the top three receiver spots.
"If anything it's a 1-A, 1-B with Dom Hatfield chomping at (Patrick's) heels — if not neck-and-neck," Stubblefield said. "That's still competition. The game is still 10 days away, so we still have some work to do, but we'll get it done."
The team will have one last scrimmage on Thursday that could help solidify the final depth chart heading into next week's season opener.
Whittingham also said Monday that he expects to use six or seven receivers on a constant basis, despite naming three starters.
"We travel eight typically," he said. "About six or seven will be in the rotation, but the top three are what you see on the depth chart."
Hatfield, Clay and Delshawn McClellon highlight the other receivers expected to see time catching passes this season. Hatfield is also listed behind Eric Rowe on the cornerback slot after injuries forced him to help out the secondary.
"There's a good solid depth from top to bottom with guys we believe in and can trust," Stubblefield said. "When (they're) opportunities come, they have to make the most of them."
The battle for a starting job, however, also doesn't take away anything Patrick has shown since arriving at camp. Patrick has had to learn a lot in a short span of time since joining the Utes. He said having the older receivers around him like Anderson and Scott — the two other starters on the depth — have been beneficial to his sudden rise to the top of the depth chart.
After Monday's morning practice ended, Patrick, along with Scott and Clay, remained on the field for nearly 20 extra minutes working on more receiving reps.
"It's really important because I feel like if I would've come out here and was the oldest guy, I would've had to have taken a different role," Patrick said. "I would have had to pretty much learn on my own. With two older guys like, they really help me out.
"They've been here and know how it is," he added. "I'm from a junior college and the biggest crowd I probably played in front of was probably 500. So they know how it is out there and they're just giving me the ropes basically."
In addition to their tutelage, Patrick said he has spent plenty of his off time studying the team's playbook to understand the offense better.
"I just study the playbook day and night," he said. "Literally after practice, I will go home and study the playbook and then here (at practice) get the reps in and get it down. Then we have meetings to study the playbook. It's all just study, study, study until I get it all down."