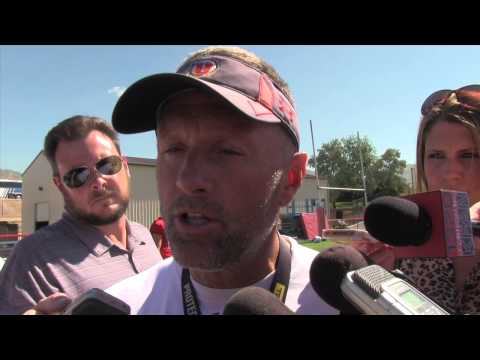 View 26 Items

It was close. It was just about a dead heat.

—Utah coach Kyle Whittingham said of the battle between Travis Wilson and Kendal Thompson
SALT LAKE CITY — And the winner is ... Travis Wilson.
Utah coach Kyle Whittingham announced Monday that Wilson has edged out Oklahoma transfer Kendal Thompson for the starting quarterback job. The juniors had a competitive battle for the position throughout camp, culminating with Saturday's scrimmage at Rice-Eccles Stadium.
"Travis is our starter," said Whittingham, who noted that the competition was about as tight as it could be.
Whittingham added that Thompson will play as well, but not in a two-quarterback system or rotation.
"It's when we get the opportunity to put Kendal in and give him some work," Whittingham explained. "He's earned that right and you will see him play as well."
Wilson, though, is the No. 1 guy on the depth chart. Whittingham said the quarterbacks were separated by a few percentage points in terms of completions and that experience was a factor.
Before being sidelined for the final three games of 2013 following the discovery of an intracranial artery injury, Wilson had started 16 consecutive games for the Utes. He was medically cleared to resume his career this summer and saw his first live action since Nov. 9 in Saturday's scrimmage.
"It was close," Whittingham said of the battle between Wilson and Thompson. "It was just about a dead heat."
As such, Whittingham said that Thompson also earned an opportunity to play. In what capacity, however, will remain a mystery. Although Whittingham previously mentioned the possibility of a situation like Urban Meyer had at Florida with Chris Leak and Tim Tebow, he wasn't revealing anything as the final week of camp started.
"We'll make those decisions later and we won't let anyone know what those decisions are," Whittingham said. "But (Thompson) will play."
The quarterbacks, he explained, took the announcement of a starter well.
Whittingham said that Thompson has the right attitude. He came out and competed in practice Monday morning.
Thompson was notified by quarterbacks coach Aaron Roderick that Wilson would be the starter.
"He just sat us down kind of individually, broke down the evaluations and kind of gave us the scoop," Thompson said. "I think we all handled it pretty well. We'll keep competing and move forward toward the season."
Thompson acknowledged that the opportunity he'll get to play is a bit of a silver living for coming up short in the competition.
"Definitely, obviously any time you can get out on the field and help contribute that's a positive," Thompson said. "So when I get there I'm going to look forward to doing some good things."
Thompson felt that he and Wilson both did a good job competing in camp and that it "elevated their games." It's something, Thompson said, that they both need to continue doing as the Aug. 28 season opener against Idaho State approaches.
Upon learning he would be the starter, Wilson said he's happy to be in the position and that he has great guys around him as well.
"There was definitely a lot of pressure, but I think it was all good pressure and definitely good competition between me and Kendal," Wilson said. "So I think everything worked out how I wanted it to and I think me and Kendal both made the other better as well."
As far as Thompson also getting playing time, Wilson has no problem with that.
"He's definitely a good runner, so I think that's something that we can use and probably get him in some packages," Wilson said. "So whatever we need to do we'll do."
Senior wide receiver Dres Anderson also weighed in on the quarterback decision.
"I feel good. (Travis) has the most experience," Anderson said. "We're comfortable with both quarterbacks, but we've gone through this with Travis before so it's nothing new to us. He's a captain on our team so it's good for all of us."
Offensive coordinator Dave Christensen emphasized that the starting competition was extremely close and there isn't a huge gap separating Wilson and Thompson.
"We thought that Travis had just a slight edge," Christensen said. "So that's the way we laid it out. Kendal's earned the right to play. He's proven that he's capable of playing and so he'll have an opportunity at some point and time."
Christensen told both quarterbacks it would be easy for the coaches if one guy was lousy and the other guy was really good, making for a huge separation.
"But it's a good situation to be in where we have two guys that are both capable and now they can continue to compete and we'll have some depth there," he said.
Twitter: @DirkFacer