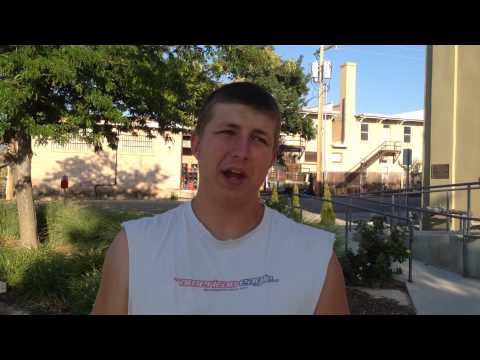 View 13 Items

It's given them a new reason to fight and they're looking forward to the year and I think a lot of great things are going to come from it," said

—Gunnison interim head coach Trent Halliday, on former head coach Mike Grajek leaving
Note: Gunnison finished with a 4-7 overall record in 2013 and was fifth in 2A North with a 2-4 record. It lost to North Summit 32-20 in the 2A quarterfinals.
GUNNISON — It's been an interesting summer for Gunnison's football team.
First, extremely likeable Yuri Ludvigson, a coach who's been compared to Santa Claus, announced in May that he was moving back to Mesquite, Nev. to take a different coaching job.
More shocking, however, is what happened last month.
Less than two months on the job, and the week after team camp in Fillmore, head coach Mike Grajek announced he was leaving the team to become an assistant coach at South Summit.
What could've snowballed quickly and destroyed the 2014 season has actually become the rallying cry for this team.
"It's given them a new reason to fight and they're looking forward to the year and I think a lot of great things are going to come from it," said interim head coach Trent Halliday.
Over the past four years Halliday has been an assistant coach at Gunnison, and his promotion to head coach has helped put everyone associated with the program at ease.
"It went from something that could've totally destroyed them and brought them down, to actually becoming something that's lifted them up and they've become a lot stronger in the past couple weeks than they were," said Halliday.
During his four years as Gunnison's head coach Ludvigson made great strides within the program, but it never came close to finishing with a winning record. In fact, in the 24 years since Gunnison started playing football it's only ever had two winning seasons.
Turning things around won't be easy, but Halliday was with the team all summer and he liked the mentality well before he became head coach.
Gunnison will lean heavily on an experienced offensive line with four returning starters — Jayden Lyon, McCoy Roberts, Braydon Burrell and Morgan Harris. The quartet has a very good understanding of blocking for the spread offense and is anxious to challenge itself against 2A's best.
Those players will be blocking for quarterback Hunter Whitney, someone who's waited an entire year for another shot at varsity time.
Because of an injury to Gunnison's starting QB in Week 1 last season, Whitney got the start against South Sevier, completing 14 of 38 passes for 197 yards, three touchdowns and one interception.
Gunnison lost that game to South Sevier 25-14, but it gave Whitney exposure to what he'd face the following year after Tyson Moosman graduated after throwing for 2,247 yards, 22 touchdowns and 25 interceptions.
Cutting back on all those interceptions will be the primary objective this fall.
Whitney has actually stepped up as a huge leader on the team in the weeks since Grajek's departure. In fact, two days after Halliday was announced as the interim head coach, Whitney organized a 5:45 a.m. run up to the "G" hill with the players carrying Gunnison's flag.
"That was started by Hunter. He and some of the other leaders of the team wanted to show the community and everybody else that they were still in it," said Halliday.
A big chunk of Whitney's potential success will fall on receivers Layne Jensen, Kyler White, Conner Caldwell and Austin Francis. Caldwell caught nine passes last year, while Francis caught one, but that's it.
The bigger question mark for Gunnison is on the defensive side of the ball. It ranked second-to-last in 2A last season, allowing 31.4 ppg. It gave up 65 to South Summit, 45 to North Summit and 56 to San Juan during the regular season.
Halliday is hopeful that a revamped defense will help the Bulldogs'
"In the past we've been a little more static, we've been heads up football. Now we're going to move a lot, we're going to change our fronts, change our looks a lot," said Halliday.
Gunnison Bulldogs at a glance
Coach: Trent Halliday is entering his first season as Gunnison's head coach on an interim basis.
Offense
(5 returning starters; Spread offense)
The overall participation numbers aren't great this year, but at least Gunnison isn't scrambling to find linemen with four returning starters on the O-line. That cohesion should help new QB Hunter Whitney ease into his responsibilities more slowly. A year ago Jayden Rogers led Gunnison with 819 rushing yards and 10 touchdowns, but there was a gigantic drop-off after that. McKade Cox is one of the players who could fill Rogers' shoes, but he played some offensive line last year and that may be his destination again this season. Conner Caldwell was the Bulldogs' third-leading receiver last year with nine receptions for 135 yards and two TDs, and the wideout is hoping for an ever bigger season.
Defense
(5 returning starters)
Gunnison's defense was pretty porous a year ago, but a strong returning corps of linebackers could help change that. Morgan Harris is a returning starter at middle linebacker, while Cox and Layne Jensen are returning outside linebackers. Cox and Harris finished with 71 and 70 tackles, respectively, last season, finishing second and third on the team. Jayden Lyon and McCoy Roberts rotated in and out at defensive tackle, and their experience should help Gunnison improve its soft run defense from a year ago.
Coaches preseason 2A North straw poll: Sixth
Deseret News 2A North prediction: Sixth
Bottom line: In Ludvigson's four years as head coach, Gunnison won three, two, three and four games, respectively. In many ways, he'd done all he could for the program and now it's time for someone else to try and take the next step. With low numbers, however, that won't be easy. A strong returning offensive line gives everyone at Gunnison hope for a successful season, but from top to bottom the 2A North region appears to be much, much improved. Even if the Bulldogs make strides and improve upon last year, a fifth- or sixth-place finish seems likely.
….
Gunnison coaching history
2014 — Trent Halliday (0-0)
2010-2013 — Yori Ludvigson (12-28)
1994-2009 — Rhett Jackson (63-126)
1990-1993 — Ron Dalley (5-22)
….
Deseret News First Team all-staters the past 10 years
2013 — Tyson Moosman, QB
2013 — Jacob Hatch, WR/DB
2012 — Braden Harris, RB/LB
2011 — Braden Harris, RB/LB
2010 — Jantz Jensen, TE/LB
2007 — Heston Neal, RB/DB
2006 — Taylor Ashton, RB/LB
2006 — Chad Satterfield, RB/LB
2005 — Ben Dalley, RB/LB
2005 — Joey Crane, RB/LB
2004 — Jack Pay, OL
To view second team and honorable mention all-staters through the years, check out the Deseret News All-State Archives.