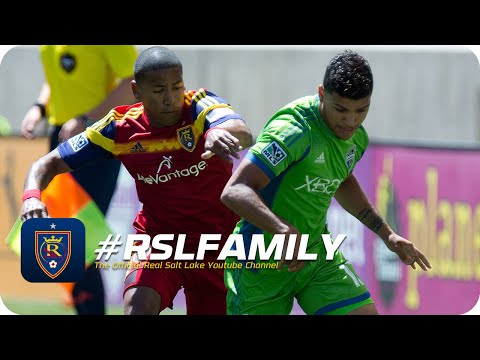 View 23 Items



I'm content scoring goals with my head, I don't mind it. I'm finding the ball and if it's coming to my head I'll score it.

—RSL's Joao Plata
SANDY — Luke Mulholland revealed Joao Plata's secret for scoring goals with his head lately.
"I think he just closes his eyes and puts his head forward and hopes for the best," said Mulholland.
It's been a successful formula the past two games. Plata scored with his head against D.C. United last Saturday and then did so again on Saturday, heading home his team-leading 11th goal in the 2-1 victory over Seattle. Both goals were assisted by Mulholland.
Plata himself grinned when asked about scoring Alvaro Saborio-type goals.
"I'm content scoring goals with my head, I don't mind it. I'm finding the ball and if it's coming to my head I'll score it," said Plata.
His production has been vital since Saborio went down with a broken foot during World Cup duty with Costa Rica.
In the 13 games RSL has been without Saborio, Plata has scored six of the team's 17 goals.
Mulholland said it's no secret how the 5-foot-2 Plata is getting the job done.
"It's all about your movement and being proactive. It doesn't matter how small you are if you can be proactive and react quicker to certain balls," said Mulholland.
After Saturday's match, Plata's teammates and coaches went on and on about his production on more than just the scoresheet.
"Joao is playing at an extremely high level. Every game he's being consistent. Obviously I love balls going in the back of the net, but I really appreciate his work on the defensive side as well," said RSL coach Jeff Cassar.
Defender Chris Wingert isn't surprised how productive Plata is being. He even recounted a conversation he had with his dad last year that it's only a matter of time until Plata starts pouring in the goals.
"He is an animal of a competitor. I just love the way he competes," said Wingert.
Saturday he was chasing down defenders to the corner flag and even shielding off Seattle's beast of a center back Chad Marshall.
"He is an absolute monster," said Wingert.
RUNNING THE POINT: After his strong performance against Tijuana in a friendly earlier this week, midfielder Luis Gil built on that momentum with a strong performance at attacking midfield against Seattle.
Javier Morales didn't suit up because of a hip injury he sustained against D.C. United the week before, but Gil slid right in and did the job.
"I thought it was a really solid performance," said Cassar.
Gil set up RSL's second goal with a cheeky little pass, a goal that was eventually counted as an own goal. Gil has always said he feels more comfortable playing at attacking midfield than out wide.
"It feels good to be in there, you get the ball more often. I felt good being in there, trying to create and open up the game for everybody else," he said.
Deseret News prep editor and Real Salt Lake beat writer.