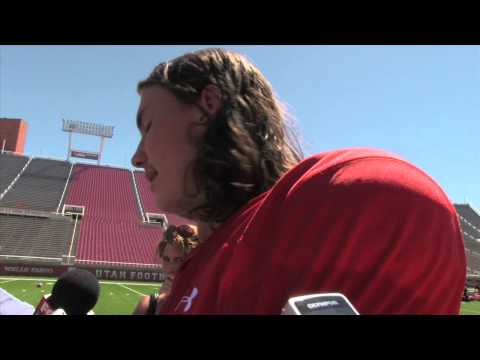 View 21 Items

We've got to study the film. We've always got to evaluate. So we'll evaluate today's scrimmage, take into consideration the body of work up to this point and time, and settle on a starter here probably in the next few days.

—Utah offensive coordinator Dave Christensen
SALT LAKE CITY — Now comes the decision.
After Saturday's scrimmage at Rice-Eccles Stadium, candidates Travis Wilson and Kendal Thompson will soon find out who will be Utah's starting quarterback when the Utes open the season Aug. 28 against Idaho State.
"We've got to study the film. We've always got to evaluate," said offensive coordinator Dave Christensen. "So we'll evaluate today's scrimmage, take into consideration the body of work up to this point and time, and settle on a starter here probably in the next few days."
Utah coach Kyle Whittingham later said a decision will be made by Monday when a new depth chart is released. He acknowledged it will be tough to choose between the two.
"We weigh moving the chains and getting the team in the end zone, who moves the team down the field and gets them in the end zone," Whittingham said. "It's not going to be an easy call. They're both quality quarterbacks."
In the scrimmage, Wilson completed 11 of 22 passes for 145 yards and two touchdowns. He ran for 53 yards and a score. Thompson connected on 8 of 18 throws for 129 yards and a pair of TDs. The Oklahoma transfer also reached the end zone twice on foot while rushing for 89 yards on nine carries. Both quarterbacks were intercepted, however.
"I thought they both made one crucial mistake and I thought other than that they both did some really good things," Christensen said.
Thompson agreed. Aside from the turnovers, which Thompson said are going to happen sometimes because the players on defense are on scholarship as well, he thought the offense executed well and moved the ball.
"I felt like me and Travis both played well," said Thompson, who noted that the offense also came out with better intensity than Tuesday.
The offense, Wilson noted, was a lot more productive in this scrimmage.
"I thought we threw and ran the ball a lot better," he said. "So we've just got to keep on progressing in that aspect. We've got a game 10 days away, so we've got to be ready for it."
Wilson's preparation featured his first live action since being sidelined with the discovery of an intracranial artery injury after the Arizona State game on Nov. 9. Although he's been medically cleared to take hits in practice, the coaching staff has prevented him from doing so for precautionary reasons in preseason camp. The closeness of the competition with Thompson, though, led to a decision by Whittingham, Christensen and quarterbacks coach Aaron Roderick to expose Wilson to tackles on Saturday.
"I wanted to be live, even in the last scrimmage as well, so I was happy I got to be live," Wilson said. "I haven't been able to hit anybody since last November, so it was definitely a good feeling."
The first hit, he explained, went well.
"It felt like I was my normal self again," Wilson said. "I think being live today was really helpful and helped me out a lot."
Wilson thought he did really well in the scrimmage — taking care of the football, scoring in the red zone.
"I definitely feel like I laid everything out there today. Hopefully, the coaches will see that, too," he said before addressing the impending decision. "But either way, whatever happens, happens, and I know they'll pick the right guy to be the starter."
Thompson noted that he has the same attitude.
"I leave that up to the coaches," Thompson said. "I just tried to come out here and do what I could."
Whittingham told reporters that whoever doesn't get the job initially should continue preparing because, as the season unfolds, things may not go as wanted.
"There's always adjustments that can be made," he said. "It's not like when we name a starter on Monday it's set for the entire 12-game season. So you just keep working hard and you keep trying to get better."
EXTRA POINTS: Utah's offense had 95 snaps in the scrimmage and turned the ball over twice. Whittingham said the two interceptions were good plays by the defense. The offense did put the ball on the ground once — one too many, Whittingham noted — but they recovered it. ... Whittingham noted that quarterback Brandon Cox, a redshirt freshman, came in and did some good things. Cox and Conner Manning, who is also a redshirt freshman, will be evaluated for the No. 3 spot on the depth chart. ... Tim Patrick and Kaelin Clay led the scrimmage with three receptions apiece.
Email: [email protected]
Twitter: @DirkFacer