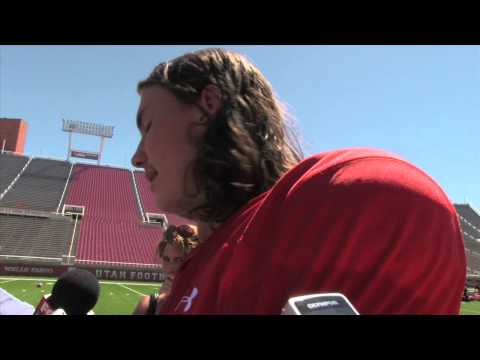 View 21 Items

We will have a starter named by Monday. We've got to start tailoring the offense for whoever that starter is, or whatever decision we make.

—Utah coach Kyle Whittingham
SALT LAKE CITY — Utah quarterback Travis Wilson returned to live action for the first time since suffering a concussion and being diagnosed with an intracranial artery injury last November. The junior took hits in Saturday's scrimmage at Rice-Eccles Stadium as his battle with Kendal Thompson for the starting job reached crunch time.
Head coach Kyle Whittingham said the coaches will watch the film and then release a depth chart.
"We will have a starter named by Monday," Whittingham said. "We've got to start tailoring the offense for whoever that starter is, or whatever decision we make."
Whittingham told reporters he does not believe in a two-quarterback system, per se, as in a rotation where players alternate quarters or things like that. He did, however, acknowledge the possibility of having a starter and another guy who is strictly situational — much like what Urban Meyer had at Florida with Chris Leak and Tim Tebow.
"That's a possibility, but there will be no rotation," Whittingham said.
In what the coach noted will be the "final live work" for the quarterbacks in camp, both Wilson and Thompson received praise from Whittingham for being "very good" in the scrimmage.
Wilson completed 11 of 22 passes with two touchdowns and one interception. He also rushed for 53 yards and scored once on 11 carries. Thompson, meanwhile, was 8 of 18 passing for 129 yards with two touchdowns and an interception. The Oklahoma transfer ran for two scores, racking up 89 yards on nine rushes.
The decision to have both quarterbacks go live, Whittingham explained, was necessary in the process of naming a starter. He noted that's how you get the best look and the best evaluation, even though there's some risk to it in terms of the possibility of injury.
"You don't go live if there's a clear separation," Whittingham said. "If there's a clear separation between one and two then typically you're going to keep your one guy off-limits and go from there. But when it's a heated battle, you're much better and much more thorough in your evaluation if you can go live."
Wilson didn't mind.
"I was happy I got to be live," Wilson. "I think I got to make a few more plays that I wouldn't have if I wasn't. So it was definitely a good time."
The first hit he absorbed since Nov. 9 against Arizona State, Wilson added, made him feel like he was back in football again.
Whittingham thought Wilson handled his first contact in months well.
"He had no hesitation. He didn't shy away from anything," Whittingham said. "In fact, in my opinion, he was a little too aggressive. You want to be smart. We have the quarterback run element to our offense, but you still do not want to take those direct hits. You want to try to dive into those gaps of daylight — and so he was probably too overzealous if anything today."
Whittingham, though, thought both Wilson and Thompson ran the ball well and threw it much more effectively — even with top receivers Dres Anderson and Kenneth Scott, plus tight end Westlee Tonga, not participating in the scrimmage.
"It's going to be a good film session today," he said. "It'll be interesting."
Other performances noted by Whittingham included running backs Troy McCormick and Devontae Booker. McCormick, who shared scrimmage-high rushing honors with Thompson, had the longest run of the day — a 59-yard touchdown romp during four-minute play. Booker netted 73 yards in the scrimmage and scored on a short run in red zone work.
The longest play from scrimmage came early when Thompson connected with tight end Siale Fakailoatonga on a 65-yard touchdown pass. Thompson later teamed with Kaelin Clay on a 9-yard scoring strike. He also had TD runs of 21 and 44 yards.
Wilson had a 38-yard touchdown toss to Kenric Young and an 18-yard TD throw to Andre Lewis. Between the throws, Wilson had a 6-yard run for a score.
Kicker Andy Phillips made four field goals, connecting twice from 41 yards out as well from distances of 43 and 52 yards.
Whittingham also thought the defense played well overall despite having about half the starters on the sidelines for precautionary reasons.
Defensive end Wallace Gonzalez had a strong outing with 1 1/2 tackles-for-loss, an interception and a sack. Defensive back Evan Eggiman also picked off a pass. Hunter Dimick, Aaron Borg and Wykie Freeman made stops behind the line of scrimmage, while Brian Allen, Clarence Smith and Monte Seabrook assisted in doing so. Seabrook joined Boobie Hobbs, Greg Reese and Casey Hughes in breaking up passes.
"I thought it was good overall," Whittingham said. "Really, everybody stood out. Everyone played up to their capabilities."
Whittingham later added that the team made a lot of progress since Tuesday's scrimmage. He said it was major improvement.
"We need to polish some things up," Whittingham said. "But we're a heck of a lot closer to being game ready today than we were on Tuesday."
Email: dirk@desnews.com
Twitter: @DirkFacer