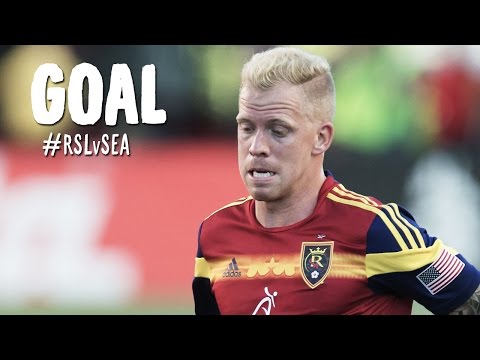 View 23 Items



Seattle came into Saturday's Rio Tinto tilt having already played two games this week. The Sounders looked tired and lacked a step, while Salt Lake hit the ground running and never looked back, owning both possession and chances on goal all game long.
Joao Plata and Olmes Garcia seemed poised to manufacture a goal all game, with centimeter misses on shots and crosses to each other throughout the match.
Plata finally connected in the 53rd minute to put RSL on the scoreboard off a Luke Mulholland cross. Mulholland was rewarded four minutes later with a shot that ricocheted off Seattle's Osvaldo Alonso for RSL's second goal. It was officially called an own-goal for Seattle, but for all intents and purposes it was Mulholland's score and Plata's and Gil's assist.
Seattle came back with a goal of its own in the 73rd minute off a broken defensive play in the box to breathe some life back into the Seattle side. The final 15 minutes were tense as Seattle worked up just enough steam to put RSL's defense under the pressure it had failed to manufacture the rest of the game. The boys in Claret and Cobalt kept their cool and ended up walking out of Rio Tinto with the win and the lead in the West.
Goalkeeper
Nick Rimando was called upon to use his foot skills numerous times as a sort of sweeper-keeper with the likes of Kenny Cooper, Clint Dempsey and Brad Evans charging into the box. No problem for the former midfielder. His team put on a very good defensive effort in front of him Saturday. Unfortunately one of the shots ended up in the back of the net on a broken-down play in RSL's box.
Grade: A
Defenders
Tactics: Chris Wingert and Tony Beltran are back on the back line after sitting out last Saturday's regular season game on yellow-card accumulation. Chris Schuler's foot is often a question mark late in the season, but he wasn't about to let it get in the way of perhaps RSL's most hotly anticipated home matchup of the season — he's at center back alongside Nat Borchers.
Nat Borchers was physical when he had to be and showed very good patience and vision bringing the ball out of the backfield. Most teams consider themselves in trouble when forced to build up play out of the backfield time-and-again. RSL makes it part of its game plan, with Borchers pulling the strings to link up with his midfielders.
Chris Schuler was matched up against Seattle's brawny striker, Kenny Cooper, much of the game Saturday. Schuler held his own, and in fact showed Cooper he was no one to be manhandled. On the occasion Clint Dempsey found himself matched up with Schuler, his positioning and surprising quick bursts of speed were enough to keep the creative striker just enough off balance to keep him from doing too much harm.
Chris Wingert ended up on the attack all during the first half on Saturday. He showed Seattle's wunderkind, and Tottenham signee, DeAndre Yedlin that smarts and skill can beat speed when deployed with veteran skill against youth. On the defensive end, Wingert ended up out of position a few times, thanks to his forward movement.
Tony Beltran picked up the second half where Chris Wingert left off from the first half, leading the offensive charge up the wing, this time from the right side. What Beltran lacked in visible contribution in the first half he made up for with excellent timing on his passes and threatening runs up the side that broke down the left side of the Seattle defense for RSL's two second-half goals. His defensive handling of Kenny Cooper, especially during the second half, was fun to watch, until Cooper burned him in the 73rd minute to put the ball into the box that gave Seattle its goal.
Carlos Salcedo ('89) subbed on for Chris Wingert.
Grade: B+
Midfielders
Tactics: Luke Mulholland continues to prove himself in the diamond and starts once again at the right side, while Ned Grabavoy takes the left side. Kyle Beckerman takes his usual place at holding midfield. Javier Morales is under the weather and healing from a slight hip contusion that took him out of last Saturday's match, so Luis Gil gets the start at the point.
Luis Gil came off perhaps his finest performance in a Real Salt Lake uniform when he scored the equalizer against Club Tijuana in Wednesday's friendly. He showed continued confidence Saturday afternoon, with excellent timing on his passes and a terrific defensive work rate. Gil earned a well-deserved second assist by putting the ball into a dangerous spot for Plata and Mulholland to turn into a score in the 57th minute.
Kyle Beckerman seems to thrive on big games going up against big opponents. There was an extra pep in his step Saturday as he matched up against the likes of Ossie Alonso and Brad Evans. Beckerman was key to maintaining RSLs slight dominance in the midfield.
Luke Mulholland showed something Saturday afternoon that for some reason has gone pretty well unnoticed this season — speed. Lamar Neagle is known for it, and Mulholland had little difficulty keeping up with, and even beating, the Seattle speedster, who was often called upon to mark him on numerous occasions. Mulholland's ability to find open players in the box is unexpected and uncanny from the first-year former NASL player. Mulholland helped put RSL on the scoreboard with his 53rd minute free kick that arched perfectly behind the defense to a flying Joao Plata. Plata rewarded him with an assist of his own to Mulholland in the 6-yard box in the 57th minute for RSL's second goal.
Ned Grabavoy teamed up with Luis Gil and Joao Plata along the left side much of the afternoon to create the most dangerous attacking group of the game — on either side of the ball. Grabavoy's work rate in the midfield, particularly on 50-50s and defensive backtracking, was just about all Seattle's Brad Evans could handle.
Cole Grossman (Sub '80) subbed in for Joao Plata to add another defensive midfielder beside Kyle Beckerman, leaving Robbie Findley alone at the top.
Grade: A
Forwards
Tactics: Olmes Garcia and Joao Plata start up front once again. Their combined combination of speed, a willingness to make the difficult runs and creativity have been key to breaking down opponents' defenses and one of the reasons RSL is scoring a goal every 30 minutes while it's on the field together.
Olmes Garcia made his first big impression of the game in the 15th minute when he tried the old "hand of God" at midfield to flick a Rimando goal kick on. The young Colombian shows flashes of brilliance, but on occasion his youth shows through. Garcia was on the receiving and delivering end of a handful of really nice crosses in the box that seemed just a half-second late or an inch too far out of reach, otherwise RSL would have run away with Saturday's game.
Joao Plata started the game with one strong challenge on goal within the first five minutes of the game, and another very good cross into Luke Mulholland that the young Englishman nearly volleyed home. His intensity never let up all game. His matchup with Seattle speedster DeAndre Yedlin was one of the more entertaining aspects of Saturday's game. But it was his sublime header (his second in two games) in the 53rd minute off a cross by who else, the on-fire assist machine, Luke Mulholland, that put RSL on top and rewarded the unyielding effort from the diminutive Ecuadorean. He returned the favor to Mulholland in the 57th minute with an assist of his own.
Robbie Findley (Sub 60') subbed on for Olmes Garcia. Findley struggled a little to match the pace of the game. Findley still seems tentative to run at defenders. He won balls over the top with his speed several times, but rather than go one-on-one against defenders, Findley holds the ball up. Which is fine every so often, but becomes predictable when it's every time.
Grade: A
Chris Higbee is a former general manager of DeseretNews.com who continues to write about Real Salt Lake.