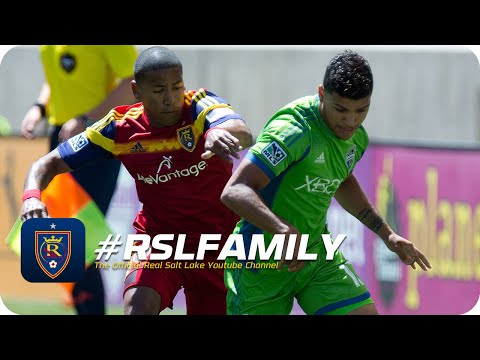 View 23 Items



We felt if we could get on a run we could get back in the Supporters' Shield talk, and that's what we did. Obviously it's not finished by any means, we've got a long way to go before the Supporters' Shield is done, but today we took a good step forward.

—RSL captain Kyle Beckerman
SANDY — A month ago it looked like the Seattle Sounders would run away with the Supporters' Shield, but now they have company.
In a matchup of the top two teams in the Western Conference on Saturday, Real Salt Lake avenged an earlier beatdown against Seattle, scoring twice in a second-half flurry and then holding on for the 2-1 victory at Rio Tinto Stadium.
The win moves RSL to the top of the MLS table, one point clear of Seattle after trailing by as many as 11 points not long ago.
"We felt if we could get on a run we could get back in the Supporters' Shield talk, and that's what we did. Obviously it's not finished by any means — we've got a long way to go before the Supporters' Shield is done — but today we took a good step forward," said RSL captain Kyle Beckerman.
Real Salt Lake was in control most of the game, but did all of its attacking damage between the 53rd and 57th minutes, scoring once via Joao Plata and then again through an Osvaldo Alonso own goal for the 2-0 cushion.
Seattle pulled a goal back in the 72nd minute and forced Real Salt Lake to sweat out another result, but RSL coach Jeff Cassar inserted Cole Grossman into the match in the 80th minute and changed his team's shape to help kill the game off.
With as tight as things are atop the Western Conference, Saturday's result won't mean much if RSL can't back it up with continued results.
"As cheesy as it sounds or as cliche as it sounds, we need to just keep taking it week by week. There's a lot of games left," said RSL defender Chris Wingert.
RSL's last 10 matches are all against Western Conference foes, including another at Seattle — which has also played two fewer matches.
Real Salt Lake came out flying in the first half Saturday, putting the visitors under early pressure.
After a half of near misses — mostly by Plata — the shortest player on the field made amends in a big way in the 53rd minute. He found space behind Seattle midfielder Lamar Neagle on a Luke Mulholland free kick, catching everyone by surprise as he headed the ball over Seattle's 'keeper for the 1-0 lead.
It was his team-leading 11th goal of the season, and second with his head in as many games.
"That's Joao. He can score goals from any way. He's shown it this year. And now his head," said Beckerman. "We've been leaning on him for goals this year and we're going to continue leaning on him."
Mulholland joked that it unfolded exactly as he hoped.
"I was definitely aiming for the smallest guy on the field to head it into the goal," he said. "No, to be honest I couldn't see him, I was just trying to hit an area in between their back line and their goalkeeper. Just trying to make enough whip so he couldn't come out for it. Lucky enough Plata was able to come out and redirect it."
Plata has now scored in four of the past six matches.
Mulholland helped RSL double the advantage four minutes later, a sequence that was ultimately credited as an own goal. Mulholland and Alonso both lunged for Luis Gil's through ball simultaneously, but Mulholland disputes how it's being recorded.
"I don't know if he touched it, but I definitely touched it and sent it toward the goal so I don't know how that can be an own goal," said Mulholland.
Regardless, it gave RSL a cushion it ended up desperately needing.
Seattle pulled a goal back in the 72nd minute in a weird sequence that Real Salt Lake failed to clean up twice.
Miscommunication prevented RSL from clearing the danger early, and then after RSL goalkeeper Nick Rimando saved Clint Dempsey's shot and Andy Rose headed the rebound off the post, Chad Barrett tapped in the second rebound, cutting the deficit to 2-1.
"It was my fault. The ball was played in behind (Chris) Schuler a little bit, so I was afraid … he was going to have to clear it out for a corner and I had a better angle on it. I didn't realize that Rose was right on my back, so I tried to swing it up the field thinking I had a better angle so I called him off," said Wingert.
His clearance was blocked, which led to a very soft goal that could've been disastrous.
Instead, RSL hung on for the victory and now turns its attention to FC Dallas next Friday on the road.
Deseret News prep editor and Real Salt Lake beat writer.