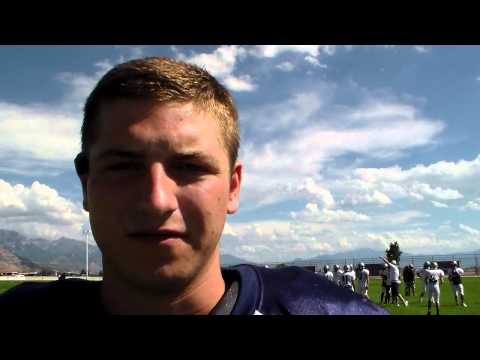 View 6 Items

I'd obviously love having more returning experience, but you take what you have. It's not an easy deal having just one year under your belt running things and then come back the next year with almost every starter from last year gone. You deal with it and I believe we'll be fine.

—Lone Peak coach Mike Mower
Note: Lone Peak finished with an 8-5 overall record in 2013 and tied for first in Region 4 with a 4-2 record. It lost to Bingham 48-13 in the 5A semifinals.
HIGHLAND — You'd think things would be easier for Lone Peak coach Mike Mower in his second year as head coach, but you'd better think again. With the cupboard almost completely bare of returning starters from a year ago, Mower's work is cut out for him.
The Knights return just one part-time starter on both sides of the ball, which is something that could devastate some smaller, less-established programs.
"I'd obviously love having more returning experience, but you take what you have," Mower said. "It's not an easy deal having just one year under your belt running things and then come back the next year with almost every starter from last year gone. You deal with it and I believe we'll be fine."
Benefiting Mower's team this season is a good, established system that sees many quality players join the varsity team most years.
Through workouts and into practice sessions, coaches have become impressed with a young and talented group of players ready to take lead roles.
"We're not panicking by any means," Mower said. "Like I said, it's a challenging deal, but we're excited for the challenge and we're excited about the potential of these kids. We're confident we can put things together and get some wins."
Putting together wins won't come easy in a typically tough Region 4, but players believe they can get it done.
"We have a lot to live up to at Lone Peak, and I think we have some guys that will surprise people," said senior running back Parker Richards. "I think we're going to contend again this year and the state championship is always the goal here."
Richards is expected to start at running back along with Cameron Ure. Talmage Gunther has the tough task of replacing Baron Gajkowski at quarterback, but players feel he's up to the task.
"Talmage can run, he can throw, and we think he's going to be very good," Richards said.
Other quarterbacks who may be in the mix include junior Justin Miller and sophomore Dakota Hansen, the younger brother of former quarterback Chase Hansen.
At tight end David Flake returns as the team's only starter from a year ago.
Other expected standouts include running back Jackson McChesney, along with receivers Jonny Christensen, Logan Reese and Caden Humphrey, among others.
"We always seem to get good playmakers here at the skill positions and I think we'll have that again," Mower said. "These kids are committed to working hard and they're talented. They're young, and a little inexperienced, but I think they're all going to step up and play well."
On the defensive side, it's largely the same story with no returning starters and a lot of young players ready to step up.
"I think we have the potential to be real good on our defensive line," Mower said. "It's going to be tough, just like it is over on the offense with the inexperience, but I think we'll be OK."
Lone Peak Knights at a glance
Coach: Mike Mower is in his second season as head coach after leading Lone Peak to an 8-5 season a year ago. He previously worked as an assistant at both Lone Peak and American Fork.
Offense (1 returning starter; Spread offense)
Lone Peak is fond of passing the football, but look for the team to employ more rushing this season.
"I think we have very good running backs and we're going to use them," Mower said. "I don't think we'll be throwing it around as much this year."
A hallmark of recent Lone Peak teams has been the use of a running quarterback. From Chase Hansen and Baron Gajkowski, the program always fields players under center that can beat a defense with both his arm and legs.
"We'll look to do that again this year and have quarterbacks who have that ability," Mower said.
Defense (0 returning starters; 4-3 defense)
Mower has a lot of confidence in his defensive coordinator, Jared Harward, to get the job done this season with a lot of inexperienced, but promising players.
"He does a great job and I really think we're going to be good defensively," Mower said.
Coaches preseason Region 4 straw poll: Fourth
Deseret News Region 4 prediction: Fourth
Bottom line: It will be hard for Lone Peak to match recent success and it will likely struggle making the playoffs in a competitive Region 4. The Knights should have enough playmakers to keep them competitive throughout, however.
….
Lone Peak coaching history
2013-current — Mike Mower (8-5)
2008-2012 — Tony McGeary (51-13)
1997-2007 — Monte Morgan (86-51)
....
Deseret News Mr. Football recipients
2011 — Chase Hansen, QB
Deseret News First Team all-staters the past 10 years
2012 — Talon Shumway, WR
2012 — Josh Buck, LB
2011 — Connor Humphrey, WR
2011 — Curtis Taufa, LB
2011 — Micah Hannemann, DB
2011 — Zach Saunders, SP
2009 — Kyson Flake, LB
2006 — Preston Yates, OL
2005 — Jordan Stephan, DB
2004 — Mavrick Auelua, DL
2004 — Doug Mulliner, Lb
2004 — Jason Long, DB
To view second team and honorable mention all-staters through the years, check out the Deseret News All-State Archives.
Email: bgurney@desnews.com
Twitter: @BrandonCGurney