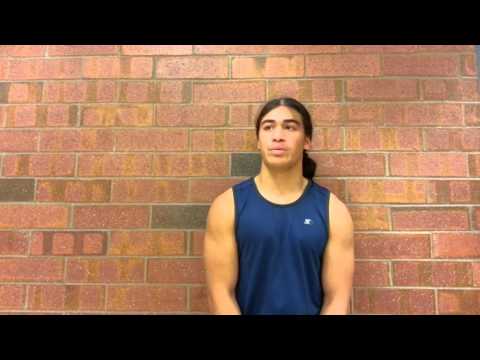 View 3 Items

We don't ever want to slip back into that Taylorsville of old mode. We want to compete in every game and do everything we can to try to continue to progress.

—Taylorsville coach Rod Wells
Note: Taylorsville finished with a 6-4 overall record in 2013 and tied for first in Region 2 with a 4-1 record. It lost to Alta 49-21 in the first round of the 5A playoffs.
The Taylorsville Warriors are hoping the 2014 season doesn't prove to be two steps forward, one step back.
With the program perennially a cellar dweller over the previous decade, Rod Wells took over before the 2012 season and his team promptly went 1-9. In 2013, however, Taylorsville skyrocketed up the standings, winning Region 2 and compiling a 6-4 record. It had taken the previous six seasons combined to notch that many victories.
That squad was full of seniors, however, and Wells isn't afraid to acknowledge that the Warriors will be starting over to a certain degree in 2014, even if he's a little nervous about how things might shake out. He returns just two starters on each side of the ball from last year.
"It's definitely a rebuilding or a building year," he said. "The nice thing is this is only our second year together as a staff. The things the staff's been able to accomplish in a short time has helped us to move into that next phase where eventually we hope we'll be like the Binghams and the Rivertons and the Davises that don't rebuild, they reload. This building process we're going through eventually we won't have to talk about rebuilding. Maybe we can talk about just reloading ourselves. That's the goal."
Even though 2014 might bring some growing pains, Wells also insists that he doesn't expect any less from his players than he did a year ago.
"We don't ever want to slip back into that Taylorsville of old mode," he said. "We want to compete in every game and do everything we can to try to continue to progress."
Because of the youth on the team, the Warriors will depend on a tremendously talented trio of seniors on both sides of the ball to provide both production and leadership. Those players are To'a MauMau, Mufi Hunt and Matthew Sterzer.
MauMau will return for his second season under center in addition to playing safety on defense. As a junior last season, he was not only Taylorsville's leading passer with 697 yards through the air, but he was tops on the team in rushing yards as well with 603 yards.
"Toa's the most gifted athlete I've ever coached, and I've been around some gifted athletes," Wells said. "He might even be the most gifted athlete I've ever been around, and I played with some gifted athletes at Utah. As far as speed and quickness and power, he's the total package as far as what you want in a football player."
Hunt certainly can't be far behind on Wells' list of most gifted athletes he's coached. The 6-foot-6 senior transferred to Taylorsville from Brighton in the spring and is being recruited by schools in the Pac-12, SEC and Big 12, along with in-state schools.
He'll likely play defensive end at the next level, but he'll rove around the field on both sides of the ball for Wells, exploiting matchups as a defensive end, linebacker, wide receiver and tight end.
"Basically wherever Coach needs me, that's where I'm gonna play," Hunt said. "Anything I can do to help the team, that's what I'm gonna do."
Then there's Sterzer, the fullback and safety who Wells sees as "an extension of the coaches."
"Matthew's the vocal leader, but he also leads by example," Wells said. "He's the first one in the weight room, he sets the tone in drills. He's a gifted athlete that outworks everybody. The thing that separates him is his work ethic."
Beyond the three senior stalwarts, the Warriors will be breaking in a slew of new players at different positions. The offensive line is one unit Wells is particularly interested in seeing develop. Junior Danny Poleki will lead a group that will include freshman Ewen Tuinei and sophomore Bryton Lavatai.
"Our line is really young, but they're very big, they're very strong, they're very intelligent," Sterzer said. "We're gonna be able to move the ball really easily with them."
On the other side of the trenches, Hunt will man one end while junior Lyric Bartley will be on the other end. Wells says Bartley is extremely athletic and just needs some refinement to be a productive player.
"To have (Hunt) here and to have Lyric on the other side, having those guys is what's making those young offensive linemen have to grow up fast because they have to face two of the best ends in the state every day," Wells said. "It's a bonus for us."
Taylor Seau and Dylan Apelu will hold things down at linebacker, while Tama Wilson and Darnel Apelu will play cornerback. Joining MauMau at safety will be Josh Cox.
"Our defense is looking good," Hunt said. "We need to fly around. We need to get to the ball a little quicker, but I think with time, that's gonna come."
Full of confidence along with some uncertainty, Wells is looking forward to seeing his team gel throughout the season.
"Football's a funny game," he said. "As long as we're improving and we're competing, hopefully we'll hit our stride at the right time and good things will happen."
Taylorsville Warriors at a glance
Coach: Rod Wells is in his third year, coming off a 6-4 mark a season ago. He has a 7-13 record all time.
Offense
(2 returning starters; Spread offense)
To'a MauMau will lead the way with his arm and feet at quarterback, and he'll have a big weapon in Mufi Hunt to throw the ball to. Matthew Sterzer will help get things done on the ground. The big question for the Warriors on offense will be the line, a rather inexperienced bunch. Wells said they've performed well to this point, but it remains to be seen how much they'll help or hurt the offense's efficiency.
Defense
(2 returning starters)
While the offensive line is a question mark, the defensive line will be a strength for Taylorsville with Hunt and Lyric Bartley teaming up to form one of the best duos in the state. The secondary should be strong, too. The linebacking corps is less experienced, but the other two units should be strong enough to compensate if that group comes up short.
Coaches preseason Region 2 poll: First
Deseret News Region 2 prediction: Fourth
Bottom line: The Warriors will be young, but Wells has shown the ability to turn a program around and he should be able to get his team clicking before not too long.
….
Taylorsville coaching history
2012-current — Rod Wells (7-13)
2009-2011 — Jonny Matich (2-28)
2004-2008 — Scott Henderson (6-43)
1998-2003 — Brad Molen (32-31)
1996-1997 — Mark Clinton (12-8)
1988-1995 — Randy Tuft (17-55)
1981-1987 — Doug Bills (26-40)
.....
Deseret News First Team All-Staters the past 10 years
2013 — Mori Savini, DL
To view second team and honorable mention All-Staters through the years, check out the Deseret News All-State Archives.
Ryan McDonald is a former intern at LDS Church News. He is studying communication at the University of Utah, where he works as the sports editor of the campus newspaper, The Daily Utah Chronicle. He can be reached via email at mcdonald.ryanw@gmail.co