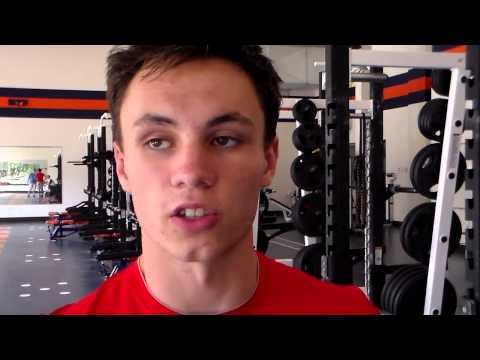 View 11 Items

Note: Timpview finished with a 13-1 record in 2013 and was first in Region 8 with a 6-0 record. It beat East 33-28 in the 4A title game.
PROVO — Timpview's record over the years speaks for itself.
Other teams may talk about establishing a winning culture and winning state championships, but few walk the walk like the Thunderbirds.
"It's a credit to all the great players we've had here, the coaches and really the community," said Timpview coach Cary Whittingham, who enters his third year as head coach. "I've been blessed to be a part of it."
Whittingham took on the seemingly arduous task of replacing long-time coach Louis Wong in 2012 and simply responded by leading Timpview to two straight state championships.
The term "simply" is a word Whittingham feels is a misnomer, however.
"You get used to high expectations here, but it's never as easy as I think a lot of people think," Whittingham said. "We lose guys every year, like everyone else, and this year — well, we lost a lot of guys off of last year's team and we're now working to find guys who can play."
One guy who can certainly play is quarterback Britain Covey.
Covey began last season splitting time between receiver and quarterback before taking snaps under center exclusively. He responded with 1,890 yards and 26 touchdowns passing along with 1,264 yards and 18 touchdowns rushing.
He's Timpview's lone returning starter on the offensive side, but as Whittingham states, he's no typical returning starter.
"Having Britain Covey back is like having five starters back on offense," he said. "He's obviously a great playmaker and he's a very good start on offense."
On defense, senior Gabe Reid leads what was a dominant group a year ago. He'll play at one defensive end position for a group that returns some decent talent from last season.
"He's a captain and will be a good leader for us," Whittingham said. "He's a good example for the younger guys and we'll be fine on defense once we figure out guys who need to step up, guys who are capable of doing it."
Timpview returns just three starters on defense.
"We lost some really good guys, but we're going to be OK," added Reid. "For me, I'm more of a leader and I'm ready for it. I'm doing my best teaching the young guys how things are done around here."
As for any catchy slogans or themes entering the year, don't expect any. Doing as much isn't Whittingham's way.
"I just take a day-by-day approach because it's really the only way I know how to do things," he said. "I've always believed if you lose a day you'll never get it back. So that's how I approach things — just focus on the day that's ahead and trying to impart that on the kids."
As always, the goal and the expectation will be to win yet another state championship. With a host of players to replace on both sides of the ball, doing as much could prove a challenge.
"It really is a rebuilding year for us, but even in those type of years you're still expected to win here," Whittingham said. "But I'm OK with it because I know that's what people are used to around here. I like the pressure. I believe you reach your best when the pressure is on and it's always on here."
Timpview Thunderbirds at a glance
Coach: Cary Whittingham enters his third year as head coach for the Thunderbirds. He's compiled a 22-6 record and two state championships in those two years. He's the brother of Utah head coach Kyle Whittingham.
Offense
(1 returning starter; Spread offense)
Despite the lack of returning talent, players are optimistic several replacements will step up and make big contributions. A player to watch is receiver Jordan Espinoza, who leads an exciting group of receivers, according to star quarterback Britain Covey.
"All four of our starting receivers have speed, which is nice," he said. "We've got three running backs who can all rotate and all bring different strengths."
Defense
(3 returning starters; 4-3 defense)
Defensively Timpview lost a lot, but returns key players at every level, which should prove a benefit.
"I return on the defensive line. We have Kainoa Tuua at linebacker and then Isaiah Holloway at defensive back," star Gabe Reid said. "So we're confident that the three of us can lead and we'll be strong at every level again this year."
Coach's preseason Region 8 straw poll: First
Deseret News Region 8 prediction: First
Bottom line: Things won't be as easy for Timpview this time around. Teams are improving in Region 8 and the Thunderbirds are likely to receive more of a challenge as a result. But with Covey returning, as well as key defensive players, expect Timpview to finish on top of Region 8 once again.
….
Timpview coaching history
2012-current — Cary Whittingham (22-6)
2005-2011 — Louis Wong (77-10)
1990-2004 — Chad Van Orden (134-38)
1985-1989 — Garry Walker (30-24)
1982-1984 — Sam Hard (15-13)
1977-1981 — Paul Gillespie (25-23)
.....
Deseret News Mr. Football recipients
2008 — Craig Bills, DB
Deseret News MVPs the past 10 years
2013 — Britain Covey, QB
2012 — Jake Lloyd, QB
2009 — Ofa Latu, LB
2008 — Xavier Su'a-Filo
2007 — Dominique Moe, LB
2006 — Jackson Owen, RB
2004 — Stephen Covey, QB
Deseret News First Team all-staters the past 10 years
2013 — Gabe Reid, DL
2013 — Isaiah Nacua, DL
2013 — Pio Stowers, LB
2012 — Dax Raymond, WR
2012 — Pita Taumoepenu, DL
2011 — Rickey Shumway, WR
2011 — Josh Burr, LB
2010 — Christian Covey, QB
2010 — Kalvin Cusick, OL
2010 — Colby Jorgensen, DL
2009 — Trevor Brown, QB
2009 — Tyson Tiatia, OL
2009 — Chris Badger, DB
2008 — Casey Rumsey, QB
2008 — Travis VanLeeuwen, WR
2008 — Bronson Kaufusi, DL
2008 — Jason Whittingham, LB
2008 — Chris Badger, DB
2007 — Quinn Mecham
2007 — Mark Ercanbrack, WR
2007 — Tui Crighton, OL
2007 — Craig Bills, DB
2007 — Xavier Su'a-Filo, OL
2007 — Kevin Bills, LB
2007 — Bronson Kaufusi, DL
2006 — Houston Reynolds, OL
2006 — Kevin Bills, DL
2006 — Devin Mausia, LB
2006 — Craig Bills, DB
2005 — Houston Reynolds, OL
2005 — Preston Phillips, LB
2005 — David Jackson, K
2004 — Harvey Unga, RB
2004 — Luke Ashworth, WR
2004 — Matt Reynolds, OL
2004 — Greg Atkinson, LB
To view second team and honorable mention all-staters through the years, check out the Deseret News All-State Archives.
Timpview video
Britain Covey talks about the coming season
Email: bgurney@desnews.com
Twitter: @BrandonCGurney