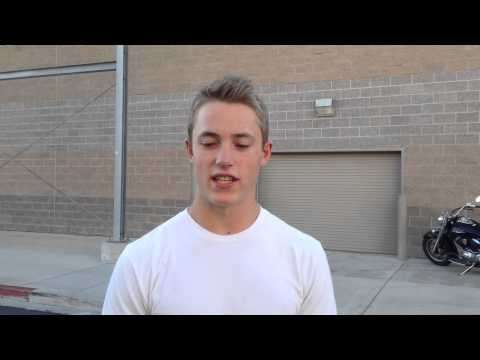 View 12 Items

Note: Stansbury finished with a 7-4 overall record in 2013 and was second in 3AA North with a 5-1 record. It lost to Desert Hills 31-14 in the 3AA quarterfinals.
TOOELE — Injuries derailed Stansbury's hopes of ever really competing for the 3AA state championship last year.
Coach Clint Christiansen estimates injuries forced eight starters to miss the quarterfinal loss to eventual champ Desert Hills, but ironically enough his son Chase wasn't among those eight. It was one of the few games the Utah State commit actually played in after missing seven regular-season games because of a sprained and re-sprained ankle.
As devastating as losing the explosive triple-option quarterback was for those seven weeks, a year later there's a silver lining. Junior Gage Manzione started in Christiansen's place, and returns this year with a wealth of experience.
"Not that you ever want that to happen. It was a bad thing for us then, but now it's a good thing that it happened because Gage had become the quarterback of this team and got so many reps. By the end he was doing such a good job for us," said Coach Christiansen.
Manzione isn't as fast as his predecessor, but the 6-foot-3, 220-pounder runs the option offense very well and has a very strong arm. During the baseball season his fastball was clocked at 89 mph.
"He's got a rocket on him. It's been fun to watch him," said Christiansen.
During his brief time as a starter, Manzione rushed for 352 yards and two touchdowns while throwing for 605 yards and four scores. Those numbers will certainly improve this season, but it doesn't need to be an astronomical improvement.
Under three-year starting QB Chase Christiansen, Stansbury at times became too reliant on his athleticism and ability to make plays. Because Manzione isn't quite the same athlete, the workload will be distributed among the wing backs and fullbacks and that's a great thing.
Senior wing backs Hudson Conrad and Zayne Anderson could be the two fastest players in 3AA. Conrad ran a 4.4 40-yard dash at a Utah elite camp this summer, while Anderson ran an 11.21 in the 100 meters at the state track meet in May.
They're among seven returning starters that has everyone in Stansbury excited about the season.
"This is a good bunch of kids. We had a great camp at Utah State. I've been looking forward to this group for a long time. There's a lot of talent," said Coach Christiansen.
Unfortunately for Conrad and Anderson, they couldn't avoid the injury bug either last year. Anderson only had 167 rushing yards in 2013 as he dealt with a hip flexor injury and a broken arm. Conrad, meanwhile, missed the last two games with a broken collarbone. Prior to that he'd rushed for 437 yards and eight touchdowns.
If they can stay healthy in 2014, Stansbury is a very dangerous offensive team with three returning starters on the offensive line.
"We have such tremendous speed on the edges, and we have two really good fullbacks. If we can get the ball on the edges with any blocking at all Hudson and Zayne are dangerous. They've got a chance to go to the house every time they touch it," Christiansen.
Josh Griffeth, who contributed occasionally last season, and Grantsville move-in Clay Matthews will share time at linebacker.
The continuity of the offense this summer has everyone excited about a strong campaign.
"There are mesh points between quarterback and fullback and all that has to be so on, and the relationship between the wing backs and moving on the pitch with the triple option. They've just been doing it for so long it was just clicking at full speed by day two of camp," said Christiansen.
Freshman McCoy Didericksen could make the offense even that much more scary. He's already worked himself into the rotation at wing back, and his coach thinks he could become the best running back in school history when it's all said and done.
He's certainly got a speed pedigree in his family. His older brother Dallon won the 200 meters at the 3A state track meet in May and was a runner-up in the 100 meters.
Defensively, the Stallions return six starters but are mixing things up under new defensive coordinator Curtis Ware — who's been at Grantsville the past three years. Based on personnel and Stansbury's inability last season to get pressure on the quarterback of the spread teams, Ware is shifting to a 3-4 defense this fall.
Three of the four linebackers are back from last season — Manzione, Landon Stice and Connor Littlefield — while Diderickson will start at the fourth linebacker position.
The quartet will be counted on for big things against both the run and the pass, and if those players reach their potential and stay healthy, Stansbury will contend for the 3AA North title and perhaps put up a good fight for the state title as well.
Stansbury Stallions at a glance
Coach: Clint Christiansen is entering his sixth year as head coach at Tooele with a 30-13 record thus far. His overall record in 15 years as a head coach is 77-71. He's a graduate of Grantsville High.
Offense
(7 returning starters; Triple option)
The potential is there for a huge season from this offensive group. It starts on the offensive line with three returning starters, including Connor Littlefield and Bubba Peterson. Landon Stice is a blocking tight end who's also back. All that experience in the trenches could help speedsters Zayne Anderson and Hudson Conrad flourish at wing back. Every play they're capable of breaking off a long touchdown run. Collectively they'll try and replace the production of Alexander Mackay, who rushed for 1,061 yards last season. Gage Manzione started at quarterback seven games last season because of an injury, and brings back a nice mix of run and pass.
Defense
(6 returning starters)
Without as much size, and a group that struggled to generate a pass rush last season, the Stallions are switching to a 3-4 defense. It's a proactive move as well to better prepare for when they come up against some of the juggernaut spread teams in 3AA South. The linebacking corps will be strong with Manzione, Stice, Littlefield and freshman McCoy Diderickson. Anderson and Matthews will start at safety, while Conrad is a returning starter at cornerback.
Coaches preseason 3AA North straw poll: Second
Deseret News 3AA North prediction: Second
Bottom line: Without a ton of depth, this team needs to stay healthy to be a factor in 3AA. It couldn't last season and bowed out of the state playoffs in the quarterfinals. If Stansbury's numerous key players who start both offensively and defensively stay off the trainer's table, there's no reason this team can't advance to the semifinals with so many offensive weapons at its disposal.
….
Stansbury coaching history
2009-current — Clint Christiansen (30-23)
.....
Deseret News First Team all-staters the past 10 years
2013 — Alex Mackay, RB
2012 — Colton May, LB
2012 — Chase Christiansen, QB
2011 — Jeremy Cafe, DL
To view second team and honorable mention all-staters through the years, check out the Deseret News All-State Archives.
High school football: Stansbury Stallions 2014 preview
Zayne Anderson