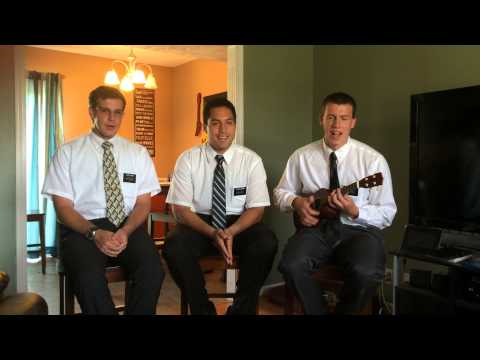 View 7 Items



Whether during Sunday's church services or Monday's family home evening, performances of hymns and Primary songs are important to members of The Church of Jesus Christ of Latter-day Saints.
The preface to the church's hymn book states, "Inspirational music is an essential part of our church meetings. The hymns invite the Spirit of the Lord, create a feeling of reverence, unify us as members, and provide a way for us to offer praises to the Lord.
"Some of the greatest sermons are preached by the singing of hymns. Hymns move us to repentance and good works, build testimony and faith, comfort the weary, console the mourning, and inspire us to endure to the end."
Often times, LDS missionaries use music to share their message. Recently, three LDS missionaries performed "When I am Baptized" (from the Children's Songbook) with a ukulele in a YouTube video posted by Laura Bohling on Aug. 10.
"These are great young men with a very simple message in song and ukulele. Enjoy," Bohling posted online.
Several years ago, two other missionaries found a way to encourage LDS members to share the gospel through their ukulele performance.
Elders Joseph Tanuvasa and John Berger were missionaries in the Illinois Peoria Mission in 2008 when they began performing the song "How Can I Be." A video was recorded and uploaded to YouTube and now has more than 175,000 views. The missionaries expressed their desire to use their talents to spread the gospel.
"I was told in the MTC from one of my cousins to use my tool of singing to the best of my abilities," Tanuvasa told the Deseret News.
"How Can I Be" was written by Elder Tanuvasa's relative, Nela Otuafi, who performed it before leaving on his own mission in 1996. Since then, the song has been performed by other LDS missionaries.
Email: [email protected] | Twitter: @Sarah_DNews