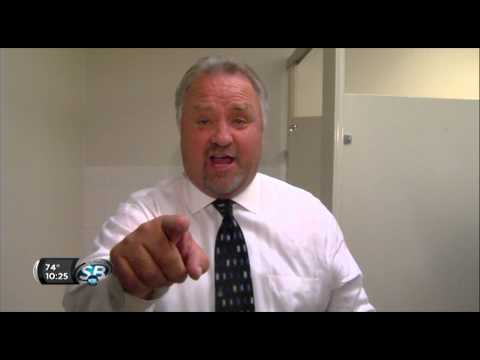 View 2 Items

The viral Ice Bucket Challenge has reached the Beehive State's college football coaches.
The challenge is this: those who are nominated have 24 hours to pour a bucket of ice water over their heads. If they don't, they're asked to make a donation to help support the fight against Amyotrophic lateral sclerosis.
ALS, also known as Lou Gehrig's disease, is a progressive neurodegenerative disease that affects nerve cells in the brain and the spinal cord that has no cure, according to The ALS Association.
The challenge has been a hit over social media and countless people, from sports stars to celebrities, have gotten in on the action. The project is working: According to The ALS Association, it received $4 million in donations from July 29 to Aug. 12, compared to $1.2 million "during the same time period" in 2013.
KSL sports anchor Rod Zundel took the Ice Bucket Challenge, then nominated the head coaches of Utah's five Division I college football teams — BYU's Bronco Mendenhall, Utah's Kyle Whittingham, Utah State's Matt Wells, Southern Utah's Ed Lamb and Weber State's Jay Hill — to accept the challenge.
The coaches have delivered.
Here's a look at the videos, from Zundel issuing the challenge (video at the top of the story) to the coaches accepting and nominating others.
Here's Bronco Mendenhall's response:
Here's Kyle Whittingham's response:
Here's Matt Wells' response:
Here's Ed Lamb's response:
Here's Jay Hill's response:
Among those nominated by the coaches, Mendenhall challenged members of the local media to take part, including the Deseret News' own Brad Rock, Dick Harmon and Jeff Call.
1
comment on this story
Video was posted on YouTube Friday of Mendenhall dousing a couple media members.
Call also posted a picture on Twitter of him taking the challenge.
I completed the #icebucketchallenge from @Bronco_BYU pic.twitter.com/LhKflAjkin

— Jeff Call (@AJeffreyCall) August 15, 2014
The BYU Sports Nation crew also posted a video on YouTube accepting the challenge, while also nominating the entire BYU football coaching staff.
KSL's Jeremiah Jensen enlisted the Clearfield High football team to help him accept the challenge.
BYU play-by-play announcer Greg Wrubell turned to the Cougar women's soccer team to help him complete the challenge.
Email: bjudd@deseretnews.com; Twitter: @brandonljudd