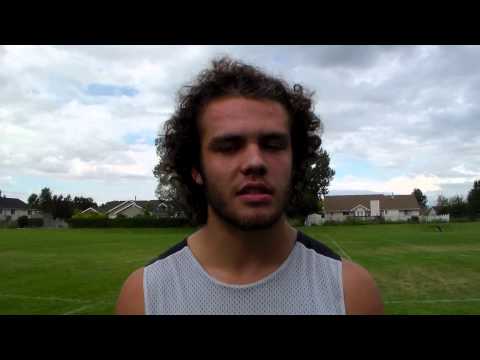 View 8 Items

Note: Timpanogos finished with a 6-5 overall record in 2013 and was fourth in Region 7 with a 3-3 record. It lost to Timpview 62-14 in the first round of the 4A playoffs.
OREM — Joe DuPaix, who enters his first year as the head coach at Timpanogos High, has had the best of both worlds in preparing for his new gig.
On one end, he's the son of legendary Utah high school coach Roger DuPaix, a man Joe took copious coaching notes from starting at a young age.
"Since I was 5 years old or so I've been able to see my dad coach and see how he does things," Joe Dupaix said. "He was able to do it for a lot of years and it was all about the culture he built."
A common component with Roger Dupaix's Skyline teams was the ability to get players to consistently play above their skill level, which is something Joe DuPaix is working hard to emulate.
"People bought what he preached and he was able to just keep it going," Joe DuPaix said. "And then you add in the unity and the component of playing for each other and not just for yourself and that's where you see great things accomplished."
His other benefit is a wealth of experience coaching at the collegiate level.
Joe DuPaix arrives at Timpanogos after spending three years as an assistant at Navy and two years at BYU. That experience gives him new perspective he'll try to employ while coaching the Timberwolves.
"I've been able to work with some guys who have a lot of knowledge about the game," DuPaix said. "So with that I think I can draw on those concepts here and build a successful program."
Doing as much certainly will be a unique challenge. Gone are the multimillion dollar facilities and full-time coaching staffs afforded at the FCS collegiate level.
"It's a huge challenge for me getting used to it," DuPaix said. "In college you're spending weeks and months preparing for the next opponent, and then the next week you're able to work full time preparing for the next opponent. Here it's very different in that you have part-time coaches who can spend limited time when they can. I love the assistants I have, but it's definitely more challenging in that it's not a full-time staff."
The players are hardly full time or even close to as involved as collegiate players. Being as such, DuPaix was very much in the process of still identifying his playmakers in late July.
"Right now they're just a bunch of guys running around in shorts," he said. "We'll have to wait to get these guys in pads for a few weeks — maybe several games into the season — until we find out who can really play and do what we want to do here."
Joe DuPaix did note several players who are expected leaders, starting with linebacker Cory Morin.
"He's a college player, no question," DuPaix said. "He's our leader on defense and he's going to be a great guy to build our defense around with him playing middle linebacker for us."
Other expected leaders are quarterback Tyler Sweeten, who saw some playing time last year as the team's backup, and lineman Jayce Case.
"I can't name a lot of players yet, but in time we'll know exactly who will be doing what," DuPaix said.
As for the players, they like what they've seen with their new coach.
"He's always upbeat and encouraging," Sweeten said. "I was sort of bummed when we lost our last coach (Ed Larson), but he came in and got us started right and I think he's the right guy and I'm excited to play for him."
Timpanogos Timberwolves at a glance
Coach: Joe DuPaix is in his first year coaching at Timpanogos after spending two years as an assistant coach at BYU and three years as an assistant at Navy.
Offense (3 returning starters; Flexbone offense)
Joe DuPaix plans on bringing a lot of concepts inherent with the Navy flexbone offense with him to Timpanogos. To him, featuring a running quarterback is necessary to see success.
"I think in this day and age, and at this level, you're not smart if you don't use your quarterback's legs. Unless you have a yoked-up offensive line, which we don't, I think you have to do that," he said.
Defense (3 returning starters; 3-4 defense)
The defense will have to rely on a promising front and backfield that is a bit inexperienced, undersized and thin in numbers.
"That's the way it is in 4A football, but we like some of the guys we've seen and think we can form a solid defense here," Joe DuPaix said. "It's great having a guy like Cory Morin, though. He's already established as a leader."
Coaches preseason Region 7 poll: Sixth
Deseret News Region 7 prediction: Fourth
Bottom line: It's always hard to gauge how a team under a first-year coach will fare, and that's certainly the case with Timpanogos. In time Joe DuPaix should build a successful program, but expect the Timberwolves to struggle this season learning a new system while playing in a tough Region 7.
….
Timpanogos coaching history
2014 — Joe Dupaix (0-0)
2010-2013 — Ed Larson (26-27)
2009 — Brad King (3-6)
Comment on this story
2006-2008 — Brad Molen (13-18)
2004-2005 — Frank Bramall (8-13)
2003 — Darren DeGracie (4-5)
2001-2002 — Frank Bramall (13-10)
1996-2000 — Marc McKenney (7-40)
….
Deseret News First Team all-staters the past 10 years
2007 — Christian Stewart, QB
2007 — Grant Jimenez, WR
2007 — David Kruger, DL
2007 — Taylor Lyons, DB
To view second team and honorable mention all-staters through the years, check out the Deseret News All-State Archives.
Timpanogos preview
Cory Morin talks about the coming year.
Email: bgurney@desnews.com
Twitter: @BrandonCGurney