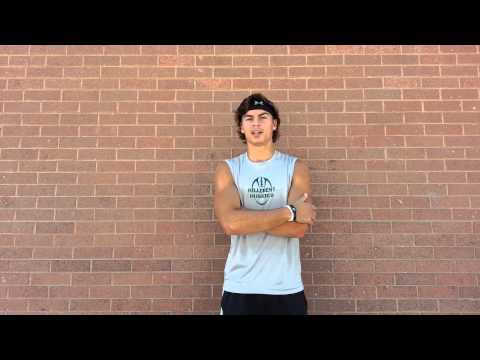 View 4 Items

We really ask our guys to just come together as a unit and work together, lift each other up. We do expect to be competitive. We expect that to translate into success on the field.

—Hillcrest coach Travis Mehlhoff
MIDVALE — Ever since January, the Hillcrest Huskies have been expecting a former Lehi coach to lead them in 2014.
That will indeed be the case, but the plan got a bit of an audible in May, and now the Huskies are working to ensure that everything is in order before the first snap of their season on Aug. 22.
Ex-Pioneers coach David Hastings was hired in January to lead Hillcrest, but in May he opted to take the top gig at Rock Springs High School in Wyoming, a job he had applied for before joining the Huskies. Suddenly in a bit of a bind, Hillcrest turned to Travis Mehlhoff, Hastings' top assistant at Lehi who had come to Midvale with him, to take control on an interim basis.
"It's exciting and new," Mehlhoff said of his first head coaching job, a smile spreading across his face. "It's a tremendous opportunity to be in front of these kids. It's an exciting new role that I have."
It'll also be challenging. The Huskies haven't had a winning season since 2003, and things got especially tough last season as they went just 1-9. Mehlhoff recognizes that things won't change overnight, and is putting an emphasis this season on more intangible things such as hard work.
"We really ask our guys to just come together as a unit and work together, lift each other up," he said. "We do expect to be competitive. We expect that to translate into success on the field. Wins and losses are a reflection of that at a small fraction. We're really focusing on them giving it their all, being together as a group and being physical. We expect a lot out of these guys, and wins and losses is what comes from our expectations."
Being physical is certainly one trait the Huskies want to display on the offensive side of the ball. Despite having an experienced quarterback in senior Tanner Thompson, Mehlhoff wants to practice principles of ball control and has installed the shotgun double-wing offense to that end.
"It's a lot of just hitting and hitting, just having a lot of will, being tougher than the guy across from you," said junior fullback Dalton Dallimore. "It's definitely a mentality. I think a lot of people on our team have that strong-will mentality, and it's a good thing to have in this offense."
Mehlhoff is confident the plan will work largely thanks to his offensive line, a group he feels is capable of creating holes for just about any ball carrier. Leading the way there will be Cade Roemmich and Mitch Mortimer.
In terms of yardage production, Mehlhoff sees a slew of running backs with potential but will be especially counting on Bryce VomBaur and Ian Smith to carry the load. VomBaur rushed for 283 yards a season ago.
Thompson has also proven to be a capable runner, having rushed for 379 yards in 2013. Running the same offense a season ago, Lehi quarterback Derik Beeston threw for 1,413 yards.
"I believe that our offense allows for us to have success because we can methodically move the ball in a fashion that doesn't allow for a lot of 3-and-outs and really provides them an opportunity to see the success as they move the ball down the field," Mehlhoff said.
On the opposite side of the ball, Roemmich and Mortimer will be joined on the defensive line by Andrew Olson and Brian Mardjuki. Dallimore was Hillcrest's leading tackler a year ago and will be returning at linebacker to join forces with senior Cam Jenson.
The secondary will feature a great deal of experience as Thompson and fellow returnee Dano Peterson will look to hold things down in the defensive backfield.
"I think things have definitely improved from last year," Roemmich said. "We should definitely be competitive in every game, more physical. We're just focusing on being physical this year, just being able to compete and keep ourselves in games."
Hillcrest Huskies at a glance
Coach: Travis Mehlhoff's first head coaching job will be this season on an interim basis after he took over for David Hastings in May.
Offense
(Seven returning starters; shotgun double-wing offense)
Tanner Thompson is the Huskies' team leader at quarterback, but exactly what his role on the field will be in the run-heavy offense is a bit uncertain. Mehlhoff is hoping strong play from the offensive line will help his running backs be productive.
Defense
(Five returning starters)
Players are buying in to Mehlhoff's call for playing physical, and the linebacking corps and secondary should be particularly experienced. The defensive line has talented stalwarts in Cade Roemmich and Mitch Mortimer, but the rest of that unit is young and unproven.
Coaches preseason Region 2 poll: Sixth
Deseret News Region 2 prediction: Sixth
Bottom line: The Huskies have long struggled, but 2013 was a particularly rough year, and Hillcrest has a long climb to respectability. It's unclear what Mehlhoff's future is with the Huskies beyond 2014, but in any event, this season could set the tone for getting the program back on track.
….
Hillcrest coaching history
2014 — David Hastings (0-0)
2011-2013 — Casey Miller (7-23)
2005-2010 — Kirk Merhish (15-44)
2000-2004 — Bruce Takeno (29-33)
1993-1999 — Lee Leslie (34-34)
1986-1992 — Jerry Haslam (25-38)
1978-1985 — Jerry Simonson (49-33)
1975-1977 — Robert Burns (12-16)
1967-1974 — Raynor Pearce (44-32)
1964-1966 — Tom Lovat (11-14-3)
1962-1963 — Mickey Culletson (1-14-3)
.....
Deseret News First Team all-staters the past 10 years
2004 — Zane Beadles, OL
2004 — Robert Takeno, LB
To view second team and honorable mention all-staters through the years, check out the Deseret News All-State Archives.
Ryan McDonald is a former intern at LDS Church News. He is studying communications at the University of Utah, where he works as sports editor of the campus newspaper, The Daily Utah Chronicle. He can be reached via email at mcdonald.ryanw@gmail.co