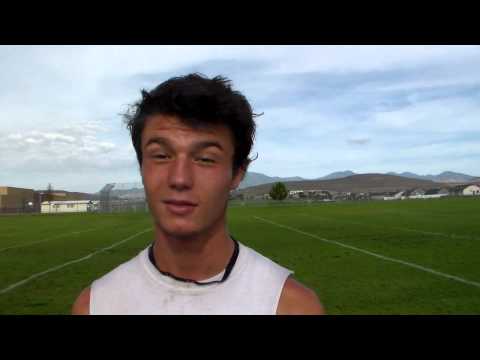 View 7 Items

We were young last year and we'll be young again this year. But having a lot of guys back who have been here adds a lot to things we can do this year, things we weren't able to do a season ago.

—Westlake coach Steve Clements
Note: Westlake finished with a 3-6 overall record in 2013 and was seventh in Region 4 with an 0-6 record. It did not qualify for the 5A playoffs.
SARATOGA SPRINGS — Opposing teams would do well to pay attention to Westlake this year.
That was the message conveyed by second-year coach Steve Clements following an early-morning practice session.
"We're not afraid of anybody," said Clements leaving the practice field. "Teams are going to know when they've played Westlake this year and I wouldn't look ahead of us on the schedule. I'd pay good attention to us this year."
Now with one full year of coaching the Thunder under his belt, Clements believes his team is geared for marked improvement in year two. A lot of his optimism is simply due to it being his second year.
"The biggest improvements coaches make within programs is from year one to year two," Clements explained. "Last year we didn't really come in knowing what we're doing. It was all about establishing organization and expectations. Now those things are established, kids know what's expected, so we're now that much further along."
Another reason for optimism is the amount of returning experience. Last year the Thunder fielded just 16 seniors on the team.
"We were young last year and we'll be young again this year," Clements said. "But having a lot of guys back who have been here adds a lot to things we can do this year, things we weren't able to do a season ago."
Key returning players include two promising quarterbacks — one who gained experience last year and one who is one of the more exciting underclassmen in the state.
"Anthony Condie was our backup last year and brings a lot to the position there," Clements said. "Then there's Chaz Ah You, who is such a phenomenal athlete that you just want to get him the ball as much as possible. He hasn't played quarterback since the eighth grade, but we feel he's someone we need touching the ball on every play."
Clements' plan at quarterback is to rotate both Condie and Ah You in preseason play before resting one of them for Region 4 play.
At receiver Westlake brings back a wealth of experience from last season.
"Receiver is where we're looking strong," Clements said. "All our receivers are back with some good additions, so that's our veteran (and) seasoned group."
Receivers returning include Brennan Riley, Timothy Forsyth and Van Johnson, among others.
On defense Clements plans on running a 4-2-5 formation, with the strength being on his back end.
"We have good speed and some good players back there," Clements said. "It's a big reason why we're going to this look and overall I think our team speed is going to be a lot better than last year and a lot of that speed is with our five defensive backs."
Westlake plans on using Ah You again at safety, along with Forsyth, who will also play receiver, and Tyler Aldstadt, among others.
Other expected standouts on defense include middle linebacker Kawika Sa'aga and defensive lineman Zachary Baum.
Overall, Clements knows it will be tough sledding in Region 4, but believes his team can prove competitive against some of the top teams in the state.
"Nothing's easy in this region, but I think people will begin to realize that playing us here isn't easy either," he said. "We don't know for sure what type of team we'll be, but I guarantee you we'll be improved and teams better watch out for us this year."
Westlake Thunder at a glance
Coach: Steve Clements played quarterback at BYU before moving on to a brief career in the CFL and AFL. He held various coaching positions around the state before landing a head coaching job at Lehi. He compiled a 33-12 overall record in his four years with the Pioneers. He's now in his second year coaching at Westlake.
Offense (5 returning starters; Spread offense)
Westlake was a pass-happy offense last season, but looks to balance it out more this time around.
"We'll throw like we always do, but I think we'll definitely look to take more what the defense gives us and should have a much better running attack," Clements said. "We want to keep teams off-balance with what we do and that's hard when you're throwing it all the time."
Defense (5 returning starters; 4-2-5)
The Thunder will rely again heavily on sophomore Chaz Ah You at both quarterback and at safety. As a freshman Ah You started at free safety and will be asked to shoulder a lot this season.
"He's so good that you want him out there all the time," Clements said. "We want him to return kicks, punts, whatever we can to have him out there. So yeah, we're asking a lot of him, but he's a great kid capable of a lot."
Coaches preseason Region 4 straw poll: Seventh
Deseret News Region 4 prediction: Seventh
Bottom line: Things will definitely improve in Clements' second year coaching the program, but it's going to be difficult for a still young Thunder team to make headway in Region 4. Expect the team to pull upsets off here and there, but a playoff run may still be a couple of years away.
….
Westlake coaching history
2013-current — Steve Clements (3-6)
2012— Gary Clark (4-6)
2009-2011 — Jason Walker (16-15)
Deseret News First Team all-staters the past 10 years
2011 — Moana Ofahengaue, DL
To view second team and honorable mention all-staters through the years, check out the Deseret News All-State Archives.
Email: bgurney@desnews.com
Twitter: @BrandonCGurney