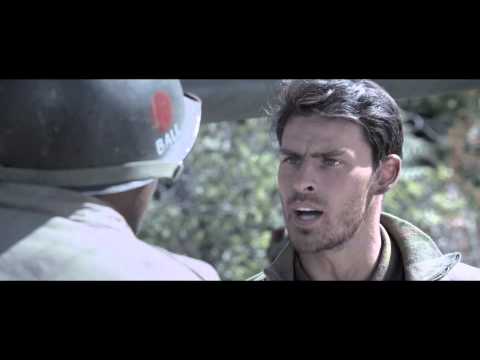 View 11 Items
Excel Ent

Danor Gerald decided to become an actor after being hit with a tennis ball.
While an elementary school student, Gerald was playing a tennis-ball version of dodgeball when he was nailed in the midsection. As he curled up on the ground, classmates quickly gathered around him. He noted their grave concern, saw a humorous opportunity and began squirming and squealing in pain.
"I started to laugh and they threw a fit. 'You are such a faker,'" Gerald said. "Later I realized I had complete control over their emotions for a couple of seconds, and while acting, I could have influence on people. I decided I wanted to be an actor."
Decades later, Gerald continues to fulfill his acting dream. He has found success in television, movies and onstage. Most notably, Gerald is one of the main characters in "Saints and Soldiers: The Void," which premiers in theaters Friday, Aug. 15.
Gerald's career also has a spiritual element. He is a convert to The Church of Jesus Christ of Latter-day Saints. Joining the LDS Church has blessed his personal life, his family and his career, he said.
"I enjoy the chance to take people, have them in the palm of your hand and create an emotional or a spiritual experience," Gerald said. "Then to have them walk away with some thoughts in their heads that hopefully make them reconsider or change some of their opinions that need improvement, or to help them be inspired to do things they have been afraid to do — that's why I love acting."
The actor
Gerald was raised in rural Mississippi by his great-grandmother. Later, he moved to Dallas to attend school, and he earned diving and acting scholarships at Ouachita Baptist University in Arkansas.
Gerald found he enjoyed stage acting and was cast for roles in several productions, including "To Kill a Mockingbird," during the 1990s.
"For a time, I could audition for any show and get cast," Gerald said. "Directors would say, 'Come and be in my show.'"
In 2000, Gerald made his television debut in a couple of episodes of "Sheena," a series shot at Walt Disney World in Florida.
Breaking into TV and film was more difficult, Gerald said, but the turning point came when he stopped worrying about things he couldn't control. In time, the opportunities began to come his way.
In more recent years, Gerald has appeared in several commercials and feature films, including "High School Musical 2," "House of Fears" and "Forever Strong."
"Once I stopped caring about whether or not they liked me, I started getting parts," Gerald said. "There is freedom that comes with having balance. Once you realize it is not the most important thing in life, you are able to live in the moment."
LDS conversion
After moving from Arkansas back to Dallas, Gerald said, he had shoulder-length dreadlocks and was "dabbling a little in alcohol and mild drugs."
The aspiring actor also liked to talk with his friends about spiritual topics. Gerald was raised by a Baptist and at one time lived with a relative who took him knocking doors with Jehovah's Witnesses.
He was on a quest to find God, he said.
One day, Gerald met the friend of a roommate, a returned LDS missionary, who noticed Gerald's desire for spiritual things and invited him to meet with the Mormon missionaries. Gerald accepted.
As a truth-seeker, Gerald figured the missionaries would eventually say something wrong and he would say "thanks, but no thanks." They never did, he said.
"I thought, 'I'm going to listen to these guys. I'm going to take every bit of good they have, own it and live by it,' " Gerald said.
But once they messed up, he planned to say: "Thank you very much. I appreciate your time. But on this point you are wrong."
"They never said anything wrong," he said. "A little whisper in my ear said, 'This is what you have been looking for.' "
After his baptism, Gerald met his future wife at a singles ward in Dallas. They eventually got married and had two sons and a daughter. Joining the church also led Gerald to Utah, and that opened more doors of opportunity for more recent projects, he said.
"A lot of people don't think you can have a good acting career and a family. I think it's the opposite. You have to have other things that are more valuable so acting doesn't control you," Gerald said. "I know I'm on my way back home now, and the beauty is I'm not going alone. I'm going with a wife, three kids and, hopefully, grandkids. It's a blessing to be on this safe journey now."
'The Void'
When working with Gerald on projects like "Forever Strong," director Ryan Little was impressed with Gerald's commitment to his roles. As he and producer Adam Abel discussed who might fill the main African-American role in "The Void," Gerald came to mind.
"When Danor (Gerald) does a part, he puts his everything he has into it. He does his homework and shows up," Little said. "We considered going to Los Angeles, but I thought maybe we should consider Danor. I bet he would immerse himself in the part ... and he did. I've heard him say that it was the role of a lifetime because African-Americans don't get to be in World War II movies very often."
Gerald was honored that Little asked.
"I don't ask questions when Ryan asks me to do something because I've never done anything with him that I didn't enjoy," Gerald said. "It was a great blessing that he would call and ask."
"The Void" takes viewers to Germany's Harz Mountains in the spring of 1945. Adolf Hitler is dead, and Allied troops are charged with stomping out any remaining German forces. Gerald plays Sgt. Jesse Owens, an African-American soldier who finds himself fighting the Nazis in addition to discrimination and racism in a segregated U.S. Army.
While filming some of those tense scenes, including one where a white soldier uses a racial slur, Little admired Gerald's ability to handle his challenging role.
"It was very uncomfortable for me, although in real life it was probably much more extreme and magnified. We were trying to bring it down to a level where kids could see it and ask, 'Why are they were treating him that way?'" Little said. "But even at that level, it was awkward. I don't know how Danor (Gerald) endured it, or where he had to go to play that character."
Gerald said the movie shares a relevant message.
"This is a great story," he said. "You can take some of the lessons and experiences of the characters and apply it to your own tough situations. Maybe it will inspire some people to take the road less traveled."