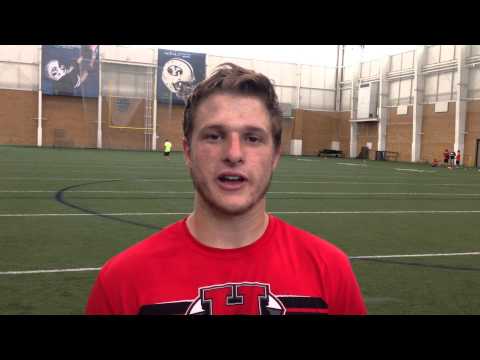 View 12 Items

My expectation is to keep the program running the same direction it's always been. Our defensive staff for the most part is still in place, and offensively we're going to be the same team we have been the last 10 years.

—Steve Pearson
Note: Hurricane finished with a 2-10 overall record in 2013 and was 1-5 in 3AA South. It lost to Pine View 63-28 in the 3AA quarterfinals.
HURRICANE — For 13 years, Chris Homer was the face of the Hurricane football program.
During that time he transformed a school with a long history of mediocrity into a consistent 3A state title contender, ultimately winning six region championships and one state title.
In the shadows those 13 seasons was assistant coach Steve Pearson, but in 2014 it's time for Pearson to step into the coaching spotlight.
Back in early June, Homer resigned as Hurricane football coach to become the school's vice principal and athletic director. Hiring Pearson to replace him was a no-brainer.
Pearson knows he has big coaching shoes to fill, but he's trying not to look at it that way.
"You can't ever replace Coach Homer. He's a household name in our town and our school," said Pearson. "My expectation is to keep the program running the same direction it's always been. Our defensive staff for the most part is still in place, and offensively we're going to be the same team we have been the last 10 years."
Well, every year but last year.
After winning at least a share of five straight region championships from 2008 to 2012, the Tigers went a surprisingly dismal 2-10 last season.
"Quite frankly we were really surprised by it. It snuck up on us," said Pearson. "We didn't go into last year thinking it was going to be a really challenging year. We went into it thinking we're going to be right back in where we want to be and with good chemistry, luck and lack of injury we'll be right there again."
Instead, the Tigers went 1-9 in the regular season, but thanks to the revamped 3AA classification they still qualified for the playoffs and actually upset Bear River on the road, 38-26, in the first round. Hurricane was promptly crushed 63-28 in the quarterfinals the following week by Pine View, but Pearson believe a lot of good came from the Bear River victory.
"We feel the way we ended the year, upsetting Bear River at their place, like we finally started playing good football and could kind of use that as momentum coming into this year," said Pearson.
With nonregion games against Skyline and Stansbury to open the season, the Tigers will find out right away if 2013 was just a fluke.
Senior Jeremiah Ieremia — who already has offers from numerous colleges, including BYU, Utah State and Washington — is the player everyone will be watching.
"We will be as good as he is on both sides of the football," said Pearson.
Offensively a year ago, Ieremia carried the ball 131 times for 694 yards and 12 touchdowns at his fullback position. Defensively he tallied 61 tackles, second only to fellow linebacker Charlie Sefita, who's also a returning starter.
Even though Ieremia is being recruited at linebacker, in Hurricane's wing-T offense his importance at fullback is immense, and he could fall in line with some of the greats through the years.
"He's the type of fullback we like, the type of fullback we groom, and in a world that's increasingly reliant on a quarterback, we're increasingly reliant on a fullback," said Pearson. "That's kind of played out through the years with the (Gordie) Dotson kid, the Brian (Scott) kid and the (Jarom) Healy kid, and we have some other guys in the stable who are going to fill that same roll."
The three fullbacks Pearson referenced starred during Hurricane's five straight region championships. Each made important contributions their junior seasons, but they dominated their senior seasons. Dotson ran for 1,836 yards and 27 TDs in 2008, Healy for 1,207 and 22 TDs in 2010 and Scott 1,638 yards and 31 TDs in 2011.
With two returning starters on the offensive line, Sefita and Russell Cox, Ieremia is hoping to follow in their footsteps.
Pearson believes this year's offensive line is good enough to allow him to reach that potential.
"Some of our best lines haven't been our best lines, they've just been hard-working, blue-collar kids who understand what we're trying to accomplish," said Pearson.
Defensively, Hurricane allowed 33.5 ppg last season, something Pearson hopes a defense with seven returning starters can improve upon.
Hurricane Tigers at a glance
Coach: Steve Pearson is entering his first year as Hurricane's head coach after spending 13 years as an assistant to Chris Homer. He's a graduate of Cyprus High.
Offense
(5 returning starters; Wing-T offense)
Everything offensively this year will revolve around talented fullback Jeremiah Ieremia, but there are other weapons. Senior running backs JD Stanworth and Kole Richins are both back after racking up 351 yards and 298 yards, respectively, a year ago. Hurricane's top receiving threat is back as well as Noah Elison returns after racking up 395 yards a year ago. Who will throw him the ball is up in the air as the coaching staff sorts through quarterback options.
Defense
(7 returning starters)
Defense was a weak link a year ago, allowing nearly five touchdowns per game, but three of Hurricane's starting linebackers from 2013 are back — Charlie Sefita, Ieremia and Kole Richins — and that experience could pay dividends this year as new defensive coordinator Chris Hurst revamps his squad. Standout defensive back Noah Elison also returns, while fellow DB Kyle Williams also picked up some experience a year ago.
Coaches preseason 3AA South straw poll: Fourth
Deseret News 3AA South prediction: Third
Bottom line: Last season has to be regarded as a fluke considering how strong the program had been in the previous five seasons. Tradition alone, however, doesn't guarantee success in the always difficult 3AA South region — aka Region 9. This group seems hungry to make amends for last season, and considering that new coach Steve Pearson was an integral part of Hurricane's success the past year, he knows what it will take to get back on top.
….
Hurricane coaching history
2014 — Steve Pearson (0-0)
2001-2013 — Chris Homer (91-59)
1989-2000 — Wes Christiansen (54-57)
1983-1988 — Wayne Edwards (20-37)
1972-1982 — Wes Christiansen (57-58)
1957-1971 — Unknown (41-75-9)
1954-1956 — Jim Richardson (11-11)
1950-1953 — Unknown (16-10-3)
1949 — Edgar Lempold (4-2)
.....
Deseret News MVPs the past 10 years
2011 — Brian Scott, RB
Deseret News First Team all-staters the past 10 years
2012 — Jared Edwards, RB
2012 — Sean Hafen, DL
2012 — Ethan Stratton, K
2011 — Alex Sefita, OL
2011 — Kevin Mortensen, DL
2011 — Taylor Parker, DB
2011 — Weston Yardley, SP
2010 — Daniel Nielson, OL
2010 — Jarom Healey, RB
Comment on this story
2010 — Taylor Parker, DB
2010 — Eric Canfield, DL
2010 — Corey Edwards, K
2009 — Ian Gates, LB/OL
2009 — Kylynn Iverson, OL
2009 — Jeff Staples, DL
2009 — Corey Edwards, K
2008 — Gordie Dotson, RB
2008 — Ryan Butler, OL
2008 — Riley Pentico, LB
2008 — Gary Bracken, DB
2007 — Ryan Butler, OL
2005 — Kenny Scott, RB
2005 — Tyler Bishop, OL
2005 — Callin Nay, LB
2005 — Cody Olsen, DB
To view second team and honorable mention all-staters through the years, check out the Deseret News All-State Archives.