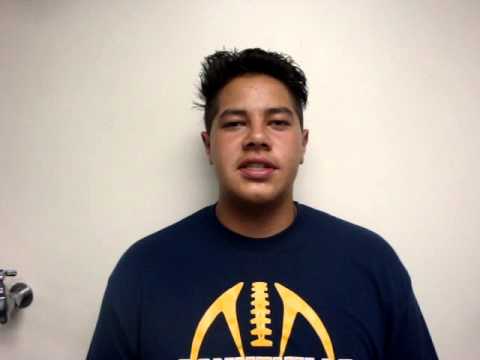 View 16 Items

We've already superseded where we were at our best last year. And that's what makes me really happy is that I think we're on the right track.

—Jantz Afuvai
NOTE: Bonneville finished with a 1-9 overall record in 2013 and was 1-5 in Region 5. It did not qualify for the 4A playoffs.
WASHINGTON TERRACE — The resurrection of Bonneville High's proud football program is well underway, and second-year head coach Jantz Afuvai feels like the Lakers are definitely starting to show some signs of life.
Oh, sure, he knows it's not gonna happen overnight. Bonneville struggled through a 1-9 record last year and has had just one winning season since 2004.
And that's been an awfully difficult pill to swallow for a guy like Afuvai, who played here during the glory years when the Lakers were a perennial region title contender and almost always participated in the state playoffs.
But he likes what he sees — from both a physical standpoint as well as from an attitude-changing perspective.
"With the guys that we've got this year, I mean, we've got some studs," he said. "I would put our receiving corps up against anybody in the state. We had our summer camp and competed against the big boys like Syracuse, Northridge, Box Elder and Roy, and our kids performed tremendously. I was really happy with how we competed.
"We've already superseded where we were at our best last year. And that's what makes me really happy is that I think we're on the right track. The formula is that we're going to pay attention to the little things to get things done. I'll stay firm on those things. And I think that, over time, that's gonna make the difference."
In the weight room, the Lakers' athletes have displayed tremendous progress over the past year. Many of them, though not huge in stature, have reached or surpassed their goal of 750 pounds of combined lifts on power curls, squats and the bench press.
"They might not be the biggest kids out there, and they might not even be the fastest," Afuvai said, "but these kids are in shape and we're driving 'em hard so they can reach their potential in high school. ... I'm starting to see the fruits of our labor now, and it's really paying off.
"The core kids that we have, we're gonna rely on those kids to get us back on track, and then hopefully start us back on a winning tradition here again. It's just gonna take some work."
Afuvai likes the dedication, unity and camaraderie he has seen from his squad.
"These kids work together as a team and they work together because they love each other," he said. "When we're here, we're a family. ... I'm so excited to see how these guys perform. I hope they all reach their potential, and I don't want 110 percent, I don't want 130 percent, I just want 100 percent — even if you mess up, do it at 100 percent. As coaches, we can't ask for anything else.
"I'm not a big moral-victory guy, but we prepare to win, and we prepare to win because we're prepared to reach our potential. And in order to do that, we all just need to do your job. I want to win as much as any other guy, and in order to get our kids to do that, if we all just do our job, we'll be fine. I know that we'll be successful."
Coach Afuvai is still trying to sort out who will be his starting quarterback.
"It's up in the air right now," he said, noting that seniors Tanner Buckway and Sealun Erskine are both capable QBs.
"Buckway is a point guard in basketball, and the best thing about him is he makes great decisions," Afuvai said. "He understands the scheme and he's smart enough to know what's gonna work and what isn't."
Erskine, who starts in the secondary and is also one of the team's top pass receivers, possesses terrific all-around athletic ability.
"What I need is a guy to take control in the huddle and get the ball in the hands of the guys that are going to make plays," Afuvai said of the signal-caller's responsibilities.
Also hoping to see some playing time at quarterback is junior Braxton Wright.
At running back, senior Bryan Burns, who had 124 yards rushing on 31 carries last year, returns along with senior Jayden Jimerson.
At the H-back position in the Lakers' offense, senior Bryson VonColln, who had 15 carries for 116 yards last year, is back along with juniors Tyrus Peck and Kobe Beatty.
That receiving corps Afuvai is so excited about includes wideouts Erskine, who had 49 receptions for 789 yards (over 16 yards per catch) and six touchdowns last year; senior Alex Croyle, who caught 31 passes for 331 yards (almost 11 yards per catch) and three TDs in 2013; senior Braylin Steckleberg, and junior Nathan Ford, who at 6 foot 3 is a big target with great hands and can also play tight end, where he'll be joined by senior Connor Halterman and junior Candon Bell.
On the offensive line, big senior Ethan Atagi will start at center and be backed up by his younger brother, junior Noah Atagi.
The guards are senior Brock Bishop, junior Cory Hauenstein — who Afuvai says has great potential and a certain nastiness (in a good way) about him — and junior Christian Stofferahn.
And the offensive tackles are seniors Will Galbraith, Cole Hendrickson and Jerod West.
"(Ethan) Atagi and Galbraith will anchor our offensive line," Afuvai said.
Over on the defensive line, senior Ethan Sorenson is a returning starter who had 20 tackles and four sacks last season. Senior Kegan Lewis can play either the D-end or D-tackle position, and Bell will contend for a starting spot after battling back from knee surgery.
Afuvai also has great admiration for senior defensive tackle Chance Young, "a little 5-foot-5 dude who's the first guy in the weight room and the last guy to go home. He has a relentless motor, and I put him at defensive tackle last year and he causes all kinds of havoc."
Young had five sacks last season.
Junior Hyrum Olmstead is also ticketed for duty at defensive tackle, while Galbraith, Hauenstein and the Atagi brothers will provide depth on the D-line.
At linebacker, the senior duo of Sam Kilts and Luke Martineau has also impressed Coach Afuvai.
"They're just little dudes but they've done everything I've asked them to do," he said. "They deserve the right to fight for a position on that field."
Andrew DeHart, a junior with good size, also looks very promising at linebacker, where junior Drew Thorngren is "a tough, smart kid who is working hard."
Senior Nick Graham and juniors Sesili Taukiuvea and Michael Milliner will also see playing time at linebacker.
Milliner earned Afuvai's praise.
"He's a tough kid," Afuvai said. "We'll find a place for him. You've got to love an aggressive kid who you've got to rein back a little bit, and we'll turn him loose a little bit this year on defense. He said he wanted to hit somebody on every single play, and he's not afraid to fill a hole."
In the defensive backfield, Beatty and senior Spencer Bouwhuis, who has made great progress after coming back from knee surgery, will play cornerback.
Bouwhuis, who had 46 tackles and two interceptions last season, is "a kid who's dedicated himself and bought in to what we're doing here," Afuvai said.
Senior Andrew Adams will also play cornerback along with senior Spencer Barrowes and Erskine, "who can play anywhere," Afuvai said of the athletic senior. "He brings a whole new level of tenacity back there because he's not afraid to hit."
Erskine, who had 25 tackles and four interceptions last year, will be joined in the secondary by senior Hayden Shaw and junior Dakota Stevenson at the safety spots.
Junior J.T. Wood, who Afuvai says has the potential to play college ball, will handle the placekicking chores.
Last season was a tough one for the Lakers' once-proud program, and nobody took their struggles any harder than Afuvai did.
"I spent a lot of time in front of the mirror," he said. "I'll be honest, I was trying to figure things out, and I didn't cast blame on the kids or the coaches. When you go 1-9 and you're getting spanked, the first thing you want to do is start pointing fingers and have all the excuses for why it went that way. I didn't do that. I looked at myself in the mirror and said, 'I've got to find a way to fix this.'
"That's all I did last year was try to figure out, 'What am I doing wrong? Am I not motivating the kids in the right way? Do I need to change something scheme-wise.' If you want to be a successful leader and you spend all your time pointing figures at everybody else, how are you gonna get anything done? You've got to take an internal look at yourself and ask, 'Where am I gonna make changes to make this thing better? How do we make this better?' And if you don't do some self-reflection, you're not going to be very successful.
"We all need to be tested," Afuvai said. "We all need to have a little adversity in our lives, and how we overcome that adversity is going to define our character. Our best players are unselfish, and we don't have a guy that everybody's counting on to get the job done by himself. These kids block for each other, they're unselfish, and they're not worried about getting their name in the paper. They're humble, they're team players, they want to be successful, and they understand, 'I can't do this by myself.' We need all 11 guys to execute for us to be successful."
Coach Afuvai looks at Roy as the top dog in this year's Region 5 race.
"I think Roy is the team to beat this year," he said. "Freddie (Fernandes) does a great job with those guys, and their quarterback (Tyler Skidmore) is a pretty good one. They work well together and I think they'll be the team to beat.
"All the Cache County teams will be in the mix. Those Cache County teams, they know how to win. And Box Elder is always tough.
"All I know is we've pushed these kids as hard as we can to make us be able to compete," he said. "And now our goal is to help these kids be the best that they can be."
For Afuvai, who played for the Lakers from 1987-89 and graduated from Bonneville in 1990, that means eventually resurrecting a program that had a rich, winning tradition for four decades. He contributed to that tradition as a player, and now he hopes to do the same as the Lakers' head coach.
"None of the high school stadiums in Utah hold the sacredness of that field up there," he said of Wallace and Thom Budge Field. "When you go to that stadium, I mean, it's 'Friday Night Lights;' it's a bona fide football game, and there's an expectation that these Bonneville Lakers will win.
"Those are some big shoes to fill, and I feel that. And I recognize that's not just gonna happen just because I want it — you've got to earn it."
Bonneville Lakers at a glance
Coach: Jantz Afuvai returns for his second year after going 1-9 in his inaugural season as a high school head coach last year. The former Bonneville High and Weber State linebacker, who earned All-Big Sky Conference honors in his senior season with the Wildcats, formerly served as an assistant coach at Bonneville for seven years and at Ogden High for two seasons.
Offense
(5 returning starters; Multiple-formation offense)
Tanner Buckway or Sealun Erskine, one of the best all-around athletes in the program, will start at quarterback, and Erskine is also a proven wide receiver. Bryan Burns, Jayden Jimerson and Bryson VonColln will lead the Lakers' ground game, and the receiving corps of Erskine, Alex Croyle, Nathan Ford, Braylin Steckleberg, Connor Halterman and Candon Bell is as good a group as you'll find. O-linemen Ethan Atagi, Will Galbraith, Cole Hendrickson, Brock Bishop, Cory Hauenstein and Jerod West will be counted on to handle the duties up front for an offense that struggled to put points on the scoreboard for the first part of last season, then finally got things going in that regard in their final four games of 2013.
Defense
(4 returning starters; 4-3-4 defense)
Ethan Sorenson, Kegan Lewis, Chance Young, Candon Bell and Hyrum Olmstead spearhead the D-line, with Sam Kilts, Luke Martineau, Andrew DeHart, Drew Thorngren and Michael Milliner leading the linebackers. The defensive secondary of Sealun Erskine, Kobe Beatty, Spencer Bouwhuis, Andrew Adams, Spencer Barrowes, Hayden Shaw and Dakota Stevenson should be strong and greatly help improve a defense that allowed an average of over 36 points per game last year, giving up 40 or more points four times and more than 50 twice.
Coaches preseason Region 1 straw poll: Sixth
Deseret News Region 1 prediction: Sixth
Bottom line: Even though they finished 1-9, the Lakers showed some signs of improving toward the end of last season. Second-year head Jantz Afuvai has high hopes that his team will continue its tremendous work ethic and togetherness so it can begin laying the foundation for this once-proud program's major rebuilding project. Afuvai knows it won't happen overnight, but he's in it for the long haul and feels like his players' great effort in the weight room will start paying dividends on the field. The Lakers will definitely be better than they were a year ago; how much better remains to be seen.
Bonneville coaching history
2013-current — Jantz Afuvai (1-8)
2012 — Tyler Gladwell (3-7)
2011 — Randy Johnson (5-5)
2006-2010 — Matt Williams (21-31)
1975-2005 — Thom Budge (237-104)
1972-1974 — Brent Hancock (14-12)
1968-1971 — Larry Neves (25-11)
1960-1967 — Harry Burchell (31-40)
.....
Deseret News First Team all-staters the past 10 years
2009 — Connor Stephens, DL
2007 — Jim Eskelsen, OL
2004 — Devon Holbrook, WR
2004 — Aric Hutchinson, SP
To view second team and honorable mention all-staters through the years, check out the Deseret News All-State Archives.
EMAIL: rhollis@desnews.com