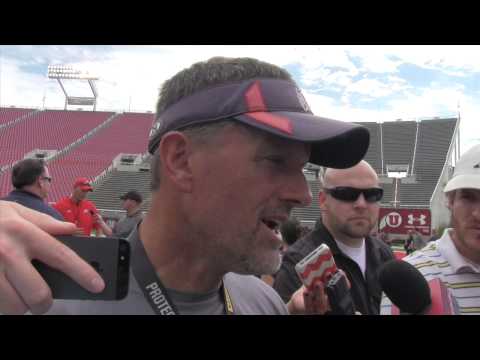 View 42 Items


The sky is not falling. But we've just got to play better. We've got talented players and they've got to rise to the occasion, particularly on a scrimmage day.

—Kyle Whittingham
SALT LAKE CITY — It wasn't a good day for Utah's quarterbacks. They received some pretty blunt criticism after the Utes' initial camp scrimmage.
"Based on today's performance, we don't have a starting quarterback," said head coach Kyle Whittingham. "Because none of them played well enough to start. So we've got to get better."
All six quarterbacks eligible to play this season — Travis Wilson, Kendal Thompson, Conner Manning, Brandon Cox, Adam Schulz and Donovan Isom — saw action Tuesday morning at Rice-Eccles Stadium.
Whittingham didn't like what he saw, noting that it wasn't good.
"I wasn't impressed by any quarterback today. They all played. All six of them got reps. We've got a lot of work to do. It's obvious," he said. "It's disappointing because they've been very sharp up until today. But today, in a game-like situation we didn't respond, didn't answer the bell."
Final statistics, which included only Wilson, Thompson, Manning and Cox, had the quarterbacks teaming to complete 15-of-44 passes for 228 yards.
Whittingham said the quarterbacks didn't throw the ball nearly efficient enough, not even close. He also emphasized that the offense, as a whole, wasn't as sharp as it need it to be.
"Not good enough. Not good enough at the quarterback position. Not good enough anywhere," said Whittingham, who was pleased with the tempo but not the execution.
The Utes put the ball on the ground in what Whittingham called critical situations. Safety Tevin Carter recovered a fumble and returned it 99 yards for a touchdown. In a four-minute drill, the offense just needed to possess the ball in order to ice a game. Hunter Dimick, though, foiled such plans by recovering a fumble for the defense.
"(We've) got to be masters of situational football," Whittingham said. "We did not master situational football today by a far stretch."
Offensive coordinator Dave Christensen acknowledged that they've got work to do. From an execution standpoint, he explained, there are "a number of little things."
Christensen acknowledged it was disappointing that the offense turned the ball over and had three-and-outs in the scrimmage. He thought the tempo wasn't bad, but wants to see improvement on playing fast from when the ball is snapped until the whistle blows.
"We'll look at the film and get right back to work this afternoon," said Christensen, who noted that the Utes have another scrimmage on Saturday.
"We've got to straighten some things out offensively," he said. "We've certainly got players that are capable of doing it. So we'll coach them up and motivate them and get them going and get those things corrected before Saturday."
Wilson, who was 8-of-21 for 101 yards and two touchdowns, felt the offense didn't come out with the right mindset and needed to treat the scrimmage with more motivation.
"We really want to showcase what we've learned from practice and everything," Wilson explained. "So we've just got to come out and get better, especially during the scrimmages."
Wilson said the offense definitely started off really slow, playing good in some areas and not well enough in others. The turnovers, he noted, came in exchanges with the running backs.
"It's something that we'll really have to watch film off and correct for the next scrimmage on Saturday," said Wilson, who couldn't really pinpoint why things were so sluggish. "We were soft upfront and just not in our right groove. So that's something that can't happen. We've just got to make sure we start fast."
The lone touchdown passes came from Wilson. He connected on a 25-yard scoring strike to Dres Anderson and a 13-yard throw to Delshawn McClellon.
Thompson had a 15-yard TD run and Devontae Booker scored from 1-yard out. Kicker Jon Halliday made field goals from 41 and 27 yards. Tim Patrick led all receivers with six catches.
Troy McCormick was Utah's leading rusher with 40 yards on nine carries in a less-than-stellar scrimmage for the offense. Whittingham isn't sure what to attribute it to, explaining that he'll have to watch the film to figure out exactly where the breakdowns occurred.
Whittingham said he just expected more. As for the quarterbacks, the coach noted there were shortcoming at other positions as well.
"I'm not just trying to pick on those guys but that group has got to get better without a doubt," he said.
The defense, meanwhile, earned a lot of praise.
"It was give-and-take," Whittingham said. "But mostly give by the offense and take by the defense today."
Whittinham was pleased with how the defense flew around and made a lot of nice plays. He also said the defense was good in situational work.
Dimick, a sophomore defensive end, had a strong showing with a pass breakup and a sack. Whittingham said he probably had a couple more of the latter but the quarterback (Wilson) was off-limits to being tackled.
"But he put good pressure on the quarterback," Whittingham said.
Jason Fanaika also had a sack. Greg Reese and Pita Taumoepenu combined for another one. Marcus Williams had two tackles-for-loss, while Brian Allen made one stop behind the line of scrimmage.
The defense's other fumble recovery was made by Christian Drews.
And there's more.
Seven defenders were credited with pass breakups — Reggie Porter, Davion Orphey, Tanner Larsen, Justin Thomas, Brian Blechen, Dimick and Reese.
"I'm not really worried about how the stats look at the end of today. I'm more concerned about how our guys performed and the effort they gave," said defensive coordinator Kalani Sitake. "From what I saw, the effort was really good and I thought we got better as a defense and we'll be ready."
Despite the offensive shortcomings in the scrimmage, Whittingham noted that the Utes still have 16 days to get better before the season opens. He's confident they'll show significant progress in Saturday's scrimmage.
"The sky is not falling. But we've just got to play better," Whittingham said. "We've got talented players and they've got to rise to the occasion, particularly on a scrimmage day."
Email: [email protected]
Twitter: @DirkFacer