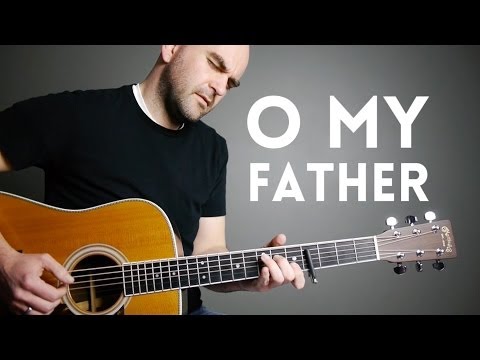 View 16 Items



For Ben Howington of Raleigh, North Carolina, hymns aren't simply sung during church services or even reserved for Sundays. They have become the soundtrack to his life, with each playing a role in his efforts to come closer to God.
"I think the hymns, probably because I've heard them and sung them from such a young age and because of the sacred nature of hymns, they speak to my soul on a different level than other forms of music," Howington, a member of The Church of Jesus Christ of Latter-day Saints, said. "When you're talking about hymns, you're talking about songs that are meant to praise our Father in Heaven. I think that's a whole new level of emotional connection."
When Howington was a teenager, his guitar never left his side. Most days, he spent hours in his room playing the five-string instrument. Now, in his 30s with a wife and four children, he remains just as committed to music. Howington spent the past year arranging 12 hymns on the guitar with the help of his family.
Known online as the producer of Mormon Guitar, Howington started his website and YouTube channel in June 2013 with the idea that each month a member of his family would select a hymn for him to arrange on the guitar. After spending a month creating the arrangement, Howington would upload a video of his finished product along with a video tutorial.
One year and 12 arrangements later, he was contacted by Covenant Communications about distributing an album of his arrangements.
The songs selected for the album range from "Book of Mormon Stories" and "When I Am Baptized" (both from the "Children's Songbook") to "Redeemer of Israel" and "O My Father."
"I don't feel like there is any shortage on arrangements for hymns. We have a lot," he said. "But because I don't choose the (hymn) that's kind of taken out for me, so then I can say, 'What is it about this hymn that I can relate to? How does it fit into my life?' Because music to me is just a way to communicate emotion, that's how it's always been. So when I looked at it in that way, so many things started to open up."
When he began this project a year ago, Howington approached the arrangements of the songs with reverence, but he also wanted to portray them in a different light.
"There's always been a new meaning that comes out of it for me," he said. "And doing it on the guitar, which is such a familiar instrument to everybody but not a familiar instrument for hymns, I think allows you to hear these melodies and hymns in a new way that is surprising because it's not irreverent. A lot of these hymns become almost routine to us until we hear them in a new way."
One example of this is his arrangement that combines "O My Father" and "I Often Go Walking."
Howington's wife, Annie, selected "O My Father" for one month of the project. With a desire to combine this hymn with another song that mentions mothers, Howington sat in a church meeting pondering potential arrangements.
"I find that a lot of times during the sacrament, I'll pick up the hymn book and look at whatever hymn I'm doing that month," he said. "And it's always been a great time to receive some inspiration. I was looking at the different songs we have about mothers, and I came across 'I Often Go Walking,' which is one of my favorites, and I literally had 'O My Father' in my left hand and 'I Often Go Walking' in my right hand looking for where I could pull it in, and it was like one of those, I call it a 'National Treasure' moment … where they just kind of came together."
In his arrangement that month, Howington was able to combine the two songs in what he describes as a "humbling experience."
But out of all of his arrangements, his favorites are "Families Can Be Together Forever" and "I Am a Child of God."
Last December, Howington arranged "Families Can Be Together Forever" after his daughter reached five years in remission from brain cancer.
As for his arrangement of "I Am a Child of God," Howington said this song reminds him of his parents, which is why he used a specific guitar for the arrangement.
"My parents have just always been so supportive of me, and they bought me that guitar," he said. "It was a very expensive guitar and we weren't rich. But they bought it for me because they knew I was serious about playing. And it's always been the guitar that I've connected with.
"If I ever want to pour out my soul, that's the guitar I pick up. And I felt like there's no better place to pour out my soul than this song and basically thank my parents, not just for the guitar but for raising me in the gospel and giving me that foundation."
Because he had already spent a year arranging hymns, combining them for an album seemed natural.
"It makes this album extra special to me because it isn't just a week of recording in the studio or several weeks of all the painstaking post-production things. It wasn't, 'I have a couple of good songs, let's make an album, and I need to come up with a couple more to round it out,' " Howington said.
"There's 12 songs on that album, and each one of those songs took a month's worth of prayer and work," he said. "There's not a song on that album that's just a filler. Every single one I feel like I put a lot into it and added to it. That's really rewarding for me to feel like that level of commitment went into it."
Kent Dudley, an old friend, helped Howington record his album. Dudley runs Cottonwood Studios in Idaho Falls, Idaho, and spent four days working with Howington.
"It was a long process of doing lots and lots of takes," Howington said. "I sat down and was just having a real hard time with it, getting the feel, and I realized I hadn't prayed.
"I'd been telling myself for a while, 'You need to make sure you pray when you get in there.' So I stopped and I went into the control room with Kent, who's a member of the church as well, and we said a prayer. And after that, I felt so much better and calmer, and we got to work."
Howington's album "Mormon Guitar: A renewed love for hymns" is available to purchase at Deseret Book and on iTunes.
"This whole process for me, this past year ... it's been a renewed love for hymns. I love the hymns more today than I ever have in my life and more than I did one year ago when I started this process," Howington said.
"My family has been the No. 1 support, my wife and my kids, and my parents and sisters. It's been a process that all of us have gone through, and I think that's something that makes this very rewarding for me as well."