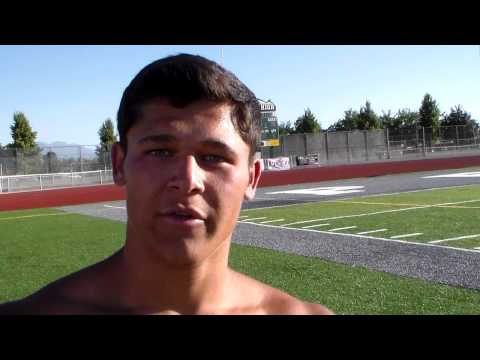 View 4 Items

It's a process, like anything else. We have to change the mentality and change the culture and to do that we simply need to get down and work hard and for me, I need to make sure I get the right players on the field.

—Provo coach Tony McGeary
Note: Provo finished with a 1-9 overall record in 2013 and was seventh in Region 8 with an 0-6 record. It did not qualify for the 4A playoffs.
PROVO — After years of losing, Provo may have finally found the right guy for the job.
Following a year away from the profession, former Lone Peak coach Tony McGeary has decided to take on the tough task of reviving Provo's struggling program.
Amid some controversy, McGeary resigned from Lone Peak after successfully leading that program to several region championships and a 5A state championship in 2011.
"We had some great success at Lone Peak and now I'm working to bring that same model here to Provo," McGeary said.
Doing as much certainly won't be easy and McGeary knows it.
While Lone Peak enjoyed a healthy student enrollment and subsequent strong depth, Provo is quite the opposite.
"We don't have a lot of depth here and that's fine. It's a lot different in that way, but you find players who can play and want to play, just like you do anywhere else," McGeary said.
Another challenge is instilling a winning attitude in players who have won just a single game over the last two seasons.
"It's a process, like anything else," McGeary said. "We have to change the mentality and change the culture and to do that we simply need to get down and work hard and for me, I need to make sure I get the right players on the field."
McGeary strongly believes in the process he established at Lone Peak and believes wins will eventually come back to Provo if the players, and himself, stay the course.
"I don't know how soon we'll start winning — I can't make any promises there — but I know the wins will come," McGeary said. "I like the attitude of the kids here. I like the facilities we have here and we're doing the right things and if we just hang in there we're going to be great."
The players are definitely buying what McGeary is selling early on, and they're excited about their potential.
"He has us believing we can do it," said junior quarterback Viliami Iongi. "We're all excited he's here and it starts this year. I think we're going to surprise a lot of people this year."
Iongi showed promise as a junior last season and will play on both sides of the ball this year.
"He brings a lot of experience from last year and he's grasped what we're teaching him well so far," McGeary said.
Other playmakers on offense are receiver Chase Heiner, tight end Bo Dailey and slot receiver Brayden Hinckley, among others.
"We have some guys who can make plays. We have good skill kids," McGeary said. "I feel we have guys we can get the ball to who can really do some good things."
On defense the team will be led by safety Kyle Unga and middle linebacker Daniel Duerden.
Depth on both the offensive and defensive lines is a concern going into the season, but McGeary says he's used to having thin lines and will make due with what he has.
"We never had those big lines at Lone Peak and had to learn to deal with that and it's going to be the same here," he said. "We'll be fine on the line and we're going to do good things this year. Things are coming together. Kids are believing and you'll see some progress."
Provo Bulldogs at a glance
Coach: Tony McGeary is in his first year coaching at Provo. He previously coached at Lone Peak, where he went 51-12.
Offense (5 returning starters; Spread offense)
Provo will run out of a spread and try and get the ball out quickly to negate being undersized on the offensive line. It's the same system McGeary used with so much success at Lone Peak.
"We want to get defenses to adjust to what we're doing," McGeary said. "You're going to come at us, then fine, we'll get the ball out quickly. It's the system I believe in and I think we'll run it well here."
Defense (5 returning starter; 4-3 defense)
On defense McGeary wants to keep it simple and will run his defense out of a base 4-3 formation.
"We're not going to be real fancy with what we do on defense," he said. "We're going to stay in base formation much of the time and we have some good players on defense."
Coach's preseason Region 8 straw poll: Seventh
Deseret News preseason prediction: Seventh
Bottom line: Provo is likely to see success under McGeary, but it's going to be hard to come by initially. Region 8 looks improved overall, which will make it tough for the Bulldogs to make headway initially. But look for them to surprise teams with some good playmakers on both sides of the ball.
….
Provo coaching history
2014 — Tony McGeary (0-0)
2012-2013 — Cody Mallory (1-19)
2008-2011 — Saia Pope (18-24)
2004-2007 — Clint Christiansen (21-22)
1999-2003 — Frank Henderson (17-37)
1995-1998 — David Mills (9-28)
1993-1994 — Ed Larson (6-12)
1992 — Jess Christensen (4-5)
1991 — Duane Johnson (5-4)
1979-1990 — Frank Henderson (88-42)
1977-1978 — Dick Henderson (6-12)
1976 — Paul Gillespie (10-2)
1973-1975 — Jack Branin (12-15)
1972 — Bry Lake (10-3)
1954-1971 — Dick Hill (81-71-6)
1943-1953 — Max Warner (39-51-6)
1942 — Glen Simmons (3-2-1)
1939-1941 — Griffith Kimball (16-9-2)
1936-1938 — Unknown (8-13-3)
1923-1935 — Glen Simmons (49-39-7)
1908-1922 – Unknown (14-17)
….
Deseret News First Team all-staters the past 10 years
2009 — Likio Pope, OL
2009 — Maka Unufe, Specialist
2006 — Austin Alder, Specialist
To view second team and honorable mention all-staters through the years, check out the Deseret News All-State Archives.
Email: bgurney@desnews.com
Twitter: @BrandonCGurney