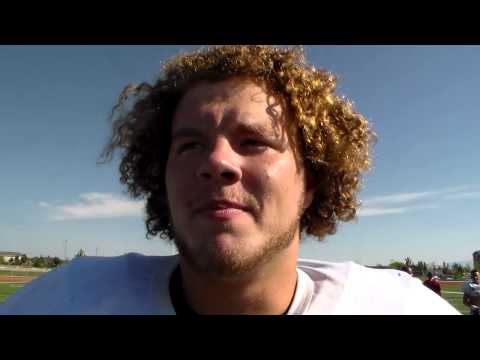 View 3 Items

We're not flying under the radar anymore, and that's a good thing for the kids who have earned that through their hard work and dedication.

—Herriman head football coach Dustin Pearce
Note: Herriman finished with a 6-6 overall record in 2013 and tied for first in Region 4 with a 4-2 record. It lost to Brighton 41-36 in the 5A quarterfinals.
HERRIMAN — They're big. They're talented. And they're poised to lead Herriman on its quest for a 5A state championship.
The first thing that strikes you when visiting a Herriman practice is the size of the linemen — particularly those on the offensive side — working their way through rigorous drills.
"We relied on those guys a lot last year and it's going to be the same this year," said Herriman coach Dustin Pearce.
Herriman returns four of the five starters who generally pulverized their competition last season. Leading the way is four-star recruit, and UCLA commit, Andre James.
"He's as good as any lineman I've coached, no question," Pearce said. "What makes him so good is he's extremely athletic to go along well with his strength."
James (6 foot 5, 285 pounds) is joined by three-year starter Justin Moser (6-4, 320), Wyate Lapuaho (6-2, 325), Leone Mahe (6-0, 285), Tyler Gough (5-10, 215) and Ty Shaw (6-5, 263) along the offensive front.
"They're obviously big boys and it's great running behind them," said running back Kody Jarvis. "Those guys make me and the rest of us look good."
Such an imposing line is hard to not notice, nor is Herriman's remarkable success since its first season in 2010. Every season has seen the Mustangs steadily improve and become favorites to win Region 4.
"We're not flying under the radar anymore, and that's a good thing for the kids who have earned that through their hard work and dedication," Pearce said. "For coaches, I guess it would be great to be able to sneak up on people, but that's not going to happen."
Last season saw the Mustangs make it to the quarterfinals, where they narrowly lost to eventual 5A runner-up Brighton 41-36. This season the natural expectation is to go farther in the playoffs, but first things first.
"We're just looking at winning region. That's the goal right now," Jarvis said. "We're not thinking past that."
Jarvis himself will likely be a big key in achieving Herriman's goal of winning Region 4 as one of the team's primary running backs.
"We lost Brandon Farmer, who was great for us last year, but return a good corps of running backs, including Kody Jarvis," Pearce said.
Others expected to step up at running back include Kaden Heyward, Niua Mahe and Brig Rush.
Braden Kener returns as the team's starting quarterback, which should provide an obvious boost to production on both the ground and through the air.
"We did well establishing good depth in preparation for this season, so we feel good about everything coming back on offense," Pearce said.
On defense, the Mustangs return five starters, including three-year starting defensive lineman Kalisi Moli and starting defensive end Harris LaChance.
"We like the experience we have back on defense and really like our defensive front," Pearce said. "At linebacker we like the competition there and we have some good experience in the defensive backfield."
All the returning parts have Herriman excited for the season.
"I think we're ready to make that next step," Pearce said. "We've been improving things here every year, it seems, and now we need to keep that going and see what happens. We're optimistic and the kids are anxious to get going."
Herriman Mustangs at a glance
Coach: Dustin Pearce is entering his second season as Herriman's head coach. In six years as a head coach, he has accumulated a 33-25 overall record. Pearce is a graduate of Hunter High.
Offense (8 returning starters; Pro-style offense)
There's nothing fancy about Herriman's offensive approach. Just lining up and pounding away on the ground proved very effective for the team last season and Pearce will obviously rely on a similar approach given his stacked offensive line.
Pearce doesn't plan on completely ignoring the passing game, however, and with a promising slate of receivers paired with last year's starter at quarterback, the Mustangs could be looking to air it out more frequently.
"I like our potential at receiver, so we may change things up a bit this year," Pearce said.
Defense (5 returning starters; 4-3)
Senior Kody Jarvis doesn't just run the football — far from it. In the last two years he's starred in the secondary and will do so again this season.
"Kody is probably our best all-around athlete and we'll ask a lot of him this year," Pearce said. "He's an outstanding leader and someone we know we can rely on and the kids know it as well."
Coaches preseason Region 4 straw poll: First
Deseret News Region 4 predictions: Second
6
comments on this story
Bottom Line: Everything seems to be lining up for the Mustangs to finish out their year at Rice-Eccles Stadium, where the 5A state semifinals and finals are held. The team will find out where it's at quickly, as it has a Week 2 matchup against 5A favorite, and defending champion, Bingham. Region 4 will be tough, as always, but Herriman should finish near, or at the top, regardless.
….
Herriman coaching history
2013-present — Dustin Pearce (6-6)
2010-12 — Larry Wilson (20-14)
.....
Deseret News First Team all-staters the past 10 years
2013 — Brandon Farmer, RB
2013 — Andre James, OL
2012 — Tueni Lupeamanu, Specialist
2011 — Francis Bernard, RB
To view second team and honorable mention all-staters through the years, check out the Deseret News All-State Archives.
Herriman's Andre James
Herriman's Andre James talks about the coming season.
Email: bgurney@desnews.com
Twitter: @BrandonCGurney