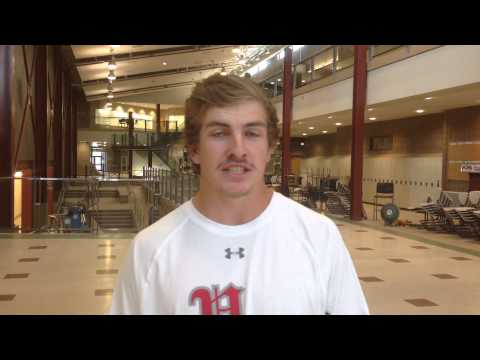 View 12 Items

We're trying to install a positive attitude, every minute of every practice of every game. When a program is down, there's typically a lot of negativity that goes with it. We've worked really hard to try and keep everybody positive.

—Park City QB Ian Moritz
Note: Park City finished with a 3-8 overall record in 2013 and was fourth in 3AA North with a 3-3 record. It lost to Cedar 23-13 in the 3A first round.
PARK CITY — When Mike Shepherd took over the Park City football coaching job last season after an eight-year absence, he had grand plans to get the program back on track.
He had no idea it would take so long.
"We actually never caught up where I thought we were going to be. That for me was very disappointing," said Shepherd.
Circumstances certainly played a factor. The most gut-wrenching was the death of assistant coach Aaron Alford, who suffered a heart attack the first practice of the season. The sting of that death resonated throughout the season.
Other circumstances — like moving games and practices because of construction on Park City's new track, or just poor practice habits from the previous coaching staff — all contributed to a 3-8 record.
A year later, Shepherd believes he's got the program headed in the right direction. Don't be mistaken, this team is still young and will rely on plenty of sophomores and juniors, but they're more equipped physically to compete at the varsity level.
"We've had an offseason with the kids. We've had a spring and summer camp. My expectations are high. I'm not saying we're going to be the best team in our classification, but certainly we are dramatically improved from last year," said Shepherd.
There were games last season Shepherd said he went into feeling sorry for his players, particularly his undersized sophomores. They just got pummeled. In the last three games of the regular season Park City lost to Bear River 62-13, Stansbury 42-7 and Juan Diego 52-7.
Even though it followed those up with a respectable 23-13 loss to Cedar in the first round of the 3AA playoffs, it was a very frustrating final month of the season.
The players committed themselves to the weight room this offseason to help atone for those embarrassing losses.
"Those young guys have worked really, really hard this offseason. They've put on muscle and a little bit of weight so they can compete against those older kids," said Park City senior quarterback Ian Moritz. "All summer long I've been asking myself, 'Why not us?' You never know, we could step up and have a great year."
Moritz was a Deseret News second-team all-state safety last year, and big things are expected of him on both sides of the ball. He's coming off a season in which he recorded 51 tackles and three interceptions defensively to go along with 1,300 passing yards and 498 rushing yards.
"He loves football, it seems the best kids playing football always love playing. They educate themselves, they naturally pick up the nuances of the game," said Shepherd.
"The kids really respect him, he's a hard worker. He's not a prima donna at all. He's one of those kids who will stick his nose in the dirt and get down and dirty with everybody. He's a great kid to have as a leader."
Moritz's infectious work ethic has helped Shepherd change the mentality of the football program he inherited.
"We're trying to install a positive attitude, every minute of every practice of every game. When a program is down, there's typically a lot of negativity that goes with it. We've worked really hard to try and keep everybody positive," said Shepherd. "Once you've got people being positive all kinds of other things work out that were problems previously, the work ethic, the motivation, all those other things fall into place."
The challenge now is turning that into victories. Shepherd has no idea how many games Park City will win, but he's relieved knowing at least his team will be competitive.
With all the setbacks last year the Miners went into their first game completely unprepared and lost to South Summit 44-0. When the teams meet again on Aug. 22, preparation won't be an issue.
And when that three-week stretch rolls around again to end the regular season against Bear River, Stansbury and Juan Diego, Park City will be extremely hungry to make amends.
Park City Miners at a glance
Coach: Mike Shepherd is entering his second year in his second stint as Park City's head coach. In his first stint from 1998 to 2004 the Miners compiled a 43-28 record. He's a graduate of Mission Bay High in California.
Offense
(4 returning starters; Fly offense)
A year averaging only 16.1 ppg, the Miners hope a revamped offensive line and another year of experience with their skill position kids increases that productivity by at least a TD a game. The lone returning offensive lineman is Parker Shea. QB Ian Moritz is back along with running backs Grayson Maddux and Josh Pelegrin. The trio combined to run for 950 yards last season. Bjorn Bornes is a move-in from Montana who will really help the team at wide receiver. Perhaps the biggest boost this year will come from sophomore Jonas Loyens. Coach Shepherd believes he has big-time potential to be an all-state caliber running back over the next three years.
Defense
(4 returning starters)
Park City was young and undersized last season, and it showed as teams torched its run defense. With the return of Shea on the defensive line and sophomore Eli Alford expected to make strong contributions, the Miners should be much better equipped to slow some of the run-heavy teams in 3AA North like Juan Diego and Stansbury. Maddux could have a big year at linebacker, but this team is going to need numerous sophomores and juniors to step up to truly compete in region.
Coaches preseason 3AA North straw poll: Fifth
Deseret News 3AA North prediction: Sixth
Bottom line: Last year was a mess all the way around, but perhaps it was an unavoidable season for Park City. A year later, kids are excited about conditioning and lifting weights, knowing the end goal is being more competitive on Friday nights. Offensively, this could be a pretty good running team if the inexperienced offensive line comes together by region play. If not, defense will need to carry the team, and with underclassmen dotting the field that's probably a year away from actually happening.
….
Park City coaching history
2013-current — Mike Shepherd (3-7)
2010-2012 — Kai Smalley (10-21)
2005-2009 — Brandon Matich (39-18)
1998-2004 — Mike Shepherd (53-28)
1995-1997 — Paul Tomasiewisz (6-22)
1994 — Gary Anderson (3-7)
1993 — Randy Schreiter (0-8)
1978-1992 — Robert Burns (101-53)
1977 — Rich Groth (1-7)
1976 — Steve Leatham (0-8)
1972-1975 — Unknown (8-30)
1971 — Wayne Carlson (3-2-4)
1968-1970 — Unknown (12-14-1)
1967 — Ed Severance (3-5)
1966 — Elliott Jordan (4-4)
1962-1965 — Gary Knudsen (6-25-1)
1958-1961 — Jack Woodbury (11-17-1)
1957 — Bill Bell (1-5)
1956 — Dave Germann (0-6-1)
1953-1955 — Jack Adamson (4-18-1)
1951-1952 — Ralph Peterson (4-11)
1946 -1950 — Unknown (21-15-4)
1945 — Mark Reeves (6-3-1)
1943-1944 — Unknown (9-6)
1937-1942 — Max Warner (27-14-1)
1935 -1936 — Pete Carltson (9-2)
1934 — Grey M. Lusty (4-1-2)
1933 — Robert Bailey (5-1)
1932 — Bob Birbeck (5-0-1)
1925-1931 — Unknown (15-22-4)
1924 — Floyd Romney (3-2)
1901-1923 — Unknown (23-28-2)
.....
Deseret News MVPs the past 10 years
2009 — Dylan Chynoweth, RB
Deseret News First Team all-staters the past 10 years
2011 — Jono Schettler, WR
2010 — Paul Flake, QB
2010 — Jake Adams, DL
1
comment on this story
2010 — Jono Schettler, WR
2009 — Scott Adams, OL/DL
2009 — Erik Walker, QB/FS
2009 — Cash Knight, OL
2008 — Dylan Chynoweth, RB
2008 — Tony Epperson, DB
2008 — Ben Portwood, K
2007 — Matt Wright, RB
2007 — ColtonNichter, OL
2006 — Jared Tew, RB
2006 — Patrick Kruse, OL
2006 — Nick Vought, DB
2004 — Drew Shepherd, QB
2004 — Kyle Mutcher, OL
2004 — Brian Kadziel, DL
2004 — Jack Bevins, LB
To view second team and honorable mention all-staters through the years, check out the Deseret News All-State Archives.
Deseret News prep editor and Real Salt Lake beat writer.