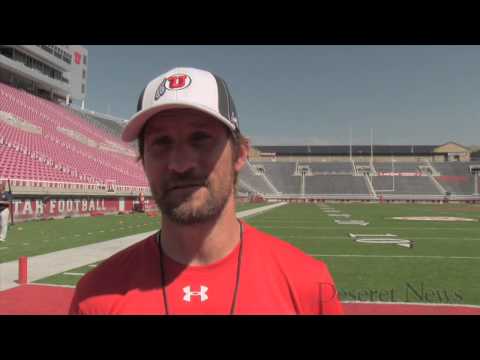 View 2 Items

SALT LAKE CITY — With a week of practice under his belt, Utah quarterback Kendal Thompson is feeling more comfortable with his new team.
The Oklahoma transfer came into camp prepared with the playbook, but has started to show improvement on his passing as camp has continued. That's something he said has grown the more he gets to communicate with his receivers.
"As far as the playbook and stuff, I've been comfortable with that coming in," Thompson said, after Monday's practice. "But with my personnel and knowing my matchups and things like that, I'm definitely getting more comfortable."
Thompson remains the backup on a newly released depth chart Monday, which lists him behind returning quarterback Travis Wilson. The two have split the majority of snaps in the practice sessions available to media members. Conner Manning has also seen plenty of snaps, and has moved up on the depth chart behind Thompson.
Although there is the competition at quarterback, which head coach Kyle Whittingham said is still open, Thompson said each quarterback has helped each other out during and after practices.
"We're a very tight-knit group," Thompson said. "In the film room, we help each other out — ask a lot of questions. I feel like that translates to our play out on the field. We've had, like, two turnovers now one week into camp, so I feel like the main thing is taking care of the ball and picking up blitzes and things like that, and not having sacks. I feel like we're doing a good job doing that."
Aaron Roderick, Utah's quarterback coach, said he has been impressed with how quickly Thompson has learned the offense since coming over during the summer.
"He's a good decision maker," Roderick said. "He throws it where it's supposed to go, throws it to the right guy, and he's done a good job so far."
The junior will get perhaps his best chance to highlight his skills Tuesday, when the team will have its first scrimmage. The team will have another scrimmage on Saturday.
Whittingham said Thompson could go "live" in either scrimmage, which would make him eligible to get hit and rushed by the defense. To this point Thompson hasn't been, but going live would open the opportunity for him to showcase his ability to elude defenders and throw on the run.
"That's where he's at his best," Whittingham said. "That's one of his strong suits, if not his strongest suit, is his escape-ability and his ability at extending the play. That's a great weapon to have at quarterback."
Roderick echoed that belief, adding that it would allow Thompson to branch out and have more options to throw the ball.
"The one thing he does well is run around and make plays," Roderick said. "When you go live, there's always the chance he can escape and throw the ball to somebody down the field. It's hard to cover for that long."
Thompson, though, said he doesn't think of himself is a run-first quarterback. He's a dual-threat with his arm and legs, but thinks of himself as a thrower first.
However, the game works in ways in which Thompson will have to run.
"Football is a game of instinct and reacting," he said. "I try to go through my reads, but when the pocket breaks down, it's time to get out of there. You can't take sacks. You can't have negative plays. When it's time for me to escape the pocket, I feel I'm blessed to have the ability to do that and I like what I can do outside of the pocket."
Whittingham said he has kept Wilson his top quarterback after the first week because of his familiarity of the offense and players, as well as his higher completion percentage during the practices.
However, when Thompson is on the field as quarterback at any point, the Utes have a much different look.
"His ability to run the football makes him a dynamic player and difficult to defend," Whittingham said. "It's not quite apples and oranges, but it's different. If Kendal is the guy, then the offense will have a facelift to accentuate what he does, and if Travis is the guy, then we'll go in that direction.
"If Kendal's in, the quarterback run game, the play action game, all that stuff becomes more prevalent," Whittingham added. "When Travis is in, we have a chance to do more of the drop back stuff in addition to the other things."
Whittingham also added he'd like to see Thompson up his competition percentage for anything to happen, especially with how well Wilson has performed in practice, too.
There is a slight that's typically given to dual-threat quarterbacks — a belief they can't throw the ball effectively. That's something Thompson said is changing in all levels of football.
This past year, Russell Wilson, a dual-threat quarterback, won the Super Bowl. Colin Kaepernick has participated in back-to-back NFC Championship games, and Cam Newton and Robert Griffin III have each won NFL's Rookie of the Year award as dual-threat quarterbacks.
Thompson said he doesn't mind the criticism, saying in the end he just wants to move the offense down the field when he's in the game.
"I get a lot of heat just being able to run," he said. "A lot of guys get a lot of heat for being able to run … but the name of the game is move the chains. I'll pass when it's there and I'll run when it's there. By any means necessary, the name of the game is to move the chains and score points."