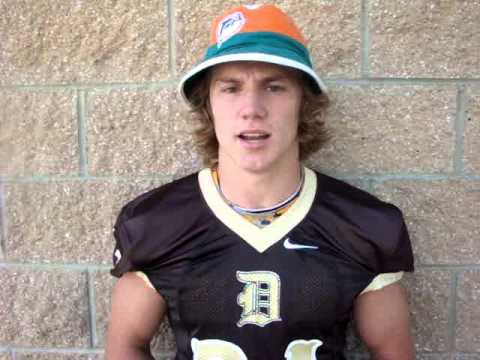 View 38 Items

We didn't think it would be that fast. We thought Ryan would be here another year or two or three. But he got a great opportunity and boom, just like that, he's gone. It all happened really fast.

—Tyler Gladwell
NOTE: Davis finished 9-1 overall last year, and the Darts won the Region 1 championship with a 6-0 record. They lost to Pleasant Grove, 22-15, in the first round of the 5A state playoffs.
KAYSVILLE — There's a new "sheriff" in town, and he's keeping a close, watchful eye on all those fine townspeople who like to play a part in Davis High School's football program.
But this new guy's no greenhorn. Heck, no, he's a well-seasoned "deputy" who has plenty of experience serving as the right-hand man for the old "sheriff" for several years. So it should be a pretty smooth transition for the tradition-rich Darts this season — kinda like falling off a horse, as they say in these here parts.
Tyler Gladwell, who spent seven of the past eight seasons as an assistant coach at Davis High under longtime head coach Ryan Bishop, has been given the head coaching job on an interim basis in light of Bishop's recent decision to leave the school for a job with the Utah High School Activities Association.
Gladwell, a former quarterback at Weber State, spent a couple of years as a position coach overseeing the Darts' receivers and defensive backs, followed by four years as their defensive coordinator. He spent one season as head coach at Bonneville High, his alma mater, before returning to Davis last year, when he served as the team's offensive coordinator.
So it's obvious he has seen the game from just about every possible angle.
"I've had experience at a lot of different positions, which has made me a better coach — coaching offense, coaching defense — and it's been great for my career, that's for sure," Gladwell said.
He said he knew Bishop was "winding down on his coaching career, but we didn't know when it would happen."
"When it first happened, with him getting that job at the High School Activities Association, we were all kind of surprised and shocked," Gladwell said. "We didn't think it would be that fast. We thought Ryan would be here another year or two or three. But he got a great opportunity and boom, just like that, he's gone. It all happened really fast.
"It was definitely a surprise and we all hate to see him leave. We all love Coach Bishop, and the kids love him, too. He's done such a great job here running the program for the last 13 years that it was a surprise. So it was like, OK, we've got to learn how to live life without Coach Bishop and go about our daily stuff."
Past performances will tell us that their "daily stuff" generally consists of finding ways to beat their league opponents much of the time and earning state playoff berths almost all of the time.
Bishop's teams reached postseason play in 12 of his 13 seasons at the helm, including a state championship campaign in 2004 and another berth in the 5A finals in 2009. The Darts advanced to the state playoffs every year from 2006-13.
Coach Gladwell has every intention of continuing that winning trend in 2014. But, even if he does, the job will be opened up for applications at the end of this season, regardless of how successful the Darts might be this year.
Gladwell isn't going to concern himself with that, though. Instead, his focus is on guiding the defending Region 1 champions to another in a long, long line of successful football seasons.
"I would love to be the guy for the long run and for the future," he said, "but it's not something I'm focusing on right now. I'm just trying day by day to get this year going and keep the program going and have success with this year's team. And when that (eventual head coaching decision) comes, it comes, and we'll deal with it then."
Having five returning starters back on offense and four on defense should help the Darts stay in the thick of things in what shapes up as a wide-open Region 1 race.
This year's starting quarterback is senior Parker Christiansen, a 6-foot-4 athlete who can see the field and has the ability to throw the ball.
"He's a little bit different from the kid (Colton Chronister) we had playing quarterback last year," Gladwell said. "Colton was a burner who could really run. Parker's a big, tall kid, 6-4 or 6-5, who's a basketball player, and he's a good athlete. He can still can run the ball, but he can throw the ball from the pocket being the big, taller-type kid, so we're excited about him."
At running back, senior Mason White steps into a starting role after seeing plenty of playing time last year as a junior.
"He's a returner for us and a kid that we're counting on because he's got that varsity experience and he's a good player for us," Gladwell said of White.
Junior Tyree Adams will also get some reps at running back along with senior Conner Simonsen, who started at wide receiver for the Darts last year and will see duty at both the receiver and running back spots this season.
At tight end, senior Christian Smith returns after catching 17 passes for 165 yards and two touchdowns last year.
"He's another kid we're counting on because he had that experience last year," Gladwell said of Smith. "He's a good blocker for us and a good receiver, and we're hoping to get a lot out of him this season."
At the wide receiver spots, senior Mitch Rogers, who got quite a bit of varsity experience last year, returns along with senior Hayden Chisholm and Simonsen, who caught 26 passes for 259 yards and a touchdown in 2013.
Juniors Braden Gapinski and Griffin Hill will also compete for playing time at the receiver spots.
On the offensive line, senior Taylor Gardner, who saw some varsity experience last year, will start at center, with returning starter Maurice Cannon at left guard and junior Sam VanWynen at left tackle.
On the right side of the O-line, senior Guner Francom will likely start at guard, with sophomore Colton Jeffery and senior Dallin Baires competing to start at the right guard and right tackle spots.
Over on the defensive line, senior Connor Reich and junior Luke Butters hold down the tackle positions, with seniors Jake Christiansen and Ethan Bell and junior Jensen Shipley battling to start at defensive end.
At linebacker, junior Connor Taylor, who saw some varsity playing time last year, will likely start in the middle, with seniors Eli Laumua and Steven Spjut at the outside spots.
The safeties are both senior returning starters — Tyler Hinds, who had 45 tackles last year; and KJ Bishop, who contributed 36 tackles and an interception.
The starting cornerbacks will likely be seniors Bridger Logan and Jaxson Jeffery, while sophomore Riley Stringham could see some playing time at the safety and corner spots along with seniors Spencer Wright and senior Soren Peterson.
Two more seniors, Cache Hugie and Chase Clampitt, are competing to handle the kicking chores.
Davis, which won its first nine games and swept the Region 1 title last year before dropping a heartbreaker to Pleasant Grove in the opening round of the 5A playoffs, is accustomed to being in the hunt for the league championship.
That should be the case again this season — but then, so is everybody else in Region 1, it seems.
"I think it's very competitive and I think it's kinda up for grabs," Gladwell said of the league race. "There's some teams like Fremont who are returning a lot of kids and had a lot of underclassmen kids playing for them last year, and they're gonna be tough this year.
"Syracuse, Northridge and Layton always have good athletes in their programs, and Viewmont's gonna have a really good team this year. Weber, in Matt Hammer's second year as head coach, is gonna be good again, too, so every week it's gonna be a dogfight.
"There's a chance there for anybody to step up and win the region," he said. "I don't think there's a clear-cut favorite; I think everybody's a good team, so there is a lot of parity."
But all other things being equal, Davis High's rich tradition cannot be overlooked.
"Tradition means a lot at this school," Gladwell said. "These kids, they grow up and they're expecting to be a Davis High Dart and they're wearing Davis High Dart stuff when they're little kids. And they come and see the games and you see a lot of success at this school, whether it's in athletics or academics or whatever.
"So there's a high expectation and the kids know that, and we know that as teachers and coaches, too. So I think because of that high expectation level, it helps carry us through times that are tough. Or maybe when it looks like we're not going to be able to pull through, we pull through because of those great expectations and traditions we have here at this school."
And now the new "sheriff" is gonna do his best to make sure that tradition doesn't change.
Davis Darts at a glance
Coach: Tyler Gladwell takes over as the interim head coach, replacing Ryan Bishop, who guided the Darts' football fortunes for 13 seasons and posted an overall record of 87-58, winning a 5A state championship in 2004. Gladwell has served as an assistant coach on the Darts' staff for seven of the last eight years and was Bonneville High's head coach in 2012.
Offense
(five returning starters; multiple formations)
Mason White, Tyree Adams and Conner Simonsen will spearhead the rushing attack, and Parker Christiansen takes over as the starting quarterback, where the 6-foot-4 basketball player will be a towering presence in the pocket and has the passing arm to help move the Darts upfield. Simonsen, Christian Smith, Mitch Rogers and Hayden Chishom head up the receiving corps, and Taylor Gardner, Maurice Cannon, Sam VanWynen and Guner Francom anchor the offensive line. Davis lost a couple of its top weapons from a year ago through graduation and could have a tough time duplicating its offensive production from 2013, when the Darts averaged 32 points per game through their first nine games.
Defense
(four returning starters; 4-3-4 formation)
Safeties Tyler Hinds and KJ Bishop lead the way after combining for over 80 tackles last year. Connor Reich, Luke Butters, Jake Christiansen, Jensen Shipley and Ethan Bell are the main men in the trenches on the D-line, with Connor Taylor, Eli Laumua and Steven Spjut leading the linebacker corps. Cornerbacks Bridger Logan and Jaxon Jeffery will also help lead a secondary for a fierce defensive unit that allowed just 11 points per game last year, held five opponents to seven or fewer points and gave up more than 17 points only twice all last season.
Coaches preseason Region 1 straw poll: First
Deseret News Region 1 prediction: First
Bottom line: Tyler Gladwell steps in to run the show on an interim basis after longtime Davis High head coach Ryan Bishop left the school this summer for a position with the Utah High School Activities Association. That didn't seem to matter to the rest of the coaches around Region 1, who still voted the Darts as the favorite to repeat as league champions this year after they ran the table last season. Davis will find out what it's made of right away when it hosts defending 5A champ Bingham in the Darts' season-opener on Aug. 22, and home games against Syracuse, Fremont and Northridge will enhance the Kaysville crew's hopes for taking home another league title this year. But they have to finish Region 1 play with back-to-back games on the road at Layton and Weber, which won't be a walk in the park in what shapes up as a very balanced, wide-open title chase that seemingly four or five schools could possibly win.
.......
Davis coaching history
2001-current — Ryan Bishop (80-53-1)
1984-2000 — Jim Dickson (108-77)
1979-83 — Ward Sawley (43-12)
1969-78 — Jay Cullimore (74-36-1)
1959-68 — Gerald Purdy (67-33-4)
1947-58 — Lee Liston (64-36-6)
1941-46 — Howard "Tuff" Linford (34-17-7)
1937-40 — "Deb" Young (21-10-2)
1934-36 — Floyd Millet (12-6)
1931-33 — Ray Forsburg (11-8-1)
1926-30 — Jack Croft (18-15-2)
1923-25 — James Anderson (2-19)
1921-22 — Floyd Anderson (5-8-1)
1920 — Wilf Romney (6-2)
1919 — Homer Warner (1-6)
1915-1917 — Lorin Briggs (6-10)
.....
Deseret News MVPs the past 10 years
2009 — Tanner Hinds, RB
2004 — Bryan Kariya, RB
Deseret News First Team All-Staters the past 10 years
2012 — Chance Parker, DB
2012 — Jackson Peacock, LB
2011 — Troy Hinds, DL
2008 — Tanner Hinds, RB
2008 — James Cowser, DL
2006 — Austin Taylor, DL
2006 — Nick Martineau, DB
2006 — Chaz Walker, DB
2004 — Braden Gates, OL
2004 — Steve Boyer, OL
2004 — Josh Hoskins, DL
2004 — Kohl Perkins, LB
To view second team and honorable mention All-Staters through the years, check out the Deseret News All-State Archives.