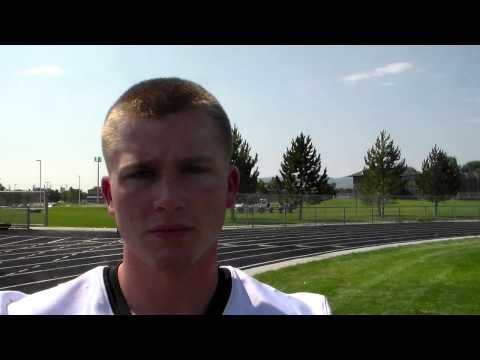 View 6 Items

We're always excited for the season, and I think we have a chance to do some good things and expectations are high. They always are.

—Riverton coach Mike Miller
Note: Riverton finished 8-3 last season and 4-2 in Region 4 play. It lost to Bingham 43-10 in the 5A State quarterfinals.
RIVERTON — Optimism abounds at Riverton as it prepares for the 2014 season, and for good reason.
Fresh off a typically solid 2013 season, the Silverwolves look stacked and ready to improve upon last year's success.
"We have a lot back and we're excited," said Riverton coach Mike Miller. "We're always excited for the season, and I think we have a chance to do some good things and expectations are high. They always are."
How high are those expectations?
While some teams in the state are doing well in region and making it to the playoffs, Riverton seeks the ultimate goal and has no problem stating as much.
"Winning state is the goal — nothing less," stated senior lineman Brock Ballard. "We have a lot of potential and we're coming together quick. If we can continue coming together. We'll have a big season ahead of us, and we believe we can win it all."
Taking a state championship is obviously the most lofty of goals, but with a good amount of returning talent from last year's team there's good reason to subscribe to the player's optimism.
To get to the ultimate goal, Riverton won't deviate from the formula that has brought good success in recent years.
"We're not a team of individuals. We never have been here, and we never will be as long as I'm coach," Miller said. "We don't have those big recruits — those big names you find on other teams. We have a team and a group of guys who know what that means and play like a team."
Despite not having many highly regarded recruits, Riverton does return a host of good talent, starting at the running back position. According to Miller, all his top running backs return from a season ago, led by senior captain Cameron Christensen and Paden Cayias.
"We obviously like to run the ball here, so having every running back that rotated in from last season all return is a big thing," Miller said. "We'll rely on those guys like we always do, and they should have a good line to run behind."
The line will feature Riverton's typical brand of undersized yet aggressive and effective linemen, led by Brock Ballard and Zach Crump.
"We're never big here, but we try and be effective with our scheme. It's a team-oriented offense," Miller said.
At quarterback, Miller is deciding between three options but may rest on senior Korbyn Baucon.
"He's the guy leading right now, but nothing is quite decided yet," Miller said. "He runs, which we like, but he can also throw pretty well. So yeah, we may try and throw it a bit more this year with him."
On defense, Riverton returns seven starters, including Crump, who Miller believes is the best nose tackle in the state.
At linebacker, Riverton returns two starters and transfer Landon McMorris, who led Region 3 in tackles at West Jordan last season, according to Miller.
Overall, Miller hopes to go far, but as always, seeks the personal development of every player on his roster first and foremost.
"Sure, winning is fine, but it's the progress of each kid in becoming great people that's our primary goal here," Miller said. "We try and teach every kid who passes through here to be great in the classroom and in the community. That's the big concern, and if wins come, great. But if we're helping build great characters for the community, then we've acheived our goal."
Riverton Silverwolves at a glance
Coach: Mike Miller is entering his 11th season as Riverton's head coach, where he has led the Silverwolves to a 62-47 record. Miller is a graduate of Kearns High.
Offense (5 returning starters; Wing-T)
Miller was sold on running a Wing-T offense in the 1990s and hasn't deviated from the system since. It's an old-school system that relies on quick, fast and athletic offensive linemen.
"I'd rather have a 170-pound kid who worked his tail off than a 250-pound kid who was lazy," Miller said. "That's why we're so fit and trim here. We run around a lot and no, we don't have those big types with Division 1 scholarships, but we've been successful running what we do. So that won't change."
Defense (seven returning starters)
Riverton looks good at all positions on defense and will rely on a defensive backfield that features a lot of the same players slated to run the ball on offense.
"We have three of our four returning starters in our defensive backfield," Miller said. "We have a lot of the same guys who play running back, but they all can play and yeah, I like our defense coming back a lot."
Coaches preseason Region 4 straw poll: Fifth
Deseret News Region 4 prediction: Third
Bottom line: Riverton won't be flashy, but will prove effective and consistent with a solid scheme and a load of returning contributors from last season. Expect Riverton to finish near, or at the top, of Region 4 and make noise on the playoffs.
Riverton coaching history
2004-present — Mike Miller (62-47)
1999-2003 — Rick Bojak (13-38)
.....
Deseret News First Team all-staters the past 10 years
2010 — Landon Fisher TE
2010 — Skyler Fullmer LB
2008 — Zach Spencer, RB
To view second team and honorable mention all-staters through the years, check out the Deseret News All-State Archives.
Email: bgurney@desnews.com
Twitter: @BrandonCGurney