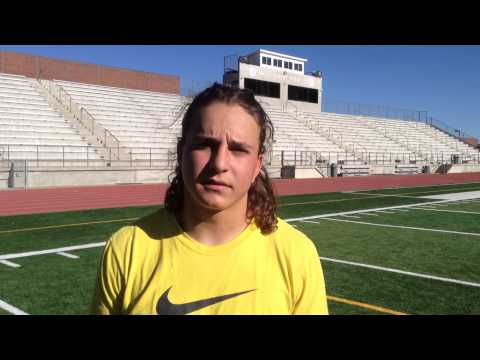 View 15 Items

We're hungry. We have a blemish from last year and we want to rectify it.

—South Summit coach Jerry Parker
Note: South Summit finished with an 11-1 overall record in 2013 and tied for first in 2A North with a 5-1 record. It beat Grand 42-8 in the 2A championship.
KAMAS — For a program that hadn't won a state championship in 25 years prior to last season, South Summit's football team is sure setting the bar high in 2014.
"We're hungry. We have a blemish from last year and we want to rectify it," said South Summit coach Jerry Parker.
That one blemish was a 26-24 loss to rival North Summit in Week 8. As for the other 11 games, South Summit was superb, including a 42-8 win over Grand in the 2A championship on a frigid night at Weber State.
Last year's title was a long-time coming, but this season the goal is 12-0 instead of 11-1.
"That's what we look at for motivation this year," said Parker, who said it's made a big difference in the weight room.
North Summit upset South Summit on that early October night last season because Parker said it was just tougher at the point of attack.
"We've gotta have more toughness. The Braves leaned on us a little bit with dive and quarterback play and we didn't do a good job stopping them," said Parker.
If South Summit can develop that toughness in the trenches with almost all new starters, the 2A preseason No. 1 could be well on its way to that undefeated repeat.
Not only is reigning 2A MVP Colby Averett back — the leading rusher and tackler a year ago — but so is South Summit's quarterback, great skill-position weapons and an even better linebacking corps than last year.
Averett is at the heart of it all on both sides of the ball.
At linebacker, he led the Wildcats in tackles last season with 106. Offensively, opposing defenses simply had no answer. He carried the ball 167 times for 1,404 yards and 20 touchdowns.
Parker said Averett is a student of the game who isn't afraid to orchestrate in-game adjustments with the coaching staff and his quarterback. Then, when he gets the ball in his hands, the first tackler rarely ever brings him down.
"His yards after contact (are excellent). He slithers through there like no other. He's the best running back I've had at that position," said Parker.
Defenses could never game plan for just him, though. Quarterback Ty Jones rushed for 855 yards and 13 touchdowns, while Isaac Tillett's speed on the wings accounted for 363 yards and five TDs.
With second-leading receiver Bracken Santos also returning, Parker doesn't shy away from boasting how good this team can be if the offensive line comes together. Even that he isn't worried about.
"The way they worked in the offseason and the experience they got last year as backups, I think we're going to be fine," said Parker. "Our kids are a program where they step in, step up and fight, and we're set up for a few years."
This may end up being Parker's last year coaching. He retired as a teacher after this past school year, and even though he'd like to coach beyond 2014, he said the school district would prefer a head coach who teaches at the school. Parker isn't concerned with that uncertainty right now, though, he's focused on that elusive repeat.
The hunger and work ethic of his quarterback makes that goal realistic.
"Ty Jones probably worked harder than anyone on the team this year, and I have a team that's worked really hard. He's gone to a bunch of camps. He really wants to get to the next level. He'll do whatever it takes, he's not selfish at all," said Parker.
Parker recalls a conversation with Averett this summer in which Averett basically said, "Ty's gunning to be the MVP."
You can bet Averett is gunning for it too, and that one-two punch offensively will be very difficult for defenses to deal with.
Two of the Wildcats' biggest obstacles at a perfect season are Week 1 against an improved Park City team and Week 2 at Morgan. If they survive that stretch unscathed, it should be smooth sailing in 2A until that Week 8 rematch with North Summit.
South Summit Wildcats at a glance
Coach: Jerry Parker is entering his 13th overall season as head coach at South Summit, even though it's been over two stints. A graduate of South Summit, Parker's career coaching record is 82-49.
Offense
(5 returning starters; Option offense)
Hunter Angell is the only returning starter on last year's excellent offensive line, but the coaching staff is very high on the newcomers. If they come together, QB Ty Jones, running backs Colby Averett and Isaac Tillett, and receiver Bracken Santos will have big years again. Quinn Zimmerman will step in at wingback for the departed Carson Freestone, the only skill position hole the Wildcats really need to fill. Harley Georgi and Daxton Hansen will share time at tight end.
Defense
(5 returning starters)
Coach Parker couldn't stop raving about his linebacking corps this summer. Averett and Angell anchor the group, while Georgi and Hansen are ready for increased roles after being part-time contributors a year ago. Averett and Angell finished first and third in tackles. The secondary returns a pair of starters too with Zimmerman and Santos. The defensive front is the one area South Summit lacks experience, but buoyed by a couple of junior move-ins even that could ultimately emerge as a strength. Matt Brady is a move-in from Colorado, while Colton Crawford is a move-in from Kanab.
Coaches preseason 2A North straw poll: First
Deseret News 2A North prediction: First
Bottom line: With key players back on both sides of the ball, it's easy to see why South Summit was pegged as the team to beat in 2A by the rest of the state's coaches. It's a hungry bunch too with a stated goal of an undefeated season. That might be unrealistic with tough preseason games to open the season, but if confidence is half the battle then the Wildcats have already won. Week 1 and 2 isn't where this team will be judged, though, it's Week 12 and 13. Anything less than a state title for this group is probably a disappointment.
….
South Summit coaching history
2005-current — Jerry Parker (69-32)
1997-2005 — Garry Walker (52-55)
1995-1996 — Tom Crittenden (1-17)
1992-1994 — Jerry Parker (13-17)
1975-1991 — Tom Crittenden (113-62)
1972-1974 — Roy Ritchins (14-18)
1970-1971 — Unknown (10-8)
1969 — Doug Toole (4-4)
1967-1968 — Roy Ritchins (5-13)
1958-1966 — Unknown (25-35-1)
1952-1957 — Hue Jewkes (23-16-2)
1913-1951 — Unknown (13-58-2)
.....
Deseret News MVPs the past 10 years
2013 — Colby Averett, RB/LB
Deseret News First Team all-staters the past 10 years
2013 — Ty Jones, QB
2013 — Brad Richins, OL/DE
2013 — Hunter Angell, OL/LB
2012 — Hayden Packard, RB/DB
2012 — Jay Reidhead, RB/LB
2012 — Brad Richins, OL/DE
2011 — Bonner Mitchell, OL/DL
2011 — Lucas Rydalch, OL/DL
2010 — Parker Anderson, QB/DB
2010 — Cody Angell, OL/DL
2010 — Chance Field, OL/LB
2010 — Levi Thompson, RB/LB
2010 — Trevor Rydalch, Specialist
2009 — Judd Rydalch, TE/DE
2009 — Trevor Rydalch, Specialist
2009 — Trevor Lewis, QB
2009 — Levi Thompson, RB/LB
2007 — Harley Atkinson, RB/DL
2007 — Conor Peterson, QB/DB
2007 — Marc Yos, RB/LB
2006 — Brayden Stembridge, RB/LB
2005 — Clif Leavitt, RB/DB
To view second team and honorable mention all-staters through the years, check out the Deseret News All-State Archives.