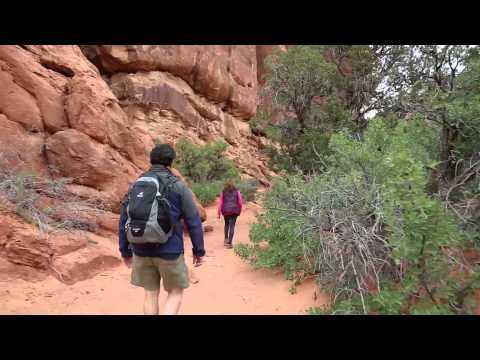 View 8 Items
YouTube

SALT LAKE CITY — A video about a unique land use plan being crafted for the Moab area debuted at the Outdoor Retailer show this week, touting the approach as a model for the rest of the nation to achieve balance between recreation and resource extraction.
The video, called "Balancing Act in the West: How America's Playground Can be a Model for Recreation and Drilling," was put together by the Center for American Progress, which describes itself an independent, nonpartisan educational institute based in Washington D.C.
Multiple people are featured in the short video, which describes the Bureau of Land Management's Moab master leasing plan, a multiyear effort that kicked off after then-Interior Secretary Ken Salazar instituted oil and gas leasing reforms in 2010.
The idea behind master leasing is to come up with land use plans that embrace an entire "landscape" approach, rather than the BLM approving oil and gas drilling or other activities on a case-by-case basis.
Proponents hail master leasing as a way that will provide certainty and help put an end to litigation by environmentalists by setting aside areas up front that aren't suitable for drilling, for example, and should be protected for high recreation value, sensitive species or iconic landscapes. The oil and gas industry, however, has said the master leasing process duplicates the 2008 resource management plans on the books that were the results of years of planning.
In the Moab area, the leasing plan encompasses more than 946,000 acres, the vast majority of which is BLM land. The area encircles Moab, wraps around Arches National Park, with the Green River as its western boundary. Its northeastern boundary is Canyonlands National Park, while its eastern boundary is U.S. 191.
Matt Lee-Ashley, a spokesman with the Center for American Progress, said the video was put together to showcase something unique playing out in Utah.
"The video is focused on what is happening in the Moab area, but we think it has relevance and interest for communities around the West — and for lawmakers and decision-makers in Washington," he said. "Whereas there has been a lot of attention in recent years on the impacts of the drilling boom and the controversies that result, this video aims to be more forward-looking and demonstrate how things can be done right."
He admits that a video about "policy" isn't as exciting as a story about a conflict, but he hopes people can look past that.
"We think the video will remain relevant for many months, especially as people see other MLPs take shape across the West and want to learn more about how it works," Lee-Ashley said.
Ashley Korenblat, owner of Western Spirit Cycling in Moab, has been heavily involved in the BLM master leasing process and is one of the featured people in the video.
She was in Salt Lake City at the Outdoor Retailer Summer Market when the video debuted and saw the reaction of many of the exhibitors.
"Many people at the Outdoor Retailer had no idea there is drilling in Moab. They simply did not think it was possible to drill for oil and gas in the area," she said. "In their minds, the whole place is protected and it is where they go on vacation. They were pretty shocked to hear that drilling is happening at all."
Korenblat said she explained that the activity by Fidelity Exploration and Production Co. — stoked in part by advances in horizontal drilling technology — is happening as a result of legally acquired leases that were issued 50 years ago.
The conflict that is erupting, however, is fresh, tangled up in the ideal that landscapes around Dead Horse State Park and Canyonlands National Park should remain untouched by oil extraction.
"What we are working on in this plan is places that are not to be leased and sorting out where the drilling should happen and the recreation should happen. That is what the master leasing plan allows us to do, get very detailed about it," Korenblat said.
The plan is still in draft form, and it involves hundreds of people from diverse backgrounds with their own interests and vision of how the land in the Moab area should be used. It has not been an easy process, but Korenbalt said the people who are committed to Moab are committed to the process, despite the bumps along the way.
"The bottom line is people care about Moab. And I am optimistic we can get to a place where we agree. The amount of acres where we disagree is shrinking," she said.
Twitter: amyjoi16