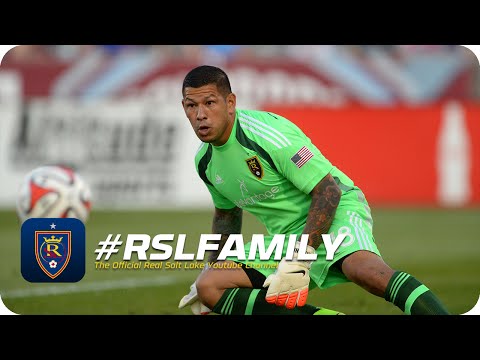 View 7 Items


After securing the Rocky Mountain Cup with last Saturday's win at Colorado, Real Salt Lake met up with D.C. United for the only time this regular season Saturday night. The Claret-and-Cobalt looked to avenge their Open Cup championship loss last season when D.C. maintained a 1-0 lead over RSL on Oct. 1, 2013, even though RSL controlled the tempo of the game all evening. D.C. also beat RSL in their regular season bout last year when Salt Lake visited D.C. on March 9, 2013.
Salt Lake hit the field early Saturday like one of those summer microbursts Salt Lake has experienced lately, with three goals in 24 minutes. And RSL's midfield seemed determined to not only protect the unusual backline of Mansally, Schuler, Borchers and Salcedo, but Nick Rimando's right to a 113th career shutout and the outright record in Major League Soccer. RSL's flow of goals stopped in the second half, but D.C. never found its way to the back of the net, earning RSL the eventual 3-0 lead and Rimando his 113th career shutout — and the MLS all-time record.
Goalkeeper
Nick Rimando came into Saturday's game off a historic showing last Saturday when he tied Kevin Hartman for the MLS all-time shutout record of 112 career shutouts. Rimando's teammates seemed bent on winning him his 113th career shutout Saturday as Rimando found himself in more of a passing role than a stopping role much of the night.
Grade: A
Defenders
Tactics: With Chris Wingert (yellow-card accumulation), Tony Beltran (yellow-card accumulation) and Aaron Maund (red card at Colorado) all serving suspensions Saturday night, Jeff Cassar fielded an unlikely quartet of three center backs in Nat Borchers, Chris Schuler and Carlos Salcedo filling in for Beltran, with Abdoulie Mansally filling in for Wingert on the wing. With D.C.'s Eddie Johnson playing the lone striker and five shifty midfielders just behind him, lack of speed could be an issues for RSL.
Carlos Salcedo was terrific Saturday night in the unfamiliar right back position filling in for a suspended Tony Beltran. During the first 10 minutes, it was clear he was a little uncomfortable going forward. After going down on a hard tackle by D.C.'s Jared Jaffery early on in the first half, Salcedo found his confidence and was key to both RSL's offensive and defensive dominance inside D.C.'s half.
Chris Schuler scored a brace Saturday night. His first came off a blown-up corner kick in the 13th minute when Javier Morales collected the errant ball and sent it back into Schuler standing at the near-post to plink it past D.C.'s Bill Hamid. He was the recipient of another gorgeous Morales assist on a corner kick in the 24th minute when Morales dropped a perfect ball right into the path of a streaking Schuler who had no trouble putting the ball down past a frozen Hamid. Man of the Match.
Nat Borchers found himself playing a much higher line much of Saturday's match than normal. His passing and positioning were better than you might expect of a center back in this position — often linking up with Beckerman and erstwhile center back Carlos Salcedo to make the right side much more potent than D.C. was likely expecting.
Abdoulie Mansally was not called on as often as expected to work his way into crossing positions Saturday night, but when he was in an offensive position, he was very good. His blistering shot on goal in the 32nd minute was perhaps his best example, though Hamid saved it. His defensive recovery was excellent, especially critical against D.C.'s overloaded midfield and speedy striker in Eddie Johnson.
Grade: A
Midfielders
Tactics: RSL continues to switch out Luke Mullholland and Luis Gil in the midfield. Saturday night saw Mullholland get the draw. The rest of the standard diamond remained intact — Beckerman, Morales and Grabavoy.
Javier Morales was sharp Saturday night running the attack from within D.C.'s defensive third. His lateral movement of the ball was especially impactful, helping to find forays into D.C.'s box on multiple occasions. His assist to Chris Schuler in the 13th minute was a thing of beauty as he nutmegged D.C. midfielder Nick DeLeon to find Schuler for the score, still in the box off a depleted corner kick opportunity.
Kyle Beckerman found himself in the middle of one of the most dominant midfield defensive stands of RSL's 2014 season. United simply could not find any rhythm from 40 yards outside its own box on, and Beckerman's ability to cover so much ground without tiring and his quick and solid decision making was the key.
Luke Mullholland was key to disrupting D.C.'s initial forays outside of its defensive third much of the night. His assist to Joao Plata in the 11th minute started what appeard to be an inevitable scoring binge by RSL.
Ned Grabavoy and Joao Plata were dynamic together up the left side Saturday night. Their 1-2 passing kept D.C. on its heels all along the left side, and Grabavoy's continued presence in D.C.'s defensive third was key to Plata developing the rhythm that earned him RSL's first goal of the night.
Luis Gil (SUB 68') subbed on for Javier Morales. Gil all but disappeared for his first 10 minutes on the field, partially due to RSL using wide posession tactics, but also because Gil was not as commanding of the ball from his teammates as Morales is. By the 80th minute, he'd warmed up, and though still not as pivotal as Morales, Gil played well. His 83rd-minute near assist to Ned Grabavoy showed tremendous skill and patience.
Sabastian Velasquez (SUB 88') Subbed in for Ned Grabavoy.
Grade: A
Forwards
Tactics: Olmes Garcia has been on fire since scoring a brace against Montreal late in July. His mixup with former RSL great Jamison Olave during RSL's match with New York last week was deemed to be more than it originally appeard, and Olave was suspended two games while Garcia continues to be an important part of RSL's attack with Alvaro Saborio out. Joao Plata has struggled to find the back of the net at the same blistering rate earlier this season, but he continues to start because he's always poised to score and a perpetual thorn in the side of most defensive lines.
Olmes Garcia continues to impress with his speed, skill and unrelenting drive. Though he didn't score Saturday, Garcia was one of the major reasons RSL stayed a step ahead of D.C. all night long. His low header in the 55th minute nearly rewarded the young striker but for an acrobatic Hamid save.
Joao Plata seemed to find an extra gear early Saturday night, beating D.C.'s defensive line on multiple occasions in the opening half and throwing his body in front of balls and defenders alike to keep D.C. from finding any rhythm through the midfield. But it was his performance of the unexpected in the 11th minute when the 5-foot-4 Plata headed one home to open the scoring for RSL off a beautiful cross from Luke Mullholland inside the 18-yard box.
Robbie Findley (SUB 66') subbed on for Joao Plata. Findley plays with a different tempo than Plata. Less challenging, more of a "reserve the energy stores for a big moment" sort of guy. RSL lost a little momentum because of that. Especially since the big play Findley seemed to be waiting for never came and RSL ended the game with the same score it started the second half with. 3-0.
Grade: A-
Chris Higbee is a former general manager ofDeseretNews.com who continues to write about Real Salt Lake.