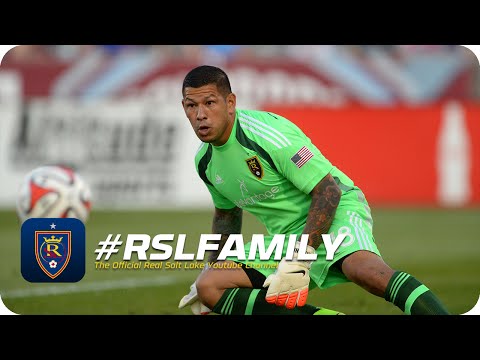 View 39 Items


It's great to do it in front of the fans that stuck by me all of my career here and have been so gracious to me and welcomed to me and was able to share that with them as well as of course my teammates and coaches, it's something I dream of making that record here.

—Nick Rimando
SANDY — For 45 minutes last week, shorthanded Real Salt Lake had no choice but to sit back and absorb Colorado's attacking onslaught.
It wasn't pretty, and it certainly wasn't fun, and a week later, RSL took that frustration out on helpless D.C. United on Saturday night.
In matchup of East vs. West second-place teams, Real Salt Lake jumped all over the visitors at Rio Tinto Stadium, scoring three goals in the first 25 minutes en route to a 3-0 thrashing.
"I felt like things were going good right from the get-go, right from the first whistle, we applied pressure and kept it on. We knew it wasn't going to be an easy game, but we didn't want them to gain any confidence, so we wanted to keep our foot on the gas," said RSL coach Jeff Cassar.
RSL keeper Nick Rimando was thrilled with what unfolded in front of him, as he only needed to make two saves to earn his MLS record 113th career shutout.
"It's great to do it in front of the fans that stuck by me all of my career here and have been so gracious to me and welcomed to me and was able to share that with them as well as of course my teammates and coaches, it's something I dream of making that record here," said Rimando.
Rimando tied Kevin Hartman's MLS shutout record last Saturday despite RSL playing almost the entire second half with only 10 men.
Saturday's clean sheet came with two of the team's defensive regulars, Chris Wingert and Tony Beltran, suspended because of yellow card accumulation. It didn't really matter, though. Chris Schuler helped make sure of that.
Schuler — that's right, the defender who hadn't scored since 2011 — scored once with his foot and once with his head during the early goal-scoring frenzy that vaults Real Salt Lake into first place in the West with 39 points.
It could be a short-lived stay with Seattle (38 points) playing on Sunday, not to mention the two other games it has in hand, but considering that RSL was in danger of falling out of the West's top five just a few weeks ago, it's an impressive recovery.
Rimando believes Saturday's win was a carryover from capturing the Rocky Mountain Cup last weekend.
"We had a sense of movement off the ball, confidence on the field and energy that we haven't had for a while, and I think a game like that win in Colorado does change seasons," said Rimando. "Against our rival, 10-men down, winning on the road, those are the types of things you need to win in MLS, and I think it carried over big time today."
Coincidentally enough, Real Salt Lake hosts Seattle next Saturday in a huge conference showdown.
Joao Plata got the onslaught started in the 11th minute, latching onto a chipped cross from Luke Mulholland and heading it home for the early 1-0 lead.
The goal was his team-leading 10th, and the fourth in the last six matches he's started.
Two minutes later Schuler ended his 52-game scoreless drought dating back to Sept. 3, 2011. After D.C. United failed to clear a corner kick, Javier Morales slipped a pass between a defender's legs, and Schuler was there to toe-poke it in for the 2-0 lead.
In the 25th minute he scored with the body part you'd expect, heading a Morales corner kick past D.C. United keeper Bill Hamid for the 3-0 lead.
For Morales, the two assists move him into second place in MLS with nine, one behind league-leading Thierry Henry.
D.C. United threw bodies forward in the second half and inserted former RSL striker Fabian Espindola into the match, but the backline was organized throughout to secure Rimando's place in the record books.
Real Salt Lake had several counter-attacking moments against D.C. United in the second half, but the clinical finishing that was commonplace in the first half was lacking.
In a small sense, the victory helped RSL avenge last October's U.S. Open Cup loss to D.C. United, but Cassar said it really wasn't any extra motivation on Saturday.
"That wasn't really our focus. Our focus was ourselves and getting three points and getting back to where we want to be, which is MLS playoffs and MLS Cup," said Cassar.
James Edward is Deseret News prep editor and Real Salt Lake beat writer.