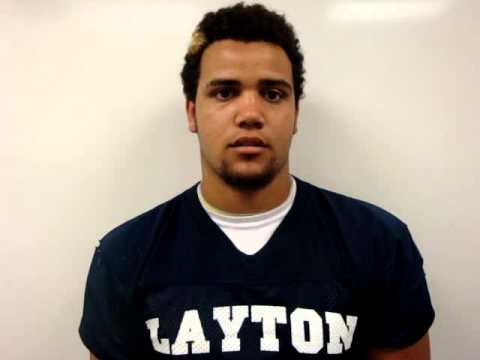 View 11 Items

I like our chances. I think we've got kids coming back with good experience who played well for us a year ago, and I think they know what they need to do to be successful.

—Layton head coach Jim Batchelor
Note: Layton finished with a 4-7 overall record in 2013 and was fourth in Region 1 with a 3-3 record. It lost to Herriman 44-33 in the first round of the 5A playoffs.
LAYTON — "The Bachelor" is a popular TV series in which a great-looking young guy seeks to find the love of his life from among a bevy of beautiful women who are all eagerly hoping to be "the one."
At Layton High, "The Batchelor" is a popular football coach who seeks to find the best guys from among a bevy of hard-working young men who are all eagerly hoping to be "the ones" — the right combination of players who can give the Lancers' team the best chance to win.
In both instances, it's never an easy task, and it can be full of heartache and frustration. But hey, it's always a fun and entertaining challenge to try.
Jim Batchelor is back for his 10th season as the Layton High head coach and, as always, he's got his sights set on building the Lancers into a solid squad that can challenge for the Region 1 title and make a run in the 5A state playoffs.
And this year's Layton team has a good blend of returning starters and promising newcomers who appear capable of doing just that.
"I like our chances," Batchelor said. "I think we've got kids coming back with good experience who played well for us a year ago, and I think they know what they need to do to be successful.
"It's always a year-to-year thing, but I think we have more depth than we've had in years past. We have several two-way players, but we've got some kids who have shown the ability to spell those two-way guys. We've got some good-looking juniors in the running back, receiver and defensive back positions, and I'm anxious to see what those kids can do."
The Lancers got off to a slow start last season, losing their first two games before making some changes to their offensive scheme that proved to be more productive. They won four of their next six games and wound up earning a state playoff berth.
"We started a little slow," Batchelor said, noting that the spread offense they utilized early last season did not work out as well as planned. "We realized our personnel and the mentality of our team was better-suited for a two-back formation and, from that point on, we were more productive.
"We finished better than we started. ... Our kids got better every week, which is what you always hope for as a coach."
This year, the Lancers' hopes will be bolstered by four returning starters on offense and seven on defense. And although they have to plug new players into the starting lineup in several key positions, Batchelor likes what he has seen from this group so far.
At quarterback, senior Steel Roberts, who started at safety last season and played quarterback on the JV team, is ticketed as the starter.
"He's a good athlete," Batchelor said. "He's definitely earned his shot at it."
Roberts will be pushed by a pair of good, young sophomore quarterbacks, Taylor Katoa and Caleb Taylor.
The running back positions look solid, with junior Keoni Larsen starting at tailback and senior Atlas Armstrong at fullback.
"Atlas is a 6-footer, 230 pounds and freakishly strong, who can run and do everything," Batchelor said. "We're hoping he has a breakout year for us.
"He's been starting at linebacker since he was a sophomore. He battled the injury bug a little bit his sophomore and junior years, so I think he was hesitant at times to go hit people. But he can run, he's strong, he's got good agility, he's got good speed, and he had a good summer camp. He's got all the tools, now we're just waiting for him to have that breakout year. Both he and Keoni have good hands coming out of the backfield."
At slotback, junior Coy Cannon returns.
"He played a lot last year and made a lot of catches (24 for 286 yards and two touchdowns) and did some good things for us," Batchelor said.
Cannon will be backed up by the senior duo of Parker Williams, who starts at strong safety, and Jaxon Robinson.
At wide receiver, another junior, Julian Blackmon, also returns after being a two-way starter as a sophomore last season.
"He plays cornerback and wideout, and he's just athletic as heck," Batchelor said of Blackmon, who already has a scholarship offer from Weber State. "He's gonna make plays. He could be a special player."
On offense, Blackmon had 20 receptions for 367 yards and two touchdowns last year, and on defense, he had 24 tackles and five interceptions.
Along the offensive line, senior Brad Mackay is the returning starter at center, while junior Juvo Nuissla is a returning starter at guard, where he's proved to be "a big, physical kid that likes to hit," according to Batchelor. The other top offensive guards are junior Ben Masters and senior Brady Taylor.
At offensive tackle, senior Wade Meacham, a 6-7, 265-pound performer with an offer from Utah State, was a part-time starter for the Lancers last year.
"He runs well and has got the size, good strength and coordination," Batchelor said. "He's got all the tools."
Junior Riley Peterson and sophomore Dillon Tucker will be fighting for the other starting tackle spot.
On the defensive line, senior Mason Ewing has started the last two seasons at defensive end, where he had 23 tackles and five sacks last year. And across the line, Spencer Davis, a senior who had 25 tackles and a sack last year, is also a returning starter at the other end spot.
Meacham, Nuissla and Katoa (6-2, 210) will all see playing time on the D-line as well.
At linebacker, Armstrong, who had 45 tackles and three sacks on the outside last season, moves to the middle this year. Larsen, who piled up 50 tackles along with three interceptions and two sacks last season, starts on the outside, with Alex Hurst at the other outside linebacker spot.
In the secondary, Cannon and Blackmon will start at cornerback, while Roberts and Williams will start at the safety spots.
"I hate to go with that many two-ways players because it's not good for us," said Batchelor, who aims to develop his team's depth as the season progresses.
The Region 1 campaign shapes up as a balanced battle in which any team seemingly could claim the crown.
"There's no team that's bringing everybody back and was dominant at all levels last year," Batchelor said. "Everybody's so equal again. We had a good sophomore year and we had a good junior year, but everybody's right there with us.
"There's no team that you look at and say, 'That team's loaded,' so I think anybody in this league has a chance to win it. I think it's wide open."
And that certainly includes the Lancers and "The Batchelor," who has certainly proved capable of getting "the ones" in the right place to be successful in the past.
Layton Lancers at a glance
Coach: Jim Batchelor begins his 10th season at the school, which is his alma mater, and has posted an overall record of 47-53. In 2007, he guided the Lancers to a berth in the 5A state championship game.
Offense
(4 returning starters; multiple-formation defense)
The running back tandem of Keoni Larsen and Atlas Armstrong will give the Lancers a strong one-two punch and help give Steel Roberts some time to become better acclimated to the starting quarterback role. Coy Cannon and Julian Blackmon have both proved to be highly capable pass-receivers, and Brad Mackay, Juvo Nuissla and Wade Meacham are all returning starters on the offensive line. Layton will be looking to establish more offensive consistency this year after it struggled to put points on the scoreboard during the first half of 2013, averaging just 14 points per game through the first six games last season before cranking things up and averaging 27 ppg over its final five games last year.
Defense
(7 returning starters; 4-3-4 defense)
Mason Ewing and Spencer Davis give Layton a pair of strong bookends who are returning starters at the D-end positions, where they combined for nearly 50 tackles and six sacks last season. At linebacker, Keoni Larsen and Atlas Armstrong are also returning starters who combined for nearly 100 tackles and five sacks last season. And cornerback Julian Blackmon returns to help spearhead the secondary for a team that allowed just eight points per game in its four wins last year, but gave up 28 or more points five times — all losses — last season.
Coaches preseason Region 1 straw poll: Fourth
Deseret News Region 1 prediction: Third
Bottom line: Longtime Layton coach Jim Batchelor has been around this league long enough to know what works and what doesn't, and he has a knack for putting a highly competitive team on the field every year. This year's squad definitely has some experienced playmakers who will go a long way toward making the Lancers a title contender in a balanced, wide-open Region 1 race, and another state playoff berth is certainly well within their grasp. The early-season schedule finds Layton playing four of its first six games on the road, including league games at Fremont and Syracuse, but the Lancers will benefit from having three of their final four Region 1 contests at home, including showdowns with their neighboring rivals Davis and Northridge. Those matchups could very well determine who takes home the league title this year.
.....
Layton coaching history
2005-current — Jim Batchelor (47-50)
2000-2004 — Steve Smith (14-39)
1996-1999 — Carter Cook (10-30)
1991-1995 — Curtis Page (26-23)
1987-1990 — Tom Moore (13-24)
1985-1986 — Joe Wood (10-8)
1984 — Brad Hawkins (1-8)
1972-1983 — Gary Hansen (68-54)
1968-1971 — Dick Bubak (33-12-1)
.....
Deseret News First Team all-staters the past 10 years
2008 — Dallin Powell, OL
2008 — Thomas Bryson, DL
2007 — Gavin Green, QB
2007— Tyler Christensen, OL
2007 — Chad Wilson, LB
2004 — Austin Curtis, DL