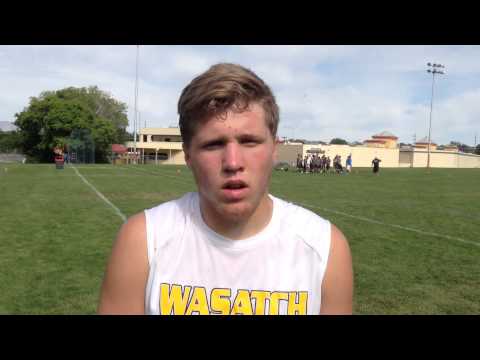 View 12 Items

We've got to be more consistent. And that's what's been good playing in these seven-on-sevens. We'll play at a real high level and then we'll play at a low level, and we've just got to be consistent playing at a high level all the time.

—Wasatch coach Steve Coburn
Note: Wasatch finished with a 4-6 overall record in 2013 and tied for fifth in Region 8 with a 2-4 record. It did not qualify for the playoffs.
HEBER CITY — At the end of the day, Wasatch just wasn't good enough.
Coach Steve Coburn did everything imaginable to prepare his players for the jump to 4A last season — weights, conditioning, camps, seven-on-sevens — but they were simply in over their heads.
Among the most noteworthy struggles were a 35-0 loss to eventual 4A champ Timpview, a 48-28 loss to Spanish Fork and a 41-22 loss to Springville. Of the four 4A teams the Wasps did beat, their combined record was only 7-33.
As frustrating as it was at the time, Coburn knows it was a necessary evil.
"It just takes time to catch up to the size and speed of a new classification," said Coburn, who believes his players are bigger and stronger this season and more equipped for the grind in Region 8.
The next step is consistency. It eluded the Wasps many times last year, and throughout the summer at three different seven-on-seven camps as well.
"We've got to be more consistent. And that's what's been good playing in these seven-on-sevens. We'll play at a real high level and then we'll play at a low level, and we've just got to be consistent playing at a high level all the time," said Coburn.
Defensively, a secondary that was pretty bad last year needs to make some plays and help the offense out with some short fields.
Offensively, the running game needs to be more explosive because it was pretty anemic a year ago. As a team last year the Wasps rushed for 990 yards in 10 games. Four different running backs alone in 4A had a better yards-per-game average than the entire Wasatch team.
"We had some good kids who were tough, but they weren't fast and didn't break a lot of yards. If we had got to 1,000 yards I would've been happy," said Coburn.
Junior Matt Tate could change all that this year. He only had 13 carries as a sophomore last year, but Wasatch will try and feed him the ball a ton in 2014.
Tate was on Wasatch's state championship relay team his freshman year, and that speed will add a different dimension offensively.
He'll be running behind a bigger and stronger offensive line that's anchored by returning starters Ben Bos, Jake McNaughtan and Jace Wright.
"Our line is much improved now. I think they can handle the guys we play against now," said Coburn.
That will help junior QB Garrett Davis as well. An injury thrust him into the starting lineup in Wasatch's last four region games last year, but he begins this year as the unquestioned starter.
Davis is the younger brother of Payton Davis, an all-state quarterback for Wasatch in 2009 who racked up 3,948 yards of total offense.
Garrett Davis is bigger than his older brother and is quarterbacking a different type of offense, but he's just as capable of great things if he gets support from the running game.
Defensively, Wasatch needs to be better at stopping the run and pass. Despite the early-summer departure of defensive coordinator Rick Wilson — who took the North Sanpete head coaching job — all signs point to that happening.
Coburn is taking over as defensive coordinator and is simplifying everything for his players so they can just react and make plays.
That's the bottom line at Wasatch this year — make the plays it couldn't make last year.
"Obviously I want to win every game, and these guys want to win every game, so we go into it with that expectation, and we're not going to back down from anybody we play against," said Coburn.
Wasatch Wasps at a glance
Coach: Steve Coburn is entering his third season as Wasatch's head coach with a 12-9 record. Coburn has five years of head coaching experience at Snow College (2006-2010) and 11 years head coaching experience at the high school level. He was 13-6 at Morgan (1988-89), 11-29 at Ogden (1994-1997), 2-17 at Cottonwood (1998-99) and 4-7 at North Sanpete (2011). He's a graduate of Bonneville High School.
Offense
(5 returning starters; Pro-style/pistol offense)
Wasatch's offense was pretty mediocre last season, but the influx of new personnel has the Wasps excited about the upcoming season. As first-year quarterback Garrett Davis becomes more accustomed to the offense, both tight end Cade Cloward and receiver Carson Law should benefit. Law is Wasatch's top deep threat and was second on the team with 256 yards and two touchdowns last year. Matt Tate is a potentially explosive running back for the Wasps, but he's unproven at the varsity level. At 18.8 ppg last year, Wasatch ranked in the bottom-half of 4A offenses and that needs to get better to have any chance of moving up the ladder in Region 8.
Defense
(5 returning starters)
Coach Coburn is genuinely excited about his defense this year. Not only should the defensive line be better with returning contributors Ben Bos, Jace Wright and Payton Mair, but the secondary too. Jace Adams is a move-in from Kanab and McCord Larsen is a move-in from Bingham, and along with Law and some other projected standouts, opponents shouldn't have such a field day anymore. Cloward is the only returning starting linebacker for the Wasps, but he's a good one to built around coming off a season with 52 tackles, four sacks and two interceptions.
Coaches preseason Region 8 straw poll: Sixth
Deseret News Region 8 prediction: Sixth
Bottom line: Wasatch has worked extremely hard in the offseason to put itself in a position to compete with the upper-tier teams in Region 8, but it's not going to be easy. Spanish Fork and Maple Mountain are just as hungry after their own down years, while Timpview, Springville and Salem Hills could all be just as good if not better this year. Before Wasatch is really taken seriously in 4A and Region 8, it needs a marquee victory. That first opportunity will come in Week 5 on Sept. 19 against Salem Hills. A win there would boost the Wasps' confidence and put them on a path toward the playoffs. A loss, and suddenly the next four weeks seem rather daunting.
….
Wasatch coaching history
2012-current — Steve Coburn (12-9)
2011 — Craig Davis (5-6)
2005-2010 — Steve North (43-28)
1999-2004 — Ron Tree (38-31)
1997-1998 — Tim Stanley (3-15)
1992-1996 — Monte Morgan (28-25)
1987-1991 — Ron Tree (21-28)
1959-1986 — Dan Wright (174-104-8)
1956-1958 — Eldon Wright (9-11-3)
1949-1955 — Marion Tree (38-20-1)
1945-1948 — Unknown (8-22-1)
1942-1944 — Floyd "Slick" Slater (20-6)
1940-1941 — Unknown (8-3-1)
1939 — Lou Neeley (3-2-1)
1932-1938 — Unknown (5-28)
1928-1931 — F. G. "Frosty" Richards (5-13-2)
1924-1927 — Unknown (10-8-1)
.....
Deseret News First Team all-staters the past 10 years
2010 — Keefer Babbitt WR
2009 — Payton Davis, QB
2009 — Kaleb Moritz, LB/OL
2009 — Cory Nielson, DB/WR
2009 — Mike Davis, WR/FS
2008 — Jake Hardcastle, OL
2007 — Jake Salazar, RB
2007 — Jeff Tukuafu, TE
2007 — Ethan Smith, LB
2007 — Matt Wheatley, K
2005 — David Hendricksen, OL
To view second team and honorable mention all-staters through the years, check out the Deseret News All-State Archives.