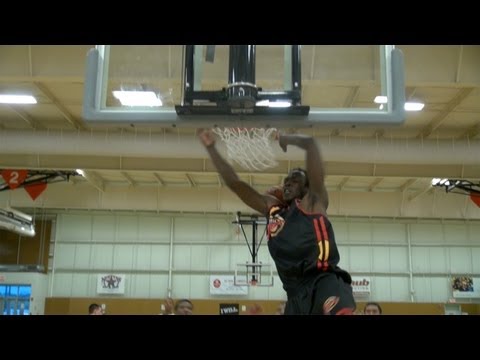 View 2 Items

He's a bit raw with the fundamentals, but his athleticism is very high, and I think he's going to develop into a very good player at Utah.

—AAU coach Lynn Lloyd, on Makol Mawien
GRANGER — Unlike most top basketball recruits, Granger's Makol Mawien hasn't undergone years of seasoning in AAU ball and elsewhere, which in and of itself makes his prospects exciting.
Mawien is a 6-foot-9 forward who committed to sign with Utah on Thursday. By securing his commitment, Ute coach Larry Krystkowiak inherits one of the state's best prospects whose upside is tremendous, according to his AAU coach, Lynn Lloyd.
"If he played any AAU ball before he played for us this past year, then I'm unaware of it, and that is a truly remarkable thing," Lloyd, who coaches Utah Prospects, said. "He's a bit raw with the fundamentals, but his athleticism is very high, and I think he's going to develop into a very good player at Utah."
Mawien held offers from BYU, Utah State, Gonzaga and Boston College, among others at the time of his commitment. According to Lloyd, Mawien decided on Utah due to his relationship with Krystkowiak and a desire to play in-state.
"Coach Krystkowiak really put in the time and attended a lot of his games — much more than any other coach recruiting him, and Makol, I think, noticed that," Lloyd said. "I think he also feels very comfortable around the players already at Utah, and he obviously likes where the program is heading."
6
comments on this story
Mawien plans to sign with Utah as part of the 2015 recruiting class and will bring a strong defensive presence immediately, according to Lloyd.
"His defensive game is more developed than his offensive game at this point," Lloyd said. "But he's still young in his development, and he certainly has the athleticism to become a very good offensive player. He jumps very well, he's very explosive and he works hard developing his game. I'm very happy for him, and I'm confident he'll have a very successful career at Utah."
Email: bgurney@desnews.com
Twitter: @BrandonCGurney