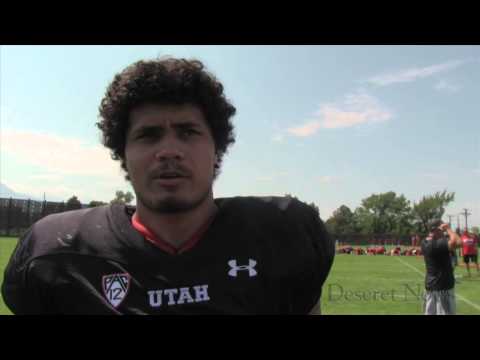 View 2 Items

I think he's a dynamic player, and I'm excited to see him improve this fall.

—Kalani Sitake, Utah's defensive coordinator
SALT LAKE CITY — With the first week of fall camp nearly in the books, one area of particular interest for Utah football has been on the linebacker corps.
The Utes opened camp without two of their expected starters, Gionni Paul (foot) and Jacoby Hale (knee). Both are anticipated to return at some point during the season.
However, until they are healthy enough to return, sophomore linebacker Uaea Masina was listed as the starter at the third linebacker spot heading into camp.
"I've been really impressed with some of the things he's done so far at practices, but we'll see how he continues to progress," said Kalani Sitake, Utah's defensive coordinator. "I think he's a dynamic player, and I'm excited to see him improve this fall."
Masina played in 10 games last season as a true freshman, mostly on special teams, and compiled seven tackles. He said that experience, as well as learning in the offseason, has given him more confidence and has prepared him for the role he currently is in.
"It's just more of a comfort with the feel and speed of the game with the teammates," he said. "Before you try to find your spot — try to find how you fit into it all. I already know now from last season, last fall, winter and spring, I know where I am and what I need to do to help out the team."
One thing for certain with Masina is the dimension of quickness he adds to the outside linebacker position. Though listed at 6-foot-3, 223 pounds, the hope within the team is he'll continue to flourish as he continues to gain weight and more reps with the first-team defense this fall — and down the road.
"He's got a lot of speed," Sitake said. "I think just having another year under his belt as far as playing last year as a true freshman, he's more comfortable in the scheme and learning the defense. I think that just if you look at all the skills he has, he's starting to put it all together. I think he's going to be a really, really good linebacker for us."
Masina said he was confident in the depth of the linebacker corps in camp right now. He added that he has been pleased with the good communication between him and his fellow linebackers in practice.
However, he said, when Paul and Hale return from their respective injuries, it'll add an even greater element to the linebacker corps.
"We are just going to get more depth and more experience (with their return)," Masina said. "I'm sure as soon as they're ready to go, they'll know what to do. They're all at the meetings, they all learn the plays, even though they're not there, they're getting mental reps. We'll have full confidence when they're in. There's no other way to say it, we all trust each other, we know they can handle it."
Masina also added he anticipates the defense overall will attack every possible chance this season.
"As a defense in whole, we expect to be the best in the country," Masina said. "That's about it. We're not going to settle for anything less. We're going to be P.S.R. — physical, smart and relentless. We're going to go every play, every chance we get, everything we have."
Masina the mentor
While Uaea Masina might be an underclassman with the Utes, he's also doing his best to guide his younger brother, Osa, throughout the whole college recruiting process.
Osa Masina (Brighton High School), listed as the top recruit in the state of Utah and a five-star recruit by Scout.com, has narrowed his options to Arizona State, Michigan, UCLA, USC and Wisconsin.
"If he ever needs advice, he'll come to me," Uaea Masina said. "I've told him everything from my personal experience. How I felt about it all. Why I picked Utah — this is where I felt most comfortable. So I told him just go with his gut, wherever he feels most comfortable — where he feels he'll fit the best to do his best."