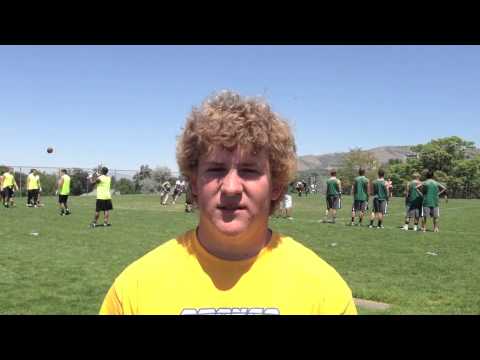 View 14 Items

We're really going to put a lot of emphasis on defense and giving opportunities to the offense through our defense. We're going to try to get the old defensive mentality back.

—San Juan coach Monty Lee
Note: San Juan finished with a 6-5 overall record in 2013 and tied for third in 2A South with a 3-3 record. It lost to South Summit 43-0 in the 2A quarterfinals.
BLANDING — From 2008 to 2012, San Juan's football team only lost four total games.
Last year the Broncos lost five games and bowed out of the playoffs in the quarterfinals for the first time since 2007. It wasn't entirely surprising.
There were rumblings heading into the season that it would be a down year for the traditional 2A power, a fate that was sealed in Week 2 when star linebacker Bronze Eldredge went down with a dislocated shoulder and was lost for the season.
"In 2A, you don't have the luxury of two or three deep in a spot. In 2A, if you lose a horse like Bronze that can be devastating," said coach Monty Lee, who's entering his 12th season with the Broncos. "We've lost kids before and we've been able to pick up the pieces, but last year was one of those nails that is driven into the coffin. We never recovered."
San Juan's coaching staff waited and waited for someone to step up and fill that emotional void, but nobody did as the team finished with a disappointing 6-5 record.
Fast forward to this season, and things are looking much brighter for the Broncos.
Not only is Eldredge back from injury and ready to put San Juan on his back, but Lee said so are a bunch of his teammates too.
"We've got a lot of kids that will do that this year," said Lee.
That collective hunger, particularly defensively, makes San Juan a scary team heading into the 2014 season.
During San Juan's perfect 12-0 season in 2010, the Broncos only allowed 3.3 ppg. Even though it came short of its ultimate goal in 2011 and 2012, the defense still dominated, only allowing 8.3 ppg and 5.9 ppg, respectively.
Last year that scoring defense ballooned to 18.7 ppg.
Lee believes this year's defense can be as dominant as those recent teams if it avoids the devastating injuries.
"We're really going to put a lot of emphasis on defense and giving opportunities to the offense through our defense," said Lee. "We're going to try to get the old defensive mentality back."
After losing to South Summit 43-0 in the quarterfinals last year, it's easy to see why defense is the priority.
So too is special teams after last year's disaster, particularly in kick coverage.
"We had way too many punts that ended up on our side of the 50-yard line. That's going to be our big focus," said Lee. "We've lost too many big games because of special teams. We've always used it to give kids a chance to get a feel of varsity, and we're not going to do that anymore."
Offensively, San Juan is counting on junior quarterback Payton Palmer to get the team back to respectability after a disappointing 2013 season in which it only averaged 18.9 ppg.
An injury thrust Palmer into the starting role the final six games of the season, and he struggled at times, completing just 41.9 percent of his passes for 574 yards, six TDs and four interceptions.
Much bigger things are expected this year.
"If he can survive me, he'll be good. My level of expectation is obviously perfection. Sometimes I gotta know the buttons to push and the right things to say, but he's gotta know that he's the heir apparent to some great quarterbacks," said Lee, who compared Palmer to recent San Juan star quarterback Barkley Christensen.
In the 2011 and 2012 Christensen threw for roughly 2,000 yards and 20-plus touchdowns, while Cameron Shumway did the same for the 2010 state championship team.
If Palmer comes close to approaching that productivity, and the defense is as good as advertised, San Juan's 6-5 season from a year ago could just be a blip on the 2A domination radar.
San Juan Broncos at a glance
Coach: Monty Lee is entering his 12th season as San Juan's head coach. He's amassed a 102-24 record along the way, including state titles in 2006, 2009 and 2010. He's a graduate of San Juan High.
Offense
(4 returning starters; Rollout option offense)
With just one returning starter on the offensive line, Easton Lee, there's definitely question marks surrounding the offense. However, if the line comes together, there's several skill position players ready to take advantage. Max Morley was San Juan's second-leading rusher last year with 472 yards and three TDs. At receiver, three of the four players who caught double-digit passes are back too — Grant Laws, Morley and DiQuan Lopez. Throw Bronze Eldredge into the mix at slot receiver after he missed 90 percent of last season, and there's plenty of weapons for Payton Palmer to get the ball to in his first year as starting QB.
Defense
(5 returning starters)
Whether it's realistic or not, the mantra of this year's defense is get back to suffocating opponents. A healthy Eldredge at linebacker will certainly help. Trason Jack returns at linebacker after finishing second on the team in tackles a year ago. The secondary will be strong with Brittain Bowring, Jordan Blake, Palmer and Lopez. Just like with the offense, though, the trenches are where the question marks are with this defense. Lee and Morley should contribute, but several others need to step up once the season gets going.
Coaches preseason 2A South straw poll: First
Deseret News 2A South prediction: Second
Bottom line: A 6-5 season for some 2A programs would be a satisfactory accomplishment. For San Juan, however, it's a major underachievement. From 2008 to 2012 the program went 54-4. This year's team will likely fall somewhere in between. That might be good enough to win it all in 2A this year without a true dominant team. The offensive and defensive lines will need to overachieve if San Juan hopes to be in that mix this season because there are still quite a few question marks with this team.
….
San Juan coaching history
2003-current — Monty Lee (102-24)
1987-2002 — Art Burtenshaw (133-49)
1983-1986 — Morris Swenson (23-15)
1974-1982 — George Bayles (46-47)
1972-1973 — Murray Kula (5-11)
1969-1971 — Mike Blair (12-19)
1968 — Dennis Udy (6-4)
1957-1967 — Morris Swenson (54-43)
1956 — Neldon Cochran (2-2)
.....
Deseret News MVPs the past 10 years
2010 — Stetler Shumway, RB/LB
2009 — Jace Holliday, RB/DE
2006 — Tranner Sharpe, OL/DL
Deseret News First Team all-staters the past 10 years
2013 — Jens Grover, RB/LB
2012 — Barkley Christensen, QB/DB
2012 — Logan Meyer, RB/LB
2012 — Bobby Bowring, WR/DB
2012 — Bogh Bayles, OL/DE
2011 — Barkley Christensen, QB/DB
2011 — Logan Meyer, RB/LB
2011 — Bogh Bayles, OL/DL
2011 — Landon Palmer, OL/DL
2010 — Colby Redd RB
2010 — Taj Eldredge OL/LB
2010 — Cameron Shumway QB
2010 — AJ Slavens OL/DL
2010 — Tyler Nielson WR/DB
2009 — Peyton Black, FB/LB
2009 — Stetler Shumway, RB, DL
2009 — AJ Slavens, OL/DL
2009 — Jimmy Tate, WR/LB
2009 — Benny Royer, DB
2008 — Kohler Black, RB/LB
2008 — Nathan Einerson, WR/DB
2008 — Jace Holliday, RB/DL
Comment on this story
2008 — Terron Jack, WR/DB
2007 — Matt Jeppson, LB/OL
2007 — Scott Jeppson, DL/OL
2007 — Scott Jeppson, DL/OL
2007 — Dane Lyman, QB/DL
2006 — Marley Haws, RB/DE
2006 — Scott Jeppson, OL/DL
2006 — Brian Kirk, RB/LB
2006 — Bradley Royer, WR/DB
2005 — Jens Wilson, RB/DB
2005 — Rye Adams, OL/DL
2005 — Keith Sullenberger, RB/LB
2005 — Noah Imel, OL/LB
2004 — Josh Shumway, LB
To view second team and honorable mention all-staters through the years, check out the Deseret News All-State Archives.