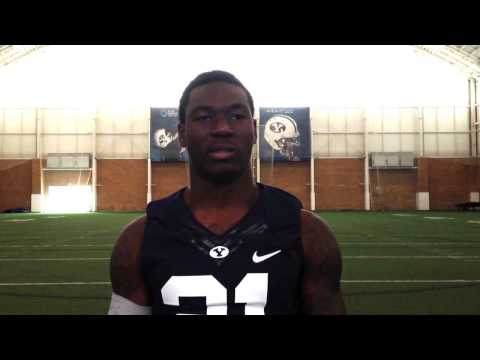 View 2 Items

PROVO — BYU offensive coordinator Robert Anae's new "Go fast, go hard" offense is in its second season, and it has one important addition: "Go long." Quarterbacks Taysom Hill and Christian Stewart have been throwing long bombs since practice began, and it's clear that this new offensive philosophy has affected every part of the team.
"We've gotten into a lot better shape this year as opposed to last year," said offensive lineman Terrance Alletto. "Like Coach Anae has been saying, it's not just go fast, go hard, but it's go long now. We should be able to get more yards down the field, get into the blue zone and actually start scoring even more."
"It helps us out because we don't do any extra conditioning," outside linebacker Alani Fua said. "We go up against a lot of hurry-up teams as well, so if you go against it every day it's not a factor in the game when we go and play them."
Twins Garrett and Mitchell Juergens also talked about how the new offensive mindset affects them both on opposite sides of the ball. "The offense is fast," wide receiver Mitchell Juergens said. "Once that ball's down, we're ready to get up and go again."
"I don't know if you've seen us in fall practice, but when we're running onto the field, it's got to be a full sprint," defensive back Garrett Juergens said. "Hopefully we can keep up and once again have the most plays out of everybody in the nation. That's the goal."
8
comments on this story
Go fast, go hard and now go long has also had an impact on special teams. "We're putting a lot of emphasis in it," punter Scott Arellano said. "Whether that be kickoffs, punts returns, PATs, field goals, they're all looking really good. … The more guys that go hard make me look better and make the team do better."
But perhaps the single most affected position group by the new offensive mentality is the wide receivers.
"We have a lot of receivers that can go deep and run for days," wide receiver Mitch Mathews said. "There's not just three of us, but six of us that can do it. I like it. I like those extra words, 'go long.' "
And if the offense looks as good deep against UConn as it does in practice, BYU fans will love those extra words too.
Lafe Peavler is a staff sports writer for the Deseret News. Follow him on Twitter @LafePeavler.