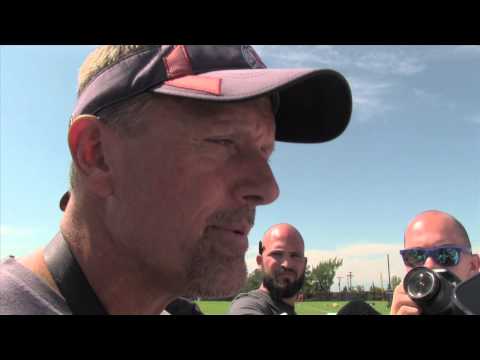 View 7 Items

I think everybody is involved in what decisions are made on offense, regardless of which position you coach. So (job) titles are for whomever. I don't care about titles. ;I just want to contribute, help us win, move the football, and be around the players. That's fun for me. That's entertainment.

—Utah running backs coach Dennis Erickson
SALT LAKE CITY — Utah assistant Dennis Erickson is in his 44th season as a coach. The 67-year-old, who has worked at the high school, collegiate and NFL ranks, is right where he wants to be.
"I wouldn't be here if I didn't love it," Erickson said. "To me, it's all about the players. I enjoy being around the players."
Erickson, who has been the head coach at Idaho, Wyoming, Washington State, Miami (Florida), Oregon State and Arizona State in the college ranks, as well as the Seattle Seahawks and San Francisco 49ers of the NFL, isn't concerned about his role. The coach of two national championship teams at Miami (1989, 1991) said he doesn't have an ego.
For the first time since 1973 when Erickson was the running backs coach at Montana State, he isn't the boss or a coordinator. Erickson is back to his roots coaching Utah's running backs.
"I think everybody is involved in what decisions are made on offense, regardless of which position you coach. So (job) titles are for whomever. I don't care about titles," Erickson said. "I just want to contribute, help us win, move the football, and be around the players. That's fun for me. That's entertainment."
As for his future, Erickson hopes to keep coaching as long as he's having fun and contributing.
"It's kind of a year-by-year thing," he said, then joking that at least it's not "day-by-day."
STAR IN THE MAKING: Freshman defensive tackle Lowell Lotulelei is making an impact early in camp. He's the younger brother of former Utah standout Star Lotulelei.
"He's going to be really good," said Utah coach Kyle Whittingham. "He's got all the tools and he's already doing some good things. Just in two days in pads it's very apparent that he's a guy that will help us this fall — if he can stay healthy, which we hope he does."
Whittingham noted that Lotulelei is a "big, strong kid" who worked his tail off over the summer — losing 25-30 pounds over June and July, reducing his 6-foot-1 frame to about 315 pounds.
MISSED OPPORTUNITIES: Utah had just three interceptions last season. The number could of, should of and would of have been much higher had the Utes been able to catch the ball. Whittingham noted that the Utes had 33 dropped interceptions in 2013.
"Creating interceptions is by capitalizing on opportunity and we didn't capitalize on opportunities last year," Whittingham said. "I'm going to tell you we had as many opportunities to intercept as anyone in the conference, we just didn't capitalize. We've got to do that."
SWINGING THE STICKS: Whittingham joked that it was in honor of this week's PGA Championship. At the end of Thursday's practice, several Utes participated in a closest-to-the-pin contest on the practice field. It's part of a competition Whittingham referred to as the "Training Camp Olympics." The team has been divided into nine groups that will participate in a different event each day. A running point total will be kept, with the overall winner getting a reward at the end of the deal. Punter Tom Hackett won the golf competition.
"I took a few swings. I'm rusty, which is a good thing," Whittingham said. "That means I've been spending all of my time in the facility."
EXTRA POINTS: The Utes conclude the NCAA-mandated "acclimatization" period on Friday. Their first "double day" of camp is Saturday. ... Senior Marc Pouvave took a lot of snaps at right tackle on Thursday. ... Wide receiver Delshawn McClellon (4.37) and running back Troy McCormick (4.38) clocked the fastest 40-yard dash times for the Utes prior to camp.
Email: dirk@desnews.com
Twitter: @DirkFacer