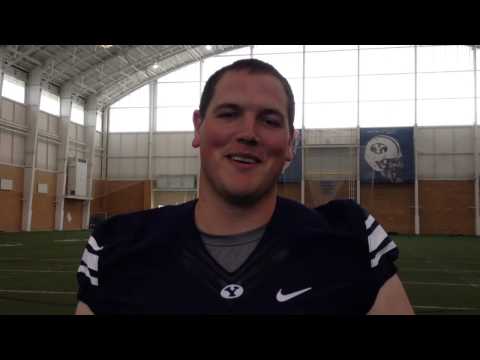 View 2 Items

PROVO — BYU senior offensive lineman Brock Stringham believes things are finally coming together for his final season in Provo.
Coming together not just for himself, but for his embattled position group, which has seen many ebbs and flows since Stringham entered the program in 2008.
The 6-foot-6, 290-pound Colorado native recalls that the Cougars' O-line when he was a freshman in 2008 was deep, experienced, and most importantly, imposing.
"When I was here with Travis Bright, Ray Feinga and Dallas Reynolds, I remember how close-knit those guys were and those were the guys everyone was afraid of," Stringham said.
He redshirted his first season before embarking on a mission for The Church of Jesus Christ of Latter-day Saints.
Since returning from mission service, his playing career has been a picture of physical setbacks. In 2011 it was a broken leg. In 2012 it was back problems. His 2013 season was cut short with what he says was a "torn shoulder."
"I've been extremely injury-prone," Stringham said. "It always seems like I'll get going and then just get hurt. But this year I'm staying positive."
Stringham is currently seeing almost exclusive first-team reps at both right guard and right tackle in fall camp, and he's holding his own. His performances and presence have been well-noted. Offensive line coach Garett Tujague recently defined the Highland, Colorado, native as the position group's physical leader.
It's a definition Stringham certainly appreciates and embraces.
"I love football and I just love to hit people," he said. "I'm probably one of the more quiet guys. ... I like to just go out and show the guys that, 'Hey, this is how we're going to play — we're going to murder people. We're going to play nasty because this is how I know how to play.'"
Stringham feels his fellow linemen largely have the same attitude he does and, in that way, is starting to resemble the offensive line of 2008.
"I think this is the best (offensive line) we've had since 2008," he said. "I feel like this year we're finally catching up to (the 2008 group) and it's the first time I've seen glimpses of that — where we're able to play at an extremely high level and give Taysom (Hill) and our receivers much more opportunities."
A WELL-ROUNDED LINE: While the seasoned seniors are getting perhaps the most attention along the offensive front, Stringham believes there's several young and inexperienced players capable of making immediate contributions.
"We have freshmen like Lui (Lapuaho) and Tejan (Koroma). We have veterans that are playing to their full potential. And we have guys like myself who have been injured in the past and they're all healthy," he said. "So we have so many guys that the competition level is so high."
SWAGGER BACK: According to Stringham, the swagger is back with an offensive line that gets excited for every practice session.
"I love practice now," he said. "Last year it felt like we came out, and we were a little timid — scared of the defense because we had big names like Kyle (Van Noy) over there and we weren't confident. This year we are confident because of who is behind us ... and we have confidence in what we are now and how we can play."
Email: [email protected]
Twitter: @BrandonCGurney