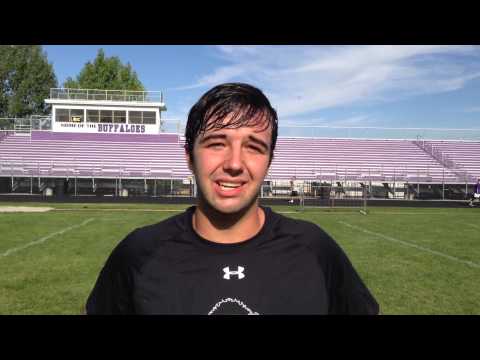 View 12 Items

Now we have to turn close games into wins. Make those extra plays we need to win the game instead of just be in the game. I feel we have a team we can do that with this year.

—Toole head football coach Kyle Brady
Note: Tooele finished with a 3-7 overall record in 2013 and was fifth in 3AA North with a 2-4 record. It lost to Snow Canyon 38-9 in the 3AA first round.
TOOELE — The goal is a home playoff game. Fourth-year coach Kyle Brady isn't afraid to admit it.
Since he took over in 2011, the program has gone from zero to one to three victories. In the revamped 3AA classification, two region wins last year was good enough to earn the program its first playoff appearance since 2006.
That postseason stay ended quickly for the 3AA North fifth seed with a 38-9 loss at Snow Canyon.
This year the goal is to finish fourth or better in 3AA North and secure a home playoff game, something the Buffaloes weren't far off from last year. Park City earned the No. 4 seed with a 24-21 victory over Tooele, a game that could've gone either way.
A turnover proved very critical in that game, something Brady still recalls vividly. Already leading in the second half, Tooele was in perfect position to pad its lead but instead fumbled the ball into the end zone for a touchback.
Tooele also lost a close game to rival Stansbury 21-13, but those two near misses represented much-needed progress for the program.
"One thing we were really happy about last year, yeah we only won three games, but at least we were competing in games," said Brady. "Now we have to turn close games into wins. Make those extra plays we need to win the game instead of just be in the game. I feel we have a team we can do that with this year."
Tooele returns a bunch of starters on both sides of the ball, most notably on the offensive and defensive lines. Brady believes that continuity in the trenches gives his team an opportunity to compete with everybody in the state.
From there, Brady says the little things make all the difference. Last season Tooele routinely made mental mistakes like personal foul penalties, jumping offsides, and turning the ball over with careless ball security. The coaching staff is committed to cleaning that up this season along with one other glaring problem from 2013 — tackling.
"A lot of times the first player would make contact, but we didn't have enough guys there. He'd miss the tackle and they'd gain, 5, 6 extra yards, and that really, really hurt us. A big emphasis this year is tackling and make sure they don't make those extra yards after contact," said Brady.
With seven returning starters on defense, Brady is confident the extra year of experience will make all the difference.
The heart of the defense is Maka Kioa. The senior defensive lineman was second on the team in tackles a year ago and he's very difficult to block.
"He's a beast. He has a high motor, he's going to be tough to stop," said Brady.
Kioa recorded 8 1/2 sacks last year, while fellow defensive end starters Lawson Ross and Nate Reynolds combined for 13 1/2 sacks.
Tooele allowed 30.6 ppg last year, but with a strong defensive line returning Brady said the goal is to get that number down around 21 ppg. It would help if safety Jon Ficken wasn't forced to lead the team in tackles again this season.
On the other side of the ball, Tooele's offensive line has high expectations as well. Zach Langi, TaeJohn Koffell and Tyler Daley are all returning starters, while Ross is a returning starter at tight end and Jayden Caires was a part-time starter.
That group helped Adam Pace run for 990 yards last season, but Ryan Brady takes over that fullback role after rushing for 425 yards a year ago.
This will be the third-straight year Tooele runs the wing-T offense, and that familiarity should lead to better efficiency.
"We're a lot further ahead and we have a lot more stuff in even at this time than we did at the end of last year. We've been able to add plays where the first year we were real, real basic," said Coach Brady.
Tooele Buffaloes at a glance
Coach: Kyle Brady is entering his fourth year as head coach at Tooele with a 4-26 record thus far. He's a graduate of Tooele High, and was the 2002 Deseret News Mr. Football recipient.
Offense
(7 returning starters; Wing-T offense)
Expect to hear the name "Brady" called out a lot this season. Senior Jake Brady will start at quarterback for the second-straight year, and he absolutely must increase his passing efficiency for the few times Tooele does throw out of the wing-T formation. His younger brother Ryan Brady takes over at fullback and big things are expected from him as well as he runs behind an experienced offensive line with three starters and a tight end returning. Nate Reynolds and Cole Fonger played sparingly at wing back last year, but they'll take on an increased role in 2014.
Defense
(8 returning starters)
Compared to 2012, last year's defense did a decent job. A similar effort would be nearly good enough if Tooele expects to compete in the upper half of 3AA North. The three most glaring games a year ago were against Bear River (62 points), Juan Diego (49) and Snow Canyon (38). Simply being a year stronger and wiser could make all the difference. Maka Kioa, Lawson Ross and Reynolds are back on the defensive line, while Nick Schwartzman is back at linebacker. Zac Cruz is also back at linebacker after missing about half the 2013 season to injury. The secondary should be a strength as well with three-year starter Ryan Brady and returning starters Stratton Atherley and Jon Ficken.
Coaches preseason 3AA North straw poll: Third
Deseret News 3AA North prediction: Fourth
Bottom line: When Coach Brady returned to his alma mater after a successful collegiate playing career at Utah, he invested himself to get the program back to respectability. Four wins in three years isn't what he had in mind, but he always knew it would be a long process. This could be the year Tooele turns the corner. The team is stronger and more experienced than it's been in quite a while, and it will need to draw upon that experience with four straight road games from Weeks 2 to 5. The latter two in that stretch are at Bear River and Park City, and to truly have a shot at a home playoff game the Buffaloes need to win one of those games.
….
Tooele coaching history
2011-current — Kyle Brady (4-26)
2008-2010 — Ray Groth (7-22)
2005-2007 — Sam Elliott (16-16)
2004 — Doug Harding (3-8)
2000-2003 — Tyler Anderson (28-17)
1993-1999 — Rick Harrison (17-51)
1988-1992 — Lee Leslie (25-26)
1987 — Unknown (2-7)
1983-1986 — Larry Harison (16-20)
1981-1982 — DeLayne Richart (2-16)
1977-1980 — Sonny Sudbury (7-28)
1972-1976 — Dick Raben (13-30)
1968-1971 — Dave Bray (15-23-1)
1967 — Newell Sorensen (6-3)
1954 -1966 — Dean Stringham (58-53-3)
1950-1953 — Harold "Butch" Gutke (26-8-2)
1949 — Johnny Putnik (7-2)
1946-1948 — Bob Orr (7-12-2)
1942-1945 — Unknown (9-18-3)
1941 — Bill Cowley (2-8)
1940 — Unknown (2-6)
1937-1939 — Dan Gillespie (16-11-2)
1932-1936 — Unknown (28-9-3)
1928-1931 — Sterling Harris (30-5)
1919-1927 — Unknown (25-20-3)
1918 — Mr. Andrew
1917 — J. W. West (4-1-1)
1915-1916 — Unknown (3-5)
….
Deseret News Mr. Football recipients
2002 — Kyle Brady, DB
Deseret News First Team all-staters the past 10 years
(None)
To view second team and honorable mention all-staters through the years, check out the Deseret News All-State Archives.
Deseret News prep editor and Real Salt Lake beat writer.