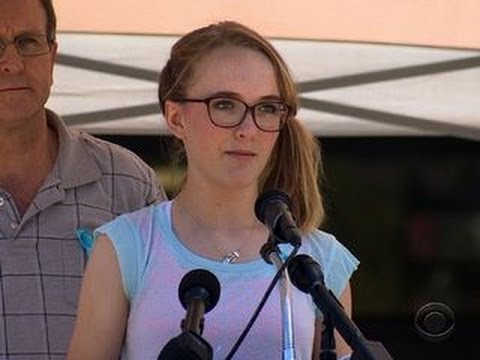 View 11 Items

Less than one month ago, 15-year-old Cassidy Stay survived an attack in her suburban Houston home in which her parents and four younger siblings were killed. Three days later, Stay spoke at a memorial service for her family.
"I know that my mom, dad, Bryan, Emily, Becca and Zach are in a much better place and that I'll be able to see them again one day," Stay said.
"In 'The Prisoner of Azkaban,' Dumbledore says, 'Happiness can be found in the darkest of times, if one only remembers to turn on the light.' "
After hearing Stay's remarks, Michelle Boyer created a campaign to encourage the author of "Harry Potter and the Prisoner of Azkaban," J.K. Rowling, to meet Stay.
"I felt very motivated to do something, but I knew there wasn't much I could do since we don't live in the same state and I don't even personally know her," Boyer told the Deseret News.
"I have often drawn strength from the Harry Potter novels, and I really felt like J.K. Rowling could offer Cassidy solace and strength that she wouldn't find anywhere else."
Although a personal meeting has not taken place, on Aug. 4 Boyer reported on the campaign's Facebook page, "We want J.K. Rowling to meet Cassidy Stay," that Stay received a package from the renowned author.
Rowling's spokesperson Rebecca Salt confirmed that a package was sent to Stay, according to TODAY.
"We can confirm that J.K. Rowling sent Cassidy Stay a letter and package, but the contents of the letter and how it came about are private and between her and Cassidy. We're not commenting any further on the letter or what it contained," Salt stated.
"I am beyond grateful and humbled that JK Rowling responded to our plea, but I'm even more grateful that she did something so personal and priceless for a little girl in need of comfort," Boyer said.
A memorial fund has been set up for Stay with funds going toward burial and medical costs and to the support of Stay and her extended family.
Email: spetersen@deseretnews.com | Twitter: @Sarah_DNews