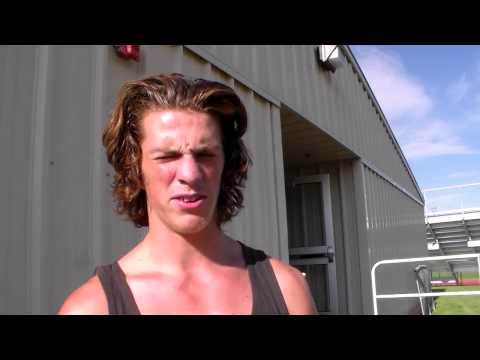 View 11 Items

Note: Springville finished with a 7-4 overall record in 2013 and was second in Region 8 with a 4-2 record. It lost to Olympus 43-37 in the first round of the 4A playoffs.
SPRINGVILLE — At times a football season truly does come down to just one play — a fact Springville is well-aware of.
Last season saw the Red Devils stand toe-to-toe with Olympus in the first round of the 4A playoffs before one miraculous play by the Titans ended their season abruptly.
"We haven't forgotten about that play. We've thought about it a lot, believe me," said Springville coach Willy Child.
The play could best be described as a double hook-and-ladder, and it gave Olympus a last-second score to end what was otherwise a relatively successful Springville season.
Indeed, Springville returned to the postseason in 2013 after two uncommon losing seasons.
"We have a proud tradition of winning here in Springville, and last year I think we got back to what people are used to here," Child said. "We look to continue that while remembering you have to be at your best every single play or it might end for you. We're working to use last year's game against Olympus for motivation to never come up one play short again."
Players, while remembering their unceremonious end to last season, aren't hanging their heads because of it.
"You can't dread on it," said senior lineman Bradyn Swanson. "You just have to make it a new season and keep a positive attitude."
Helping Springville's cause in the attitude department is the return of some good playmakers coupled with some experienced linemen.
"We really believe our strength will be on our lines on both sides of the ball," Child said. "So we're excited about that because it's where we return the most guys."
Playing behind the offensive line will be some promising running backs, including senior Jackson Stepp and Scott Averett, who both saw some quality time last season.
"We feel like we have some good options there," Child said about his running backs.
At receiver the team features some tall, athletic types such as Parker Johnston, Garrett Clark and Adam Rodriguez.
At quarterback Child currently plans to play both senior Zach Gordon and junior Tristen Swenson.
"We feel really good about our quarterbacks at every level, and especially about the two guys competing," Child said. "Both are great leaders and we feel we have some guys ready to step up and lead."
On defense Child is expecting big things from his two defensive ends — Adam Rodriguez and Leni Neiufi.
"Both of them are very good and talented and then we have some good options at defensive tackle, so we think we'll be very good there."
At linebacker Springville returns Devyn Tate and Jackson Stepp. Both started last season.
Safeties Noah McCray and Scott Averett lead what Child hopes will be a strong secondary.
Overall, Springville hopes to earn a first-round home playoff game — but gain a different result this time around.
"We want to get up there to Rice-Eccles Stadium and just take that next step," Child said. "Like I said, there's a strong tradition of winning here and we got a taste of winning again last year. Now it's all about improving and making sure we're there every play and push this thing as far as we can."
Springville Red Devils at a glance
Coach: Willy Child enters his third year coaching at Springville. Child has 19 years experience coaching both the football and baseball teams in Springville.
Offense (2 returning starters; Pro-style offense)
Springville likes to set up the pass with the run and should be able to mount a good rushing attack considering the experience returning on the offensive line.
"We feel running the football is going to be a strength for us," Child said. "Our offense is based on a strong running game and last year we had that and we hope for the same this year."
Defense (5 returning starters: 4-3 defense)
The run game will also be the focus of Springville's defense in hopes of forcing teams to beat the Red Devils throwing the football.
"Stopping the run first is what we've always done here and that won't change," Child said. "We feel like we have a good and experienced front that should be good at stopping what teams do on the ground."
Coach's preseason Region 8 straw poll: Fifth
Deseret News Region 8 prediction: Third
Bottom line: It's going to be difficult for Springville to repeat upon last year's success considering the loss of so many senior playmakers. Region 8 looks to be more competitive, but the Red Devils should be right there competing for a playoff spot toward the end of the season.
….
Springville coaching history
2012-current — Willy Child (9-12)
2008-2011 — Scott Mitchell (30-17)
2007 — Dan Hansen (2-9)
1990-2006 — Doug Bills (89-80)
1981-1989 — Ray Newbury (59-29)
1966-1980 — Mike Jacobsen (72-68-1)
1962-1965 — Karol Bills (2-5-29)
1957-1961 — Benny Kilpack (9-30)
1945-1956 — George Pehrson (46-38-11)
1942-1944 — Art Gilbert (6-12-2)
1937-1941 — Ned McBeth (17-15-5)
1936 — Carl Davis (3-1-2)
1935 — Mr. Rowe (2-2-2)
1932-1934 — Paul Thorne (5-12-1)
1930-1931 — Bob How (6-5-2)
1929 — Unknown (4-2-1)
1928 — C. B. Leddingham (5-1-1)
Comment on this story
1908-1927 — Unknown (26-28-1)
.....
Deseret News First Team all-staters the past 10 years
2013 — Zach Hansen, DL
2011 — Caleb McCray, LB
2010 — Marcus Case RB
2010 — Matt Sumsion TE
2010 — Brody Swanson DL
2009 — Jeff Geuck, DL
2009 — Alema Key, LB
2004 — Trevyn Smith, RB
2004 — Dan Gardner, OL
To view second team and honorable mention all-staters through the years, check out the Deseret News All-State Archives.
Springville preview
Springville's Garrett Clark talks about the coming season
Email: bgurney@desnews.com
Twitter: @BrandonCGurney